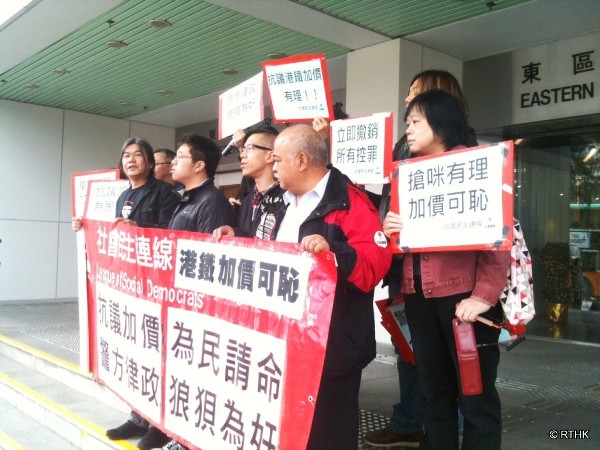 Two-weeks imprisonment for protest action against MTR fare rises is part of government drive to criminalise struggle
Socialist Action (CWI in Hong Kong) reporters
The verdict from Hong Kong's Eastern Magistrates' Court yesterday is an ominous warning to all those wanting to fight against the government's neo-liberal and increasingly repressive agenda.
Two Hong Kong left activists, 23-year old Wong Hin-wai and 27-year old Chow Lok-hang, were sentenced to be jailed for two weeks for their part in a protest against the MTR Corporation's 2011 fare increases. The fare increases, against a background of massively increased company profits, deepened popular hatred towards state-controlled MTR, which is also a major player in Hong Kong's overpriced property market, not just a global force in public transportation.
"The court's verdict is political," said Sally Tang Mei-ching of Socialist Action. "It is designed to send a message that anything apart from tame political protests will meet with harsh punishment."
The imposition of jail terms is a monstrous over-reaction by the supposedly 'independent' law courts after a protest last April in which both activists ran onto a stage during a speech by Secretary for Transport and Housing Eva Cheng Yu-wah. Wong and Chow were charged with causing disorder in a public place, and the magistrate, Li Kwok-wai, justified the jail sentences with the argument that their actions encouraged others to do the same. Wong is a League of Social Democrats (LSD) member, and was a candidate for the party in recent district council elections. Chow is not an LSD member, but is employed as an assistant to the party's ex-chairman Andrew To Kwan-hang.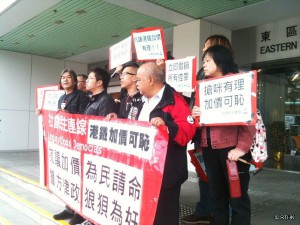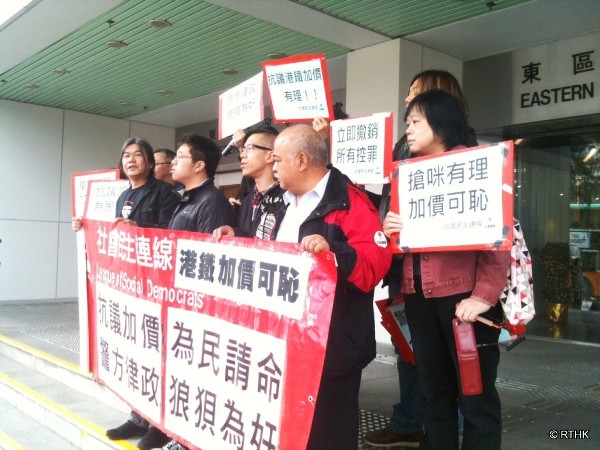 Criminalising the right to protest
As we have warned on chinaworker.info previously, the government and capitalist establishment are trying to limit the scope for mass protests in Hong Kong, with sensationalised claims of "political violence" levelled against radical anti-government critics, more aggressive policing, and a string of measures that – if adopted – will roll back existing democratic rights, which are already limited even by comparison with other advanced capitalist states.
This drive towards more authoritarian methods of rule mirrors developments in mainland China, where an intensified clampdown on dissent has been underway for over a year. The Beijing regime, which controls Hong Kong's government and manipulates political life in myriad ways through its strong links to the business, media and academic elites, views Hong Kong's radical culture of protest as a threat that could also spill over into China itself. This fear is heightened by the spread of 'mass incidents' in China (more than 180,000 reported in 2010) and the greater sophistication, organisation and planning of many of these struggles as illustrated by the mass revolt in Wukan village (September-December 2011) and recent strikes.
Most arrests since 1967
The Hong Kong government is doing its bit to assuage the dictatorship's concerns and launch its own version of a crackdown. This has led many commentators to speak of the 'mainlandisation' of Hong Kong's political situation. A crucial aim of the ruling elite is to revive the corpse of Article 23, a vicious national security law that was thought to have been buried by a mass movement in 2003.
An unmistakeable feature of the government's strategy is the more confrontational style towards political activists taken by the police and judiciary, especially since the appointment of hawkish police chief Andy Tsang Wai-hung one year ago. During Tsang's first year, a total of 416 arrests were made on demonstrations compared to 50 arrests the year before – an 8-fold increase. This is the highest number of arrests made at demonstrations since the 1967 riots against British rule.
Around 20 protesters are still awaiting trial for alleged offences committed at various protests last year. None of those arrested at protests in 2010 were sentenced to imprisonment. But as this case shows, the courts are likely to take a tougher line in coming cases, and this is no accident but a reflection of a shift in policy by the government and its law enforcement agencies.
LSD under attack
In particular, the capitalist establishment is clearly aiming its blows at the LSD and its allies – invariably labelled 'radicals' by the media – in an attempt to ostracise this party's activists as 'trouble-makers' in the public mind-set. The use of harsher criminal charges and sentences seems to be part of a wider strategy to punish the LSD for its defiance of the government and especially it coordinating role in the May 2010 anti-government 'referendum' which mustered over 500,000 votes. The Beijing dictatorship and its puppet politicians in Hong Kong are determined to make an example of the LSD, to show that struggle and defiance will not be tolerated.
The harsh sentence handed out to Wong and Chow, which is now under appeal, must be met with a storm of protests. Unless this happens, the ruling elite may be emboldened to take further measures against the LSD in particular and other protesters. The League's legislator 'Long Hair' Leung Kwok-hung and several other defendants are currently facing trial on charges of criminal damage and disorderly conduct. There is a clear risk the courts – on political orders – will impose similarly tough sentences with the added bonus, from their point of view, that a jail term for 'Long Hair' could, depending on the timing and length, debar him from defending his Legco seat in the elections this September.  In the 2008 elections, 'Long Hair' was re-elected with the second highest vote of any elected legislator in Hong Kong.
Unfortunately the recent fragmentation of the pan democratic bloc of parties, with the right-wing parties increasingly prostrating themselves to Beijing and preaching 'compromise' in the struggle for democracy, has complicated the task of mobilising against state repression and to defend fundamental democratic rights.
A powerful protest movement needs to be initiated against this political persecution. It must begin immediately to mobilise youth and workers in defence of 'Long Hair', Wong, Chow and other political defendants and to expose the authoritarian aims of Hong Kong's rulers. The question of 'violence' at demonstrations, wildly exaggerated by the capitalist media and politicians, must nevertheless be addressed as this has enabled the pro-government camp (with the all-important connivance of the right-wing pan democrats) to confuse and disorientate a section of the population who would otherwise sympathise with these struggles.
Demonstrations should be well prepared, with elected representatives and stewards to deal with safety and respond to confrontational tactics by the police. Tactics for the conduct of occupations, sit-down protests and other methods of struggle that are entirely legitimate and necessary in the current situation, should be prepared and coordinated in the most democratic fashion, through committees of elected representatives of all participating organisations and parties. To be effective in the current climate a high degree of self-discipline is needed on protests as well as conscious efforts to  appeal to new and fresh layers of discontented workers, youth and ordinary people to join in.
Solidarity campaign
Socialist Action (CWI in Hong Kong) is calling on the left to respond urgently to the prison sentences against Wong and Chow. Protests should be called now, before the appeal process is completed. A coordinating meeting open to all groups that wish to fight government repression should be called at once to broaden and coordinate the struggle. If the defendants' appeal is rejected we urge protests even internationally, targeting the MTR Corporation, which has operations in several countries including Australia, Britain and Sweden.
"The struggle against Article 23 and to defend democratic rights, which are increasingly endangered, must begin now, with protests and activities against this brutal court decision," said Sally Tang Mei-ching.
Socialist Action demands:
Overturn the guilty verdicts against Wong Hin-wai and Chow Lok-hang
End political persecution – defend the right to protest in Hong Kong
Oppose attempts to bring back Article 23
Mass struggle and the building of a genuine mass workers' party is the only way to achieve democratic rights