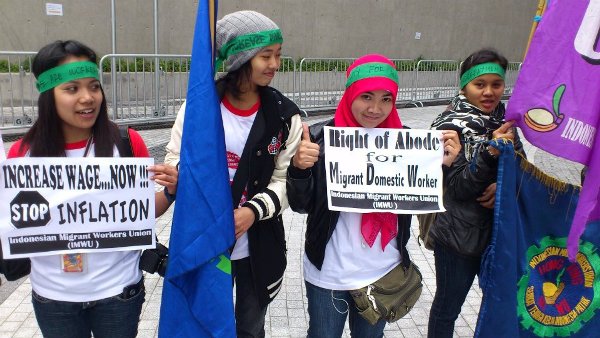 Three women from the Philippines talk to Socialist magazine about their experiences of working abroad, economic hardship and discrimination
Grace Pastorfide, migrant worker and supporter of Socialist Action
There are 301,000 migrant workers living in Hong Kong. Most come from Indonesia and the Philippines, but there are also smaller numbers from Thailand, Nepal and Sri Lanka. They help to raise children, care for the elderly and keep Hong Kong family's going – sorely needed services in a city suffering from a welfare vacuum.
In return migrant workers quite often meet discrimination and the accusation we are a problem. In the last year migrant domestic workers have come under attack from politicians and pro-government groups. Most recently two pro-government politicians complained about overcrowding of the city centre on Sundays, when migrant domestic workers take their statutory day off. As if migrants have an alternative when most have nowhere private to meet friends, socialise or pursue their interests.
The fight against discrimination of migrant domestic workers over the right of abode was taken to court in several highly publicised cases. This was then used by the government and capitalist establishment to attack migrants as scapegoats for the government's failure to tackle overloaded public services. The right of abode (ROA) issue is not about special privileges for migrants, but about equal rights. Why should bankers and lawyers – whose contribution to the economy is debateable – be governed by one set of laws and women migrants by another?
Most migrant workers do not actually want permanent residency and think issues like wages and working hours are much more important. Socialist magazine spoke to Divina, Elsa and Glenda, all three from the Philippines, about their experiences.
Divina: "I miss my daughters"
Divina came to Hong Kong 12 years ago. In Manila, she worked as an accounts executive, but left that job after a dispute with her company. She decided to become a domestic worker in Hong Kong mainly to earn money to support her family and her two daughters' education.
She says there are so many problems and hardships in working abroad, mainly because the children left behind have to grow up without their mother's care and guidance. This can often lead to problems such as early pregnancy, drug addiction and violence. The apartment of her eldest daughter was burgled recently, which was a terrible shock and heartache. They are several female students sharing an apartment near their university, and the break-in not only meant the theft of her daughter's mobile phone and other valuables, but also brought home the high crime rate in Manila. Another female student was murdered on the university some months ago. This heightens a mother's fears and anxieties for her family while she is forced to work far from home.
Divina used to be able to visit her family every year, but the last time was almost three years ago. She couldn't afford to get her two girls to visit her in Hong Kong, so last year in April it was only her eldest daughter came to visit her. She missed her youngest daughter so much.
Migrant workers were excluded when Hong Kong implemented its first minimum wage law. "It was crystal clear that the Hong Kong government is biased and discriminating. Migrant workers are no differen tfrom Hong Kong local workers, we are all workers!" she said.
Elsa: "Right of abode issues shows class discrimination and not just racism"
Elsa has been working in Hong Kong for almost 12 years since she became a widower and the sole breadwinner, needing to raise two daughters who were then still studying. In the Philippines, Elsa used to run a small business. When her husband fell ill and died of cancer this changed everything. Her financial situation left her no choice. "Leaving my two teenaged daughters to work overseas was the toughest decision in my life," Elsa said.
Foreign domestic workers return home for a two-week family visit after completing a 24-month work contract. According to Elsa this is one of the disadvantages of working abroad: her long absence and inability to guide her children led her youngest daughter to an early pregnancy, at the age of 17. With Elsa's support her daughter still managed to get her college degree. "My last visit to the Philippines was for her graduation day in April 2011," she said.
Elsa is angry over the Hong Kong government's decision to exclude domestic workers from the minimum wage law. "We work longer hours than almost any other workers in Hong Kong and the worst part is we don't get any overtime pay for it," she said. The current minimum wage for domestic workers (HKD3,740 per month) is not enough to live on. "Now the exchange rate of Hong Kong dollar to Philippine peso is very bad, so the money we send to our family back home is not worth our sacrifices."
Elsa's reaction on the ROA issue is even more intense: "Now I feel we are being deprived of our rights. In spite of the fact we already won the [court] case, it is still a big question mark whether we will have it or not. This is an example of class discrimination and not just racism. The working class is always being oppressed not only by the government but also by society."
Glenda: Work became the centre of her life
Glenda is 33 years old and married with one son. She's worked in Hong Kong since 2003. Before that she worked in Taiwan as a factory worker for three years, when she was only 20 years of age. Glenda comes from a poor family but managed to finish college. Due to difficulty finding a job in the Philippines and her determination to help her family, she left the country for a 'greener pasture'. For Glenda, working overseas swallowed up all her chances to live the normal life of a 20-year old woman – work became the centre of her life, to make money to support her family. Like many other migrants she experienced depression, emotional stress and unbearable homesickness.
"It was so tough," Glenda says of her first few years in Hong Kong. She used to wake up at 5am and work till 10pm, but at least she had one day off a week. Her current job is more tormenting. She and her sister work and live together, looking after an elderly disabled couple. The old woman suffers from Alzheimer's disease and is verbally abusive regularly towards Glenda and her sister.
Living conditions are cramped and the two sisters must make do without even a minimal level of comfort. Glenda and her sister sleep on the floor with only a duvet on it. The old woman doesn't allow them to use the spare mattress. At night they're even forbidden to use the light if it is not for work purposes, so they just use a torch. They don't have problems with food but the woman employer is always cursing and mocking every time they eat, sometimes calling them "pigs" and such like.
The women have suffered this humiliation inside the home but also outside – at restaurants, shops and even the hospital. In her view she's discriminated not only because she is a Filipina, but also because she is a domestic worker.
"One experience of discrimination I will never forget was when my previous employer booked me to go to a private pool to look after her son while swimming. The management did not allow helpers [domestic workers] to swim in the pool. It made me think of the segregation of black and white in America during the early times."
Glenda's salary is only HKD3,740 per month and she complains it is always paid five days late. "I've got bills to pay, personal stuff to buy, what we spend here is dollars not pesos! Our salary doesn't give us a decent life".
Glenda was very disappointed at the exclusion of migrant workers from the minimum wage law in 2011: "The decision to exclude us was so inhuman!"
On International Women's Day, 8 March, women around the world will take part in demonstrations and activities to fight for their rights. Hong Kong will also see several demonstrations. Migrant women workers have more reasons than most to fight. What's needed are real unions for migrants, controlled democratically, that link their struggle to the struggles of indigenous workers – for equal rights, a living wage and proper job protection. Without united struggle there will be no change!