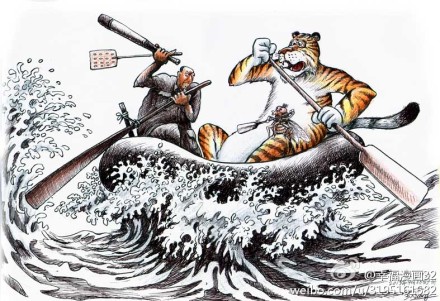 Xi Jinping's pledge to catch 'tigers' as well as 'flies' fails to live up to the media hype
Tommy Zheng, chinaworker.info
Statistics just released from the Supreme People's Procuratorate (SPP), which oversees criminal investigations and prosecutions in China, show that in the first eight months of this year there was little change from previous years in the number of corruption investigations and an actual drop in the number of prosecutions. This contrasts sharply with the propaganda of the CCP dictatorship and its leader Xi Jinping who has pledged to bring down top-level 'tigers' as well as lowly 'flies' in his high profile anti-graft campaign. Xi like his predecessors Hu Jintao and Jiang Zemin has warned that ingrained governmental corruption threatens the very existence of the current state. The regime's anti-corruption czar, Politburo Standing Committee member Wang Qishan, who also heads the Central Commission for Discipline Inspection, has spoken of using "shock and awe" methods against corrupt officials, but so far only the level of rhetoric is remotely shocking.
As we have explained on chinaworker.info, the regime's anti-corruption campaign is primarily a political tool to enable Xi to win some early popularity and at the same time impose greater control over the vast and unwieldy state apparatus. The fear of anti-corruption investigations is used to whip insubordinate officials into line. This is especially linked to the 'painful' economic reforms Xi recently pushed through the CCP Central Committee's Third Plenum (9-12 November), which have been warmly welcomed by capitalist representatives, but are likely to face resistance as local governments' economic power is trimmed. At the same time Xi wants to keep the anti-corruption drive within 'safe limits,' because to reveal too much of the astonishing wealth and shady business practises of CCP officials and their family members would only fan the flames of anti-government sentiment.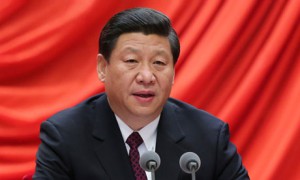 No real change
An analysis by Reuters of the data from the Supreme People's Procuratorate shows that the number of corruption investigations (as opposed to cases actually referred to the courts) is similar this year to 2012. But the SPP figures show far fewer people were prosecuted this year compared to the average over the past five years. The number of 'tigers' i.e. senior officials under investigation is on the same level as before. A total of 35,648 people were investigated for corruption last year, according to the SPP. This year up to August, 30,938 corruption investigations were initiated, which is an increase of 4 percent compared to the same period in 2012. But at the same time, only half of those investigated were prosecuted during this eight-month period, compared to a rate of 90 percent in 2008-12.
While eight leaders of vice-ministerial rank or above have been placed under investigation and removed from office up to November of this year, at least 10 were toppled in 2009. During the first year of Xi's tenure, a number of 'tigers' have been rounded up for investigation including Liu Tienan, the former deputy head of the top planning agency, NRDC, and Jiang Jiemin, the former chairman of SASAC, the government entity that oversees centrally-owned state firms. Four former executives at state energy giant PetroChina and its parent China National Petroleum Corp (CNPC) have also been placed under investigation for corruption, in what is seen as a strategic strike by the central government against the "oil gang" of vested interests in the state oil industry, close to former security chief and Politburo Standing Committee member Zhou Yongkang. Zhou himself is believed to be a target of the probes, which if confirmed would represent a significant new stage in what is actually a power struggle dressed as a corruption crackdown.
Power struggle
So far, the regime has failed to back up its anti-corruption rhetoric with actions, confirming predictions that this was a controlled and limited exercise driven by political and strategic considerations. It cannot be ruled out that the campaign could widen next year, with more symbolic 'tigers' netted, but if so, this will reflect a sharpening of the CCP's internal power struggles over the reform programme, rather than any serious attempt to root out corruption. Tellingly, Xi has ordered a round up of anti-corruption activists and online whistle-blowers, alongside tougher media controls, showing that his anti-graft campaign seeks to strengthen the repressive controls of the CCP-state rather than open up to even limited outside checks and scrutiny.
This amounts to the corrupt investigating the corrupt. Consequently, it will not succeed in eliminating corruption, nor is this the real intention. Xi and the CCP regime want a more disciplined and pliant bureaucracy, with local governments toeing the line. Corruption will exist but they hope on a more manageable, less politically destabilising scale. Socialists and democracy activists must step up the struggle against one-party dictatorship. We call for genuine and immediate democratic rights and socialist policies, meaning democratic public ownership of all major companies, to root out the profiteers, capitalists and corrupt officials.