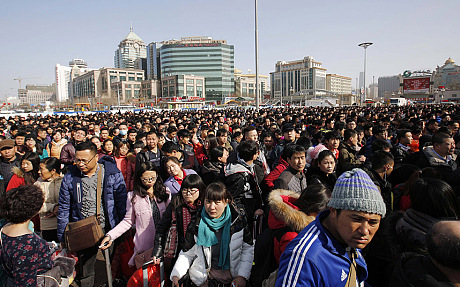 Four billionaires 'created' every week while workers fight to collect their wages
chinaworker.info
The world's biggest annual migration is under way with the majority of China's 270 million migrant workers making their way home to provinces far from the cities where they live and work. According to official data more than 2.8 billion trips will be made in the next few weeks as China celebrates the arrival of the Year of the Goat. But while primarily a time of family reunions and celebrations, the holiday period also casts a light on social divisions and the extremes of wealth and poverty in modern China.
For the wealthy, despite a shakier economy over the past year, things have never been better. China's 25 richest people have increased the value of their personal fortunes by a staggering 21.3 billion US dollars over the past six weeks. That is just the increase they have banked since 1 January according to a report from Bloomberg. To put this sum in perspective, the UN estimates that an additional 30 billion US dollars yearly would provide access to safe water to the entire planet. Diseases linked to unsafe drinking water kill an estimated 6,000 people per day worldwide. Vast areas of rural China also suffer from severe water pollution.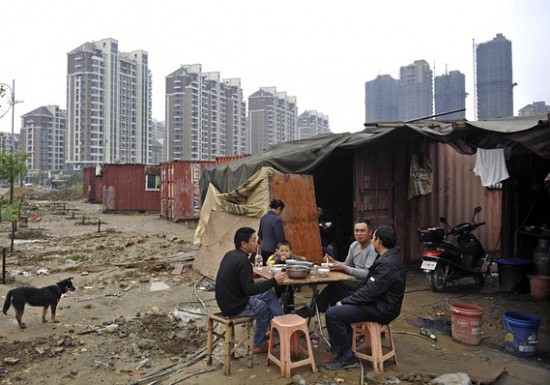 The surge in wealth for China's super-rich is a result of the stock market boom – 'niu shi' – engineered by the policies of the so-called 'Communist' Party (CCP) dictatorship. With looser monetary policies and regulatory changes to favour financial speculation, the main Shanghai share index rose 60 percent during the Lunar Year of the Horse. The stock markets will be closed for a week during the Chinese New Year holiday but, based on 'hot money' flooding in, the stock market bubble is set to inflate further – before an inevitable correction.
Bloomberg News reports that the stock market boom and a string of initial public offerings (IPOs) created two dozen new dollar billionaires in China since the start of 2015. That's an average of four new billionaires per week. The owners of an airline, a video-game developer and a chain of pharmacies are among this new financial elite.
Upturn in strikes
Yet for millions of workers in China the past few weeks have been especially tough, with an increase in conflicts over unpaid wages. As the economy slows and former boom industries like mining and construction encounter hard times, the number of workers' protests and strikes has tripled compared to the levels of one year ago, according to independent estimates. Non-payment of wages is one of the most common triggers of disputes.
The gigantic construction sector has been a particular flashpoint with its 40 million workforce comprised mostly of migrants employed in a crazy chain of sub-contracting companies who generally pay salaries once a year – just prior to the Chinese New Year. Almost one-third of strikes currently breaking out in China are in the construction sector. In early February, construction workers in Kunming blocked a main road and held up banners demanding a property developer handover their wages – earned with "blood and sweat," according to reports on social media. Dozens of similar protests have taken place in recent weeks. Some recent conflicts over unpaid wages have led to fatalities as reported from Guangxi and Shanxi provinces. The latter case attracted nationwide attention on social media. Zhou Xiuyun, the mother of a construction worker, was killed by police during a protest over wage arrears in December.
A 2014 study by the Chinese Academy of Social Sciences found that 8 percent of migrant workers complained of being owed wages in the preceding year. This study found that half of these workers, or 4.3 percent of the total, said they had taken part in "mass incidents" (the official term for strikes and demonstrations) to pursue their wage arrears. These percentages, if reflective of the whole country, translate into 21.6 million and 11.6 million workers respectively.
The Great Wall separating rich from poor in China is highlighted by the stellar rise of construction company shares on the stock market – jumping 63 percent in the final month of 2014 – while construction workers are forced into sometimes desperate measures to obtain their hard-earned pay.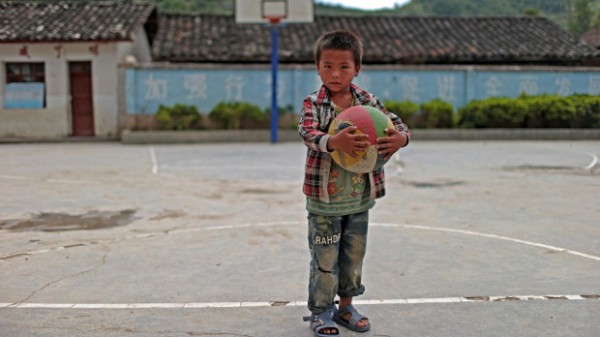 'Left-behind children'
A heartrending feature of the Lunar New Year holidays is the plight of China's 70 million 'left-behind children' (liu shou er tong). Through poverty and discriminatory laws they are forcibly separated from their migrant worker parents for most of the year. The start of the holidays mean that, as the Financial Times commented, "tens of millions of migrant children are just about to spend a week with their parents – and then say goodbye to them for another year. The Chinese dream is a tough taskmaster."
The hukou system, which divides the population between privileged 'urban' households and underprivileged 'rural' households, means that rural children are blocked from attending most urban schools. Many live with their grandparents or other family members, others are placed in boarding schools which have recently attracted widespread media criticism. "Students were often locked in classrooms for long periods to study by themselves," Caixin reported from one such school.
Almost 50 percent of left-behind children suffer from depression and anxiety, compared with 30 percent of their urban counterparts, according to a 2014 study funded by the Heilongjiang provincial government. "Left-behind children usually have inferiority complexes, lower self-esteem and lower confidence," the study's chief researcher reported.
As China's economy slows sharply – a process that is only partially revealed by official statistics – the working class will face new hardships and challenges in the Year of the Goat. Collective struggle and steps to build independent workers' organisations show the way ahead.