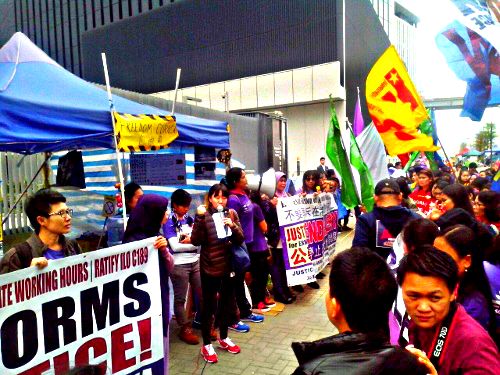 Women of different nationalities are out on the streets protesting for women's rights.
Socialist Action reporters
International Women's Day, celebrated annually on 8 March, is a day to commemorate the struggle of women for their rights.
On 7 March, Socialist Action (CWI supporters in Hong Kong) together with the Refugee Union, League of Social Democrats and Slutwalk Hong Kong organized a protest at the Central Government Offices against the increase in violence against women in Hong Kong, and demanding the government to provide public shelters for female victims.
The protesters chanted, "No to sexual violence! Yes to public shelters!", "We need public childcare!", "Universal pension now! End female poverty!". Event spokesperson Sally Tang Mei-ching pointed out that the number of cases of sexual violence in Hong Kong increased 1.8 times last year, but currently there are only enough places in shelters for 280 people, all of them run by NGOs, which is a severe undersupply. Due to the lack of a universal pension system, women who engage full-time in unpaid household labour are not be protected by the existing MPF (Mandatory Provident Fund) scheme, aggravating poverty among women.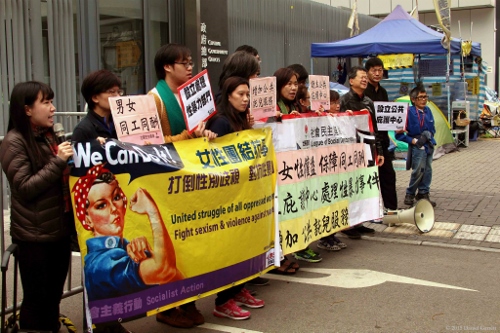 This year's International Women's Day fell on a Sunday, the only day of the week when the 300,000 migrant women workers in Hong Kong have their day off. Filipino migrant groups held a demonstration in Central protesting at the Philippines government's plan to end their exemption from paying travel taxes and terminal fees when flying back to Hong Kong. Another protest was held at the Government Offices in Admiralty, by Indonesian and Filipino domestic workers demanding the abolition of Hong Kong's unfair work rules such as the requirement to 'live in' with employers.
The recent jailing of Erwiana Sulistyaningsih's former employer following a conviction for assault and other crimes, was a milestone in the migrant workers' struggle. This ruling can strengthen the movement of migrant workers to fight against injustice, and reinforce women's struggle as a whole. The victory in this court case also proves that mass movements can bring results; by putting pressure on the governments and exposing to the world the unfair migrant labour system in Hong Kong.
Socialist Action actively supports the struggle of the migrant workers, demanding the abolition of these discriminatory laws and urging united struggle by women and workers of all ethnicities to defend women's rights and workers' rights.
Link of Hong Kong local media reporting the demonstration:
【TVB Pearl 07-03-2015】News Report〔Video 13:15-14:20〕
【SocREC社會記錄頻道 07-03-2015】回應就性暴力個安上升及全民退保(影片)
【明報 08-03-2015】團體爭婦女權益
【蘋果日報 07-03-2015】團體示威促政府關注婦女權益
【新報 08-03-2015】家暴勁增 女性受虐嚴重
【東方日報 08-03-2015】婦女們妳感到幸福嗎? 
【太陽報 08-03-2015】近一成婦女坦言不幸福