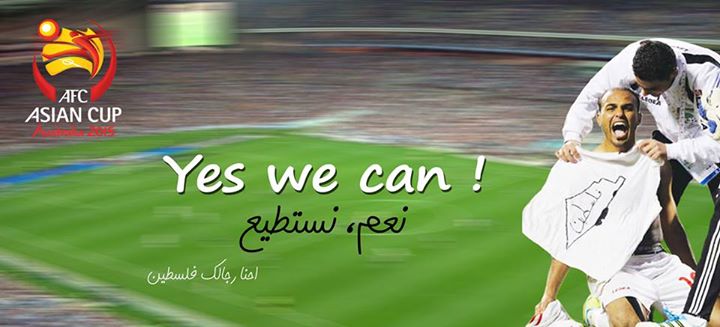 Palestine's team does not even have a national stadium – It's twice been reduced to rubble by the Israeli army
J M Roy, Socialist Action (CWI Hong Kong)
Following the Palestine National Football Team around the country in a major tournament might not be everybody's idea of a dream holiday, but it was for me. And the moment Ashraf Numan's 25 yard free kick against the Philippines hit the back of net to win the Challenge Cup final and the last slot in the Australian AFC 2015 tournament, I was already booking my flights.
I arrived in Newcastle the day before the first match. A huge event for a small coal mining town 150 miles north of Sydney. Palestine were playing AFC cup holders and favourites, Japan.
The moment that the Palestinian people had been waiting for, no doubt watched on TVs all over the West bank, Gaza, refugee camps across the Middle East and among the Palestinian Diaspora everywhere. Ramzi Saleh, the veteran goalkeeper and captain, lead the Palestinian team out, their flag was unfurled and the 15,000 strong crowd stood to hear the national anthem played. It may not sound like much, but it may cause a case of Doublethink to those who refuse to recognize Palestine's existence.
Most small nations face an uphill struggle to qualify for a major tournament. For Palestine, the phrase 'more than a game' is no idle cliche
The team does not even have a national stadium which they can use. It's been reduced to rubble by the Israeli army. Twice. Players are routinely targeted by the occupation. Arrested, denied travel permits, homes bulldozed and occasionally killed outright. Next time you're feeling sorry for your star striker who's fractured his 5th metatarsal, be thankful he wasn't shot 10 times in the feet like Jahwar Nasser was, by Israeli soldiers when he was returning home from training.
First match result? 4-0 to Japan. But if you think that stopped the fans singing, you haven't been paying attention.
Next stop was Melbourne where there was a huge welcome planned for the team, but I was ahead of them-I managed to get a ticket on the same plane. Standing at Newcastle airport waiting for them to arrive and a car pulls up with the Palestinian team officials, including The President of the Palestinian Football Federation, Major General Jibril Rajoub.
"Ah, from Hong Kong" he says "We heard you were coming. Good, this is good. We take care of you"
He's a serious looking guy, but then I guess 17 years in Israeli prisons will wipe the smile of anyone's face.
Dead Sea derby
The players come in and they're posing with everyone for photos and chatting to the public before we all board the plane. No team should be without an official travelling flautist and there's a party atmosphere on the flight. Players and fans alike are clapping, autographs are being signed and the team receives a cheer as the captain announces their presence. At arrivals, it's pandemonium.
Hundreds have skipped work to turn out. Keffiyehs and flags are everywhere. The players barely make it to the team bus as they are mobbed by their fans. They're not just footballers here, they are ambassadors showing the world that they exist. It's going to be quite a few days. Events are being organized, radio shows, press conferences. Palestine has arrived and Melbourne is going to hear about it
Melbourne is hosting their second match. The one we've all been waiting for. A must win match for both teams. It's the Old Firm, It's El Clasico. Welcome to the inferno that is-The Dead Sea Derby.
It's Palestine V Jordan.
It's press conference day in Melbourne for Palestine. Three players and Mr. Rajoub are in fine form with the media
Ramzy 'We will overcome any obstacles imposed on us by the Israeli occupation"
Abdulhamid "We raised our flag and sang our national anthem in a country that does not even recognize that we exist"
Jibril "Our difficulties are down to the racist Israeli policies. They blocked three players from coming, these racists"
The day of the match. A small olive tree planting ceremony organized by a local artist takes place near the stadium, fans queue up for face painting, huge flags are unfurled, we enter the stadium and our end is packed. There are Palestinian fans here from all over; from Chile, from China, fans from Scotland and Ireland.
In the 85th minute Palestine score! Jaka Hbaish with a first time volley. History is made, the Palestine end erupts! Palestine's first ever goal in a major tournament.
Final result?
Palestine 1 Jordan 5. But again, don't miss the point.
Final city and I'm off to the beautiful, yet bizarre capital of Canberra.
First match is another local derby. It's the clash of the communist old guard. The 38th parallel war reunion.
Its China- North Korea.
China storm into a 2-0 first half lead. But in the second half the DPRK are all over them. Cheered on by the ever loyal Ultras, Cholima come out with all guns blazing and pull one back in the 70th minute. So Hyon Uk hits the bar with a 40 yard rocket in the 80th minute.
The fans are going hoarse with singing
"DP, DPR, DPR KO-RE-A!" rings out as China again scramble the ball away. The Koreans try everything but finally go down 2-1. Again, the players salute us, the manager comes over to shake hands and the boys can head back to Pyongyang with their heads held high.
Last match of the tournament for Palestine. And it's against another team who are no strangers to occupation, death and destruction. It's the clash of the oldest civilizations-It's Palestine v Iraq.
It's a much changed squad for the final match. Saleh is rested and Tawfiq is given a start. Young, 6'5", he's ready to step into Saleh's boots.
Palestine are much better organized and they're playing for pride this time.
At half time, they're holding the Iraqis 0-0. Unfortunately, they lose concentration in the second half and go 2-0 behind. Tawfiq pulls off an incredible penalty save and the final whistle blows.
The players come over and throw their shirts into the crowd. They've lost every match, but there are no sad faces in the crowd. They've said something to the world.
If there is one thing that everyone can understand, its football. How can the world say Palestine doesn't exist when we've just seen them play in a major football tournament? Does Brazil not exist? Does Germany not exist?
And yes, North Korea might be a repressive regime, but its people are just people. Its footballers are 11 young guys who just want to lace their boots and kick a ball, like billions of other people around the world.
To Palestine-"Next year in East Jerusalem!" and the 2018 World Cup in Russia. Thanks for the memories.