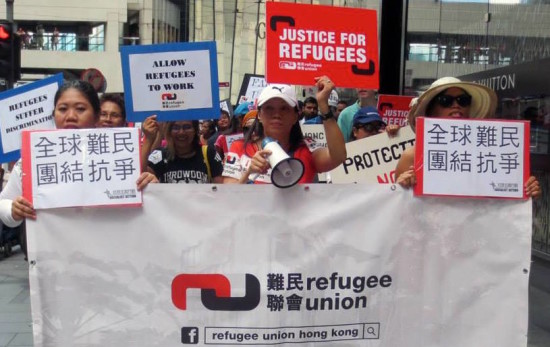 Hated food packages replaced with coupon system
Socialist Action reporters
Refugees in Hong Kong have achieved a breakthrough in their struggle over the authorities' food aid policy. Since the end of May, refugees have started to get coupons for buying food in the supermarket, instead of being forced to collect food packages from specified shops. In this way, refugees are allowed to have more choice and better quality of food, although a list of items (e.g. chocolate, chips, medicine, alcohol) is banned. The change removes one of the many forms of petty control exercised by welfare bureaucrats over refugees, controls that are motivated more by politics than economics.
This is a result of a more than year-long struggle by refugees. The government's decision to make what amounts to an important concession is noteworthy, as few groups in Hong Kong have won anything in recent years under the rule of "CY" Leung Chun-ying. Given that refugees have little bargaining power and are sharply segregated under Hong Kong's punitive asylum policies this is a significant victory, showing that determined and well-organised struggle can get results.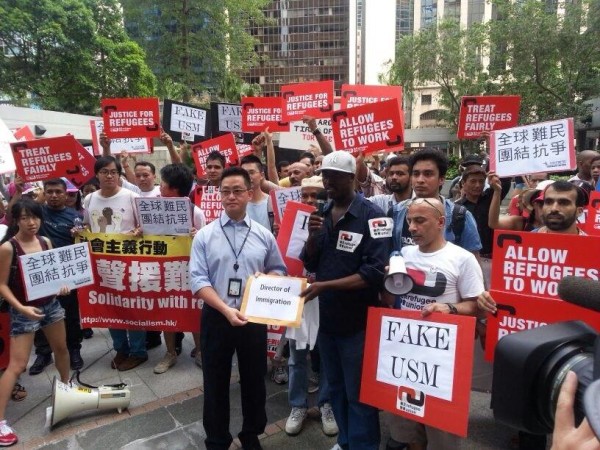 200-day occupation
On January 27 last year, a few dozen refugees established the Refugee Union, and within two weeks organised peaceful occupations of welfare offices in protest against underpayment of food and housing allowances and unfair welfare policies. The offices are run by International Social Services (ISS), a Swiss-based NGO which combines the roles of "aid group" with that of a limited company that profits by capturing government contracts and administering the inhuman refugee policies of the Hong Kong government. In 2006, ISS-HK won the lucrative HK$203 million per year contract to disburse government aid to around 5,000 refugees in Hong Kong.
Soon after the occupations began ISS-HK won a court injunction to evict the protesters who, following discussions with representatives of Socialist Action (the CWI in Hong Kong) relocated their peaceful occupation to a public area outside the Social Welfare Department (SWD) headquarters in Wan Chai and then outside the International Finance Centre in Central. The occupation was sustained for 200-days, backed up by regular demonstrations and activities to build the Refugee Union and generate publicity.
Banned from working by law, refugees are forced to survive on handouts from charitable organisations and the very low welfare disbursements from ISS-HK. They complained that food packages, supposedly worth HK$1,200 per month were routinely 'downsized' to contain less than this amount. The South China Morning Post conducted its own survey in February 2014 and found the goods in a monthly ISS food bundle to be worth between 13-30 percent less than the legal guidelines. This means ISS was short-changing refugees by HK$300-HK$400 worth of food per person per month. The Refugee Union suspected collusion between ISS and the food suppliers to charge inflated prices and supply inferior and even expired food.
A complaint was filed against the company with the Independent Commission Against Corruption (ICAC), however this investigation has been closed on the grounds of "insufficient evidence". The nominally 'independent' ICAC is accountable to Chief Executive Leung Chun-ying, whose wife is a patron of ISS-HK, a fact that could reasonably be said to constitute a conflict of interest. This shows the class-bias within the legal system and the hypocrisy of Hong Kong's much trumpeted 'rule of law'.
Who's the real burden?
The government wants to portray refugees as a 'burden' on Hong Kong's under-funded welfare system, while at the same time banning refugees from getting jobs to make a bigger contribution to the local economy. Government policies are driven by an obsession with the so-called 'magnet effect' – which argues that refugees must be scared away from coming to Hong Kong by a system of rules that are deliberately harsh and obstructive. But from an economic perspective the current model of outsourcing welfare services to rogue companies like ISS-HK cheats both refugees and the citizens of Hong Kong. It is the government's neo-liberal pro-rich policies that are the real burden on ordinary working people. The government uses the same Scrooge-like logic it employs against refugees against the low-paid and elderly which is why welfare support is among the lowest in any advanced economy.
Under current government policy, refugees are each entitled to receive a monthly housing allowance of HK$1,500 paid to the landlord for self-arranged accommodation. Under the extremely high housing costs in Hong Kong, the most unaffordable in the world, it is impossible to rent an apartment for such a low amount. "HK$1,500 is not enough to rent a parking space for a motorbike," says Sabir Butt, a pioneer member of the Refugee Union. As a result it has become common for refugees to live in illegal structures such as disused pig farms or chicken farms. Earlier this year, 33-year old Sri Lankan refugee, Sivarasa Sivatharan, was killed in a fire in a tin shack, highlighting the terrible housing conditions of refugees. The Refugee Union is also fighting to close down the slums and replace them with safe housing. This struggle continues and is being stepped up after the government's retreat over food coupons.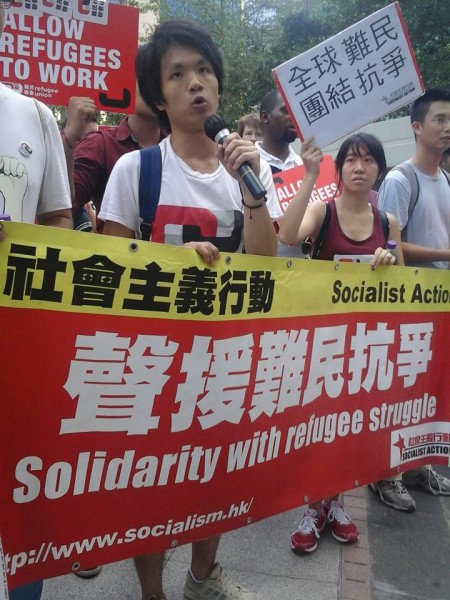 Socialist Action – What we stand for
Socialist Action has supported the Refugee Union throughout this struggle, with encouragement and political advice as well as practical assistance. Socialists defend the right of asylum, which is a basic democratic right. We oppose the Hong Kong government's inhuman policy, which effectively refuses to recognise the right of asylum. When capitalist governments and politicians reject the right of asylum or scapegoat refugees as "welfare tourists" these policies are always part of a wider attack on democratic rights and welfare in general. They are part of an attack by the billionaire elite against the whole working class, and the only answer is united struggle by all oppressed groups together to change the system.
It is the diseased system of capitalism and imperialism that results in wars and civil wars – as now in Ukraine, Yemen and Syria. The profit system is in crisis which leads to growing military budgets, destruction of democratic rights and the rise of despotic regimes, and increasing nationalism. This in turn leads to the creation of 'failed states', mass poverty, and ethnic or religious conflicts which force millions to flee their homes. Capitalism's 'answer' is more brutal state repression, militarised borders, and a growth of racist parties. Our answer is to change the world along democratic socialist lines – to run society for the needs of the people, not the profit of a few.
New coupons mean more profits for Wellcome
Refugees are generally very pleased with the new coupon scheme that replaces the much criticised and deficient food packages. But the biggest winner is the Wellcome supermarket chain, so far the only company to accept the new coupons, as this is worth HK$108 million a year from the government. Once again, it is the big monopoly companies in Hong Kong that benefit from government policies – even when these are the result of our struggles for a fairer deal. Wellcome is part of Dairy Farm International which in turn is part of the Jardine Matheson conglomerate with interests in property, transport, tourism and retail. Mannings, 7-Eleven, Maxim's, Oliver's, IKEA (in Hong Kong) as well as Mandarin Oriental hotels are just some of the companies in Jardine's empire. Jardine bosses are part of the same corporate elite that is constantly warning against 'welfarism' in Hong Kong and urging the government to limit social spending – while it is they who cash in on the biggest government handouts!