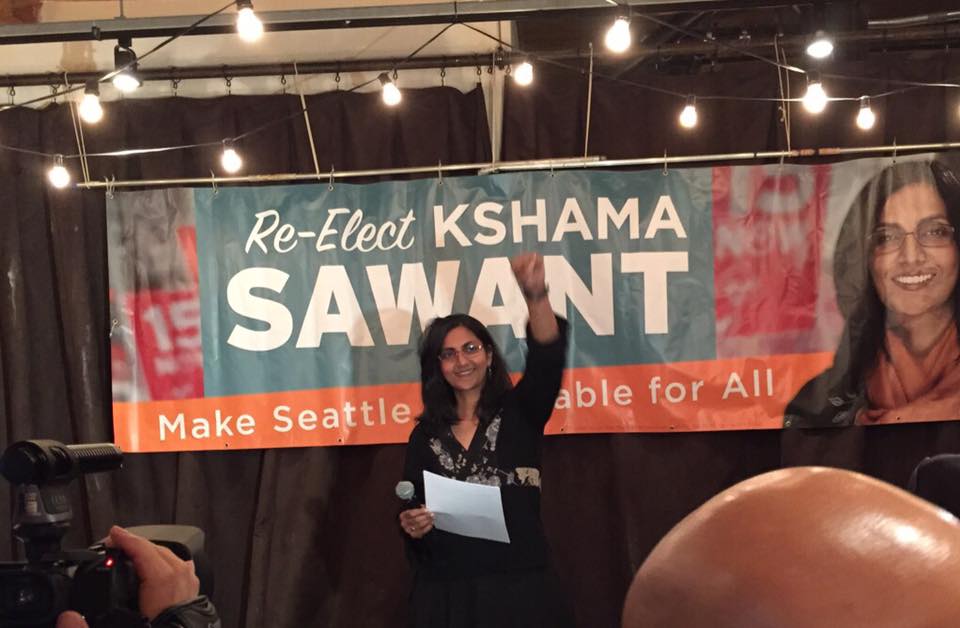 Two years ago, Kshama Sawant won almost 100,000 votes to become the first socialist elected in Seattle for a century
Socialist Alternative (US) reporters
Since then she has put her stamp on the city, organising key struggles for working people that have won some important victories. Kshama is a member of the Socialist Alternative Party, part of the CWI and the sister organisation of Hong Kong's Socialist Action.
With Kshama in their corner, struggles in Seattle have won a $15 (HK$116) per hour minimum wage, millions of dollars in funding for vital social services, and serious momentum for rent control and progressive funding for affordable housing. Her record in office brilliantly illustrates the potential power of independent working-class political representation. That's why so many third party advocates, union activists, and left commentators across the country are closely watching the election race in Seattle.
The $15 minimum wage battle led to the first ordinance in a major city. She used her position to help build, with union support, a grassroots movement '15 Now' which has since spread to cities across the country. Kshama is now leading the struggle for rent control and building high-quality public housing. Recently 1,000 people packed a town hall meeting to hear
Kshama and another council member debate with a developer lobbyist and a politician supporting the developers. That such a debate is taking place at all is ameasure of the political shift that has been created by Kshama's being a voice on the council for the struggles of working people.
Kshama only accepts 40 percent of her council member's salary, the same level as a skilled worker in Seattle, and donates the rest to campaigns on behalf of workers and the oppressed. When Xi Jinping visited Seattle in September to meet with CEOs and billionaires, Kshama led a protest demanding union rights and democracy for Chinese workers. She also announced during Xi's visit that she is giving US$500 to chinaworker.info (which publishes this magazine) and the Chinese supporters of the CWI.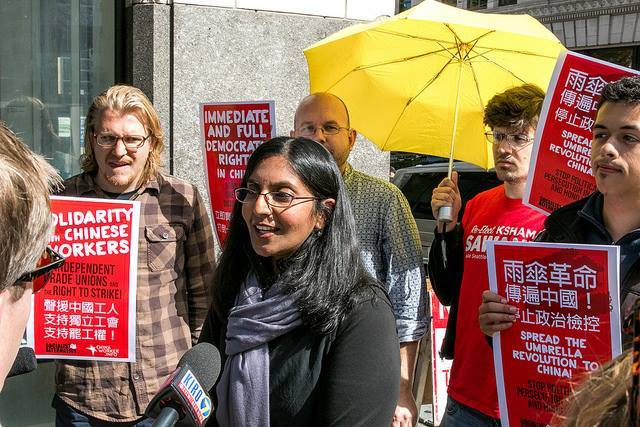 Recovery for the rich
The much talked about US economic recovery is a recovery for the rich. Data from the Census Bureau shows that median household income was 6.5 percent lower in 2014 than in 2007. The jobs being created are overwhelmingly low paid and working conditions are worsening. Recent years have seen a growing wave of resistance as shown by the Occupy movement in 2011. Since the killing by police of Michael Brown in Ferguson just over a year ago, tens of thousands of black youth have taken the road of struggle. The fast food workers' actions for "$15 and a union," reached a new height with a nationwide strike in April. These examples also point to the potential to rebuild a fighting labour movement.
Presidential candidate Bernie Sanders – who has called for a "political revolution" against the billionaire class – is currently receiving 35 percent support from likely Democratic primary voters. Sanders has taken up the call for a $15 minimum wage across the country, following the example of Seattle. Hillary Clinton, favoured choice of the corporate wing of the Democratic Party, was supposed to be on a long victory lap, but now her campaign is in serious difficulties. The two front-runners in the Republican race, Donald Trump and Ben Carson, are right populists whose support is partly based on having no experience as politicians.
This shows the widespread hatred for political insiders. Polls have also consistently shown majority support for left positions like higher taxes on the rich (in 2013, 52 percent supported the statement "redistribute wealth by heavy taxes on the rich") and earlier this year no less than 63 percent said they supported a $15 mini-mum wage. A Gallup poll in September 2014 showed 58 percent supporting the idea of a third party.
Big Business out to stop Sawant
Big business has been pouring money into the campaigns of Kshama's opponents, particularly Democratic Party politician Pamela Banks. The victories that Socialist Alternative has achieved with Kshama in power were not free. They cost the big corporations millions in profits. But it's the potential of a real political challenge to their system emerging if a "bad example" is allowed to flourish that's put Kshama's seat in the crosshairs of corporate CEOs.
The corporate media has worked hard to portray Kshama as "divisive." In reality she has opened the doors of her office wide for working-class campaigns, LGBTQ people fighting a rise in violence, immigrants and others fighting a threatened 400 percent raise in rent in low-income housing. The struggle to get Kshama Sawant re-elected is part of a wider struggle for the building of a new mass party that serves the interests of working people and the poor rather than the 0.01%.