From Shenzhen to Tianjin – death and destruction caused by corruption, poor oversight and the blind chase for profit
chinaworker.info reporters
The December landslide that killed at least seven people in Shenzhen capped a year of deadly accidents in China. On New Year's Eve one year ago, 36 people were killed in a stampede on Shanghai's famous Bund, which was blamed on inadequate policing and poor planning of the festivities. A shadow hangs over this year's celebrations in the city.
In June, 454 people were killed when the Eastern Star cruise ship sank during a freak storm in the Yangtze River. In August, 173 people were killed and more than 17,000 were made homeless by a series of powerful explosions at a chemical storage warehouse in Tianjin. These disasters betray several similar features: massive media censorship afterwards to insure the official version is not questioned, pressure on survivors and relatives of the victims not to talk to media or take any measures independent of the authorities. The disregard for public safety in these cases has a common denominator: the worship of cash profits which leads companies to break the law and corrupt officialdom to turn the other way.
The latest disaster in Shenzhen has enormously added to the sense of public insecurity, as expressed by many posts on social media as people wonder if their city could be next in line. "This state of affairs can't continue without serious consequences to both public safety and domestic confidence in the system," noted The Standard (Hong Kong) after the landslide in Shenzhen.
China's air pollution crisis has also worsened dramatically in the final days of 2015. Ten eastern cities with more than 100 million inhabitants issued red alerts over pollution on 24 December, warning people to stay indoors as schools and many workplaces were closed. Toxic smog mainly caused by the burning of coal and fossil fuels reportedly kills 4,000 people per day in China. The rapid succession of yellow, orange and red alerts issued by city governments this winter – Beijing issued its first ever red alert in December – has been mockingly described as a 'colour revolution' by some online commentators.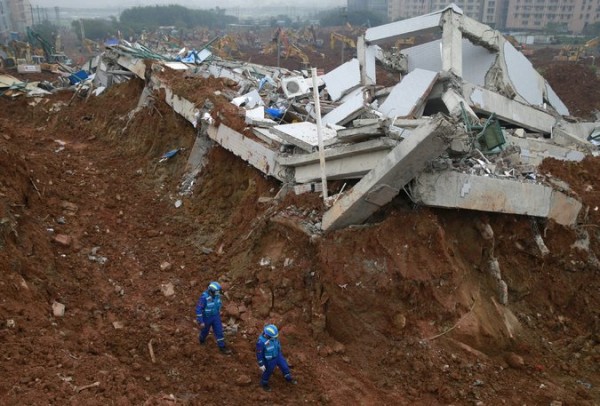 Shenzhen landslide
On 20 December, a massive landslide smashed and buried buildings in an industrial park in Shenzhen's Guangming district. Shenzhen, with more than 12 million inhabitants, is held up as the birthplace of the Chinese economic miracle. In that sense, the Shenzhen landslide is a metaphor for the precarious foundations upon which China's rapid rise to economic superpower status is based. Despite an improvement in the rate of fatal accidents in some sectors, such as mining, although that is mainly due to the slump in the coal industry which has resulted in the closure of the smallest mines which were also the most dangerous, China in 2014 recorded a staggering 68,061 industrial fatalities – about 186 a day. This compares with 13 a day in the United States, with a population less than a quarter of China's.
A giant waste dump sited in a former quarry, which was operating without a license and had been ordered on safety grounds to close ten months ago, with the latest warning being issued just four days before the disaster, continued to operate in defiance of regulations, reaching the height of a 20-storey building that towered over the industrial park and buildings just 100 metres away. When this artificial mountain collapsed it swallowed 33 buildings – apartment blocks, several factories, a canteen and three workers' dormitories – in a sea of earth and construction debris.
"Run, run!"
Over 70 people are still missing in addition to seven confirmed deaths. The landslide was captured on a resident's cell phone video, as people fled for their lives and screamed for others to "run, run!" The city authorities said the landslide covered an area of 380,000 square metres – double the size of Hong Kong's Victoria Park.
Landslides occur quite frequently especially in the mining industry and in developing countries. More than 100 workers were buried alive by two separate incidents in Myanmar's jade mining industry in November-December 2015. A survey reported in the Guardian newspaper (UK) shows that 4,617 people are killed every year in landslides. But it is more unusual for fatal landslides to occur in major cities, involving construction waste rather than excavations. "What is troubling about this accident is that it occurred in a first-tier city, Shenzhen," commented the Beijing News. "It is at the forefront of Chinese citizens in its level of modernization."
True to form, relatives and other residents complain of being prevented from visiting the site – some saying they have local knowledge that could assist the search for survivors but are being ordered to stay away. State media report that 5,000 workers are taking part in the rescue and clean-up operation, but how many of these are police and security officials whose task is to keep reporters and family members away is unclear. "No one cares about us or has told us how things are going with the rescue," survivor Zhou Suqing told the South China Morning Post (Hong Kong). Zhou's husband was buried alive. "[The officials] just want to separate us and prevent us from further demonstrating at the scene."
This newspaper reported that 76 teams each comprised of five CCP officials have been set up to "take care of relatives" of the missing and, reportedly, to block journalists from making contact with them. This conforms to the pattern in Shanghai after the fatal stampede last year. Families of the Shanghai victims later complained they had been "kidnapped" by the authorities and pressured to accept a financial compensation package with an undertaking not to pursue further claims against the authorities. As one online commentator put it, "even mourning has become a crime".
Disregard for public safety
The Shenzhen disaster shares some common features with the Tianjin chemical blast just four months earlier. Shenzhen and Tianjin are both modern cities and pilot zones for the regimes's latest batch of pro-capitalist reforms. In both cases large amounts of hazardous materials were stored in close proximity to residential and industrial buildings – in violation of China's laws. Government regulation and oversight was sorely lacking in both cases – local officials allowed the two companies (Ruihai Logistics in Tianjin, Yixianglong in Shenzhen) who owned the storage facilities to operate after licenses had expired.
Other factors, rooted in neo-liberal capitalism's chase for economic gain at any expense, have exacerbated these disasters. In Shenzhen, many of the buildings destroyed were of poor construction and lacked proper foundations according to residents. In Tianjin, poor training of company-hired contract fire crews and lack of coordination between these firefighters and the official fire crews who arrived later, led to fatal mistakes being made during the initial phase of the warehouse blaze.
That the Shenzhen disaster was man-made is not in dispute. A central government investigation team ruled this was an "industrial safety accident" rather than a geological disaster. The company that ran the dump site, Shenzhen Yixianglong, was even told to stop work four days before the disaster according to an official with the local government's monitoring agency. Local residents spoke of widespread anxiety in the district that the gigantic waste mountain could collapse at any time. They said a constant flow of trucks delivering more debris to the dump site continued until the very day of the disaster.
Xinhua reported that Yixianglong earned 7.5 million yuan (US$1.16 million) in fees by operating the site for ten months after its license expired earlier this year. Twelve directors of the company have now been arrested and a local official responsible for monitoring the site committed suicide shortly afterwards. But unfortunately, the arrest and punishment of a few directors and government officials is standard playbook for the Chinese dictatorship in dealing with such disasters – more about restoring 'order' and giving an impression of resolute action than dealing with the underlying problems. Time and again they have adopted this approach to deflect criticism from the regime, which has allowed these local crimes to be prepared and committed in the pursuit of short-term profit. After each disaster no real change occurs and this means the next one is just a question of time.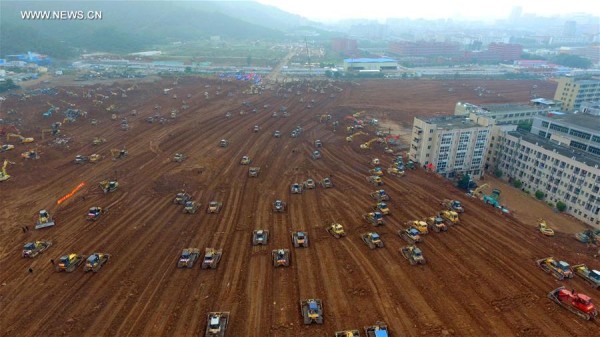 Democratic control
Public safety cannot be entrusted to a dictatorial regime that hides its own actions behind an impenetrable wall of censorship and political controls, viciously punishing those who have the courage to speak out. Socialists demand an open and independent enquiry into the Shenzhen disaster, Tianjin 12 August, and other man-made calamities. We call for the ending of media censorship and internet controls to allow genuine discussion and debate over the causes and necessary remedies for this state of affairs.
Full and immediate democratic rights, including the election of all government officials and full public transparency and oversight of government departments, are needed to save lives. Similarly, independent trade unions are needed to empower workers to sound the alarm and take action over health and safety violations in the workplace and in residential areas. The Shenzhen disaster shows the need for public ownership and democratic control of all major companies and industrial zones to safeguard workers and residents against the murderous profiteers.