There was a dramatic escalation in the number of workers' struggles in China last year, especially in the final months
chinaworker.info reporters
There were 2,774 strikes and worker protests for the year as a whole, which is double the 1,379 total for 2014. These figures were compiled by the Hong Kong-based NGO China Labour Bulletin based on reports on social media.
The main area of conflicts was the construction industry which accounted for 36 percent of all incidents in 2015. This reflects the 25 percent fall in new construction across China, with the abandonment of many projects. Manufacturing accounted for 32 percent of all strikes and protests.
There is an unmistakeable correlation between the economic downturn and the big rise in workers' struggles. China Labour Bulletin notes that, "The increase in strikes and protests began around the time of the 11 August yuan devaluation and subsequent stock market crash and continued to build during the final quarter of the year."
Non-payment of wages
Most strikes, over 75 percent, were over non-payment of wages or social entitlements. Just 168 disputes (six percent) were specifically related to demands for higher wages and as CLB notes, "many of these incidents were sparked by a sudden pay cut." In 2012, when the economy was still booming, almost one-third of strikes were to demand higher wages. This shows a marked shift towards 'defensive' rather than 'offensive' battles by the working class.
Once again, the majority of strikes were in Guangdong, the biggest provincial economy. Guangdong accounted for 267 of 886 strikes/protests recorded in the manufacturing sector last year, which is 30 percent of the total for that sector.
Guangdong was also in first place for state repression against workers' protests. A quarter of all those arrested for taking part in strikes were in Guangdong. In total, there were 831 incidents across China last year in which the police intervened. On 4 December, Guangdong police detained seven prominent activists from labour NGOs, opening a new front in the government's crackdown in the name of 'stability'.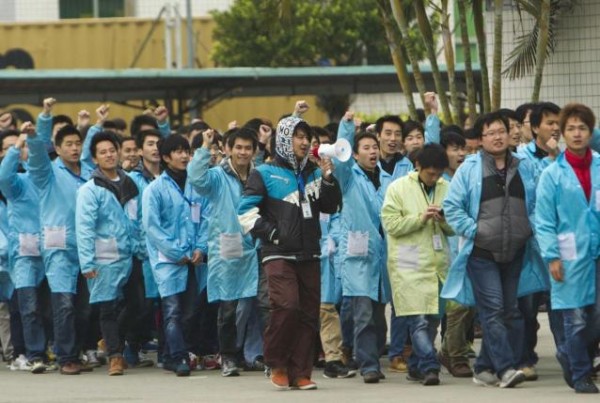 Steel and coal jobs axed
In January, the State Council announced a plan to cut China's steel production capacity by between 100 and 150 million tonnes. No time frame for the cuts was given reflecting the government's fears of massive social unrest.
The China Metallurgical Industry Planning and Research Institute, a research body, says the capacity cuts could eliminate 400,000 jobs. A separate warning from China International Capital said that government plans to cut production in steel, coal, cement, aluminium and glass industries could result in 3 million layoffs over the next 2-3 years.
Workers in steel and other heavy industries are already suffering falling incomes, enforced "vacations" and rising insecurity. Steel prices fell by 37 percent last year as massive overcapacity floods the market. Blind, unplanned expansion and speculation are to blame. Bosses got very rich and now workers are left to carry the burden!
Newspaper India Today warns of a "Winter of discontent" in China and carried the following report of a workers' protest in Hebei: "On a winter's morning in December, around one thousand workers of the Xinglong Iron and Steel Company marched to the offices of the local government in Tangshan, two hours east of Beijing. Days earlier, the company had suddenly announced that it was closing one of its collieries. The workers, who hadn't been paid in seven months, received little warning."