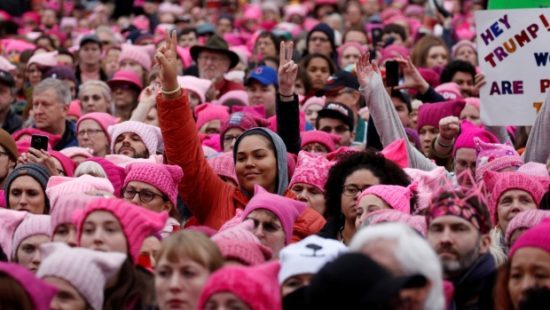 Biggest day of protest in US history
Elin Gauffin is a socialist feminist activist and writer and one of the leaders of CWI in Sweden. Here she gives her appraisal of the gigantic women's marches that coincided with the swearing in of president Donald Trump – "the pussy grabber-in-chief". Socialist Alternative, the US sympathisers of the CWI, were heavily involved in the mass protests. Additional reporting by Adam N. Lee of chinaworker.info
The demonstrations on Saturday 21 January made history. They took place just hours after Trump was sworn in as US president and panicked his billionaire government, which then launched a bizarre war against the media over which crowds were biggest – the president's or the protests? There is no contest. These were the biggest marches ever held on a single day in the US. According to the reliable sources, 3.3 to 4.6 million took to the streets against Trump.
When demonstrations get this big they become more than just demonstrations. They raise confidence and become a reference point to build for the next wave.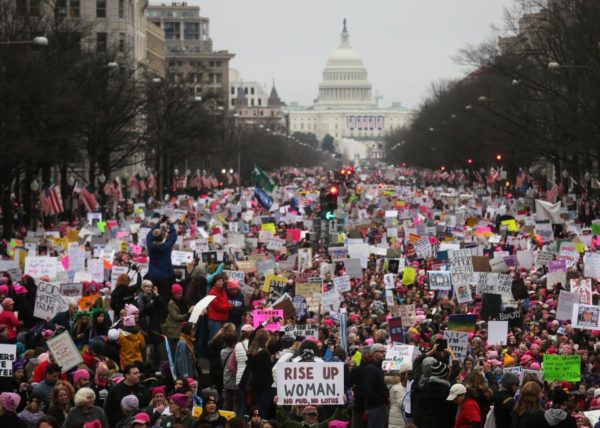 Socialist Alternative member Stephen Edwards reported from the Chicago march:
"There's been a lot of worrying over the platform, who was there and who said what; but when crowds are this big, no-one can hear those speeches anyway – the importance is in the crowd itself. In Chicago and Washington DC, the official leaders gave up on leading marches, so the marches just happened spontaneously. As far as we can tell here, there was no activist group that led it; it was simply people leaving the park and chanting, that ended up in an hours-long, energetic and fun snake-walk through downtown Chicago with many different chants and slogans. I don't have the numbers yet but we sold out of buttons completely, also sold many copies of Socialist Alternative, passed out over 2,000 flyers and signed up a ton of people for our public meeting next week."
Around the world
The scale of the protests was spectacular and not only in America. There were marches in 681 cities and towns, of which 577 were in the United States. Of the demonstrations in the US, 56 were bigger than 10,000 participants and among those, 12 were 'giants' of 100,000 or more:
Los Angeles 750,000
Washington 680,000 (some say one million)
New York 500,000
Chicago 250,000
Denver 200,000
Seattle 175,000
Boston 175,000
San Francisco 150,000
100,000 each in Madison, Portland, Oakland and Minneapolis.
Among the demonstrations around the world, London mobilised 100,000 and Toronto 60,000. The fighting mood on the marches was reflected in an explosion of colour: banners, flags, sculptures, props and most of all the thousands upon thousands of pink 'pussy hats'. "The future is feminism – Pussy grabs back!" was the most popular slogan around the world, and it made your heart beat faster. This shows we're not going to allow ourselves to be subjugated by Trump's misogyny and groping. We will strike back and create a future free of oppression.
It is no coincidence women are at the forefront of the fight against Trump. This is something that has been going on for a while. Women have been to the fore in all grassroots movements in the US in recent years, ranging from Occupy movement in 2011, and student struggles against rough sex culture, to '$15 Now' (for higher minimum wages), the environmental movement (against destructive pipelines) and Black Lives Matters. This is also an international trend as shown by last year's mass women's strike for abortion rights in Poland and the strike one million women in Argentina against deadly violence against women.
Addressing the women's marches in the US was a queue of artists and movie stars who turned down Trump's installation ceremony. Singer Madonna called for a "revolution" and said she wanted to blow up the White House, but realised that "wouldn't change anything".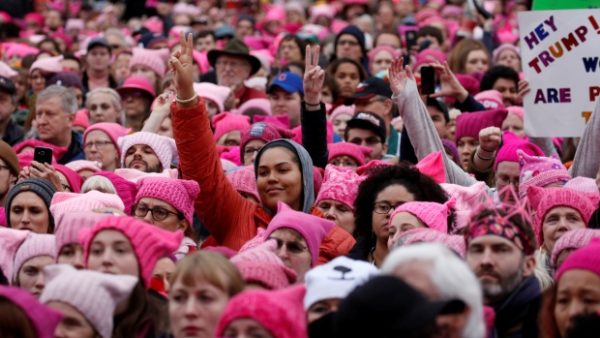 Democratic Party?
Comedian and filmmaker Michael Moore echoed what is unfortunately now left presidential candidate Bernie Sanders' line, arguing that the old leadership of the Democratic Party has gone and that all the protesters should join the Democrats. Yet if there is one big lesson from Trump's victory it is that the corporate two-party system must be replaced by creating a real alternative for working class people, women, migrants – collectively known as the '99%'.
Veteran Afro-American activist Angela Davis told the Washington DC crowd, "The next 1,459 days of Trump's administration will be 1,459 days of resistance. Resistance on the ground, resistance in the classrooms, resistance on the job, resistance in our art and in our music."
Teddy Shibabaw of Socialist Alternative was one of the speakers in Madison: "Trumpism can be defeated. We must continue to fight for justice and freedom for all. The struggle from below has defeated right-wing monsters, dictators, slavery and warmongering generals before – so we can defeat Trumps agenda! We don't need to unite behind the leaders of the Democratic Party, who instead of asking themselves why they lost are blaming everything on the Russians. There is a need for a powerful alternative to the two corrupt parties. We, the masses, can only rely on our own strength.
Trump's attacks on women's rights
Within days, Trump has confirmed the worst fears that his government would launch a wave of attacks on women's rights, as well as against workers and migrants. He launched a big attack on abortion rights and women's health. Trump's order to cut an estimated $9.5bn funding to NGOs around the world unless they explicitly disclaim any support for abortion, endangers thousands of lives by cutting vital aid to those at risk from HIV and the Zika virus. The World Health Organisation estimates that a woman dies every eight seconds from an unsafe abortion. Trump's cuts to healthcare and other welfare programmes will also disproportionately hurt working class women.