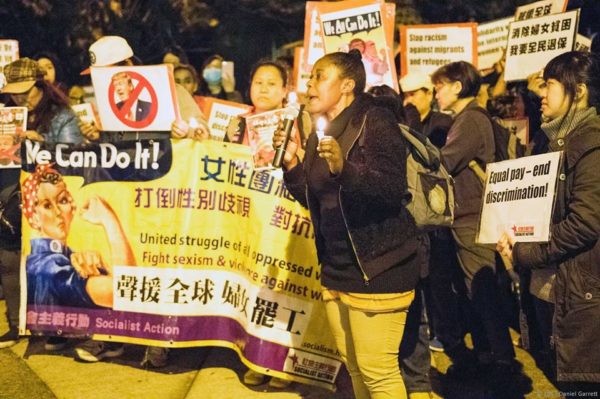 Report of International Women's Day protests in Hong Kong
Joy Pamnani, HKU student
As tweets flooded social media to celebrate International Women's Day overseas, Hong Kongers celebrated by gathering at Chater Garden on March 8, 2017, to protest amongst other things against Trump's administration in the US.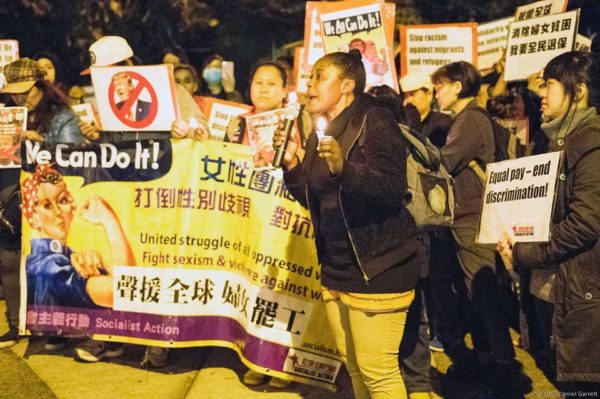 The event was organised by Socialist Action and Anti-Trump Hong Kong, gathering people of different races and backgrounds, including locals, refugees and migrant workers, to voice their anger on Trump's policies and fight for women's rights.
"International Women's Day is only once a year, and I came here to show my support for these causes today," said Griffith Jones, one of the demonstrators
The demonstration began with slogan chanting, followed by sharings from local women, refugees and political groups. Many issues were brought into light including sexual abuse, abortion, wage gaps and workplace discrimination.
The first speaker was Rina, a refugee, who shared the importance of uniting in fighting for a global cause. Lucia, a local speaker, told the awful experience of her sister being raped by a staff member at a mental care home, and the refusal of the police to investigate or stop the abuse.
Mira spoke about women's oppression in Indonesia. Women are afraid to speak up in cases of sexual abuse in their marriages. If a divorce is filed, they are afraid the man will keep the kids. So they keep quiet, she said
"I don't support Trump, because he doesn't like refugees," said Edna, one of the protestors, who brought her child to the demonstration. Another protestor was concerned about the effects of Trump's policies on the relationship between the US, China and other Asian countries.
Between the sharings, the group marched to the US Consulate from Chater Garden in an orderly manner, chanting slogans such as "No Ban, No Wall, Donald Trump has to Fall", "Stop, Stop Racism. Stop, Stop Sexism" and "Tax the Rich".
According to a Socialist Action statement, the International Women's Strike was supported in almost fifty countries on International Women's Day. A video was also played as part of the demonstration, showing footage of International Women's Day and post-Trump inauguration protests across the globe.
The demonstration concluded with powerful closing remarks from one of the organisers, Vincent Kolo from Socialist Action. "When you all heard Donald Trump was elected President, weren't you shocked? How could this be possible?" he asked.
Vincent spoke of how Trump's policies threaten to take women's' rights a step back, especially as Trump is challenging abortion rights. "The US Political system is broken, with both main parties supporting Wall Street and the 1 percent who are billionaires. We need a political force that represents the 99 percent, those who aren't represented by the government," he said.
Ending on a positive note, he likened the International Women's Day struggle to the Russian Revolution, where women went on strike against dictator Tsar Nicholas starting a movement that succeeded in overthrowing his rule. "The Russian revolution proves nothing can defeat a united working class movement and we will succeed," he said.