Working class unity against racism and capitalism

Dikang, chinaworker.info
"Workers united, will never be defeated," echoes through the streets of central Hong Kong on May Day.
Over 100 people joined the first ever May Day demonstration in Hong Kong jointly organised by Socialist Action, migrant group Kobumi and the Refugee Union. The message of the demonstration which gathered in the morning in Chater Garden and then marched to the Government Office was the need to fight racism and for united struggle by all workers regardless of ethnicity, religion or gender.
Later the marchers joined the main 2,500-strong May Day demonstration from Victoria Park organised by the pan-democratic Confederation of Trade Unions (HKCTU).
"Today we don't stay home. We don't go to the beach. Today we go on the streets to fight for our rights as workers," said Ilalang Victoria of Kobumi, one of the co-organisers.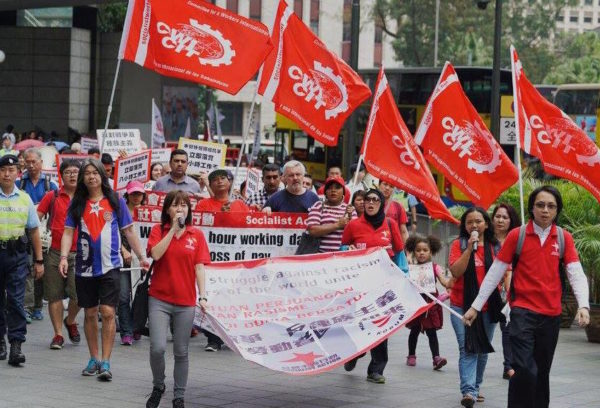 "Our march is very colourful and lively with a powerful political message of united struggle against capitalist exploitation and against racist divisions," said Sally Tang Mei-ching of Socialist Action who was MC of the event, together with Ilalang Victoria.
"We wanted to show the link between the struggles of local workers, migrant workers and refugees, whereas too many other organisations unfortunately see these issues as completely separate – that migrant workers should just fight for 'migrant issues' for example and not comment on local workers' demands and the other way around. But we are all part of the working class and we are stronger if we can unite against the government's attempts to split us," said Sally.
Mezzo scandal
Iis speaking for Kobumi told the demonstration about the cruel exploitation of migrant domestic workers in Hong Kong and their anger at government rules that favour the money-making agencies and fail to protect the 340,000 migrant women in Hong Kong.
"We want an 8-hour work-day and an increase in the migrant worker's minimum wage to HK$5,000," she said. Iis condemned the role of so-called Multi-level marketing (MLM) businesses, which are pyramid schemes that prey on migrants, as shown in the Mezzo scandal, a Hong Kong-based company that cheated hundreds of Indonesian migrant workers by falsely promising high rates of interest on savings.
"These pyramid-type schemes ensnare the migrant workers who end up plunging us to debt to the bank. The government has not done anything to protect migrant workers, despite the case is over 18 months old," she said.
League of Social Democrats lawmaker 'Longhair' Leung Kwok-hung drew cheers when he quoted Karl Marx, "Workers of the world unite, we have nothing to lose but our chains!"
He said that even after the latest increase the minimum wage for Hong Kong workers is only HK$34.50 (US$4.40) per hour, "so we still have a long way to go."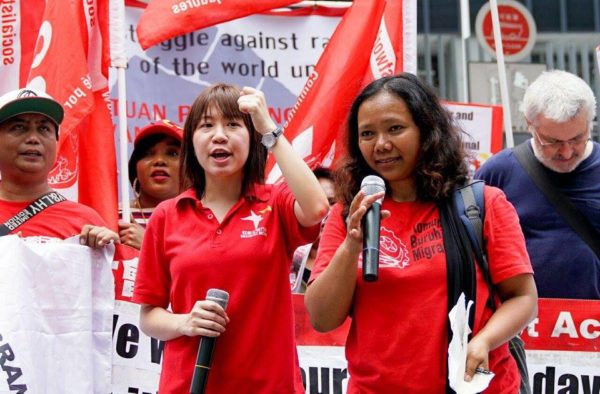 Minimum wage
"There are politicians in Hong Kong who oppose a wage increase for migrant domestic workers," said Vincent Kolo of Socialist Action, referring to the current HK$4,200 per month minimum wage for migrants. "Yet the same politicians spend more than that in a restaurant visit. Regina Ip Lau Suk-yee, who ran as a candidate to become Chief Executive, spent HK$18,000 just on her hair – it's in her election expenses," he told the crowd.
"We are not asking for any special privileges for migrant workers, but the same protection as for local workers. We want equal treatment," Vincent told a TVB Pearl news report that was aired after the demonstration.
Right to work for refugees
More than 60 refugees joined the march, some with their children. Their plight was highlighted in speeches both by Adela of the Refugee Union and by Mira an Indonesian refugee and member of Socialist Action. "Refugees need the right to work to support our families to buy books and school uniforms for our kids," said Mira. "The government doesn't allow us to work and this means our children are suffering," she said.
Sally Tang explained that several refugees have recently been jailed – the penalty for working is up to three years in prison. The government's raids have increased by 70 percent in the past year.
"We want an 8-hour work day by law, for all workers, including the same right for migrants and for refugees," she said. Hong Kong has the longest working hours of any city worldwide, 50 hours on average, and for migrants a normal working week is much longer, she explained.
"We also fight for an increase in the minimum wage to HK$45 per hour, because today's minimum wage is too low," said Sally. She cited government figures that the minimum wages has risen 42 percent since first enacted in 2011, but price inflation over the same period has been 44 percent and average rents have increased 154 percent.
"The government and the capitalists try to split us, to keep our struggles separate, because then they are in a stronger position. But if we can build a united struggle we can win," said Sally.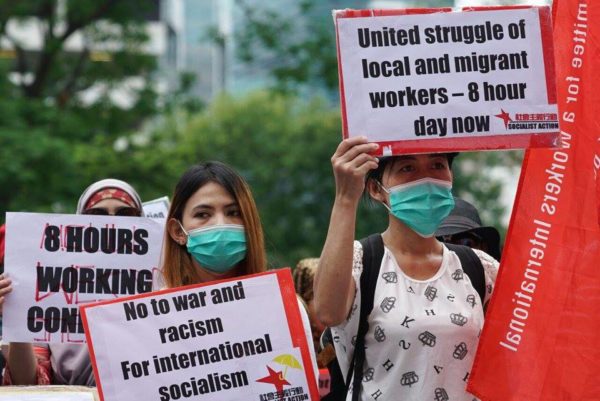 8-hour day and holiday entitlements
Two hours later our protest joined with the larger CTU demonstration and marched from Victoria Park to the Government Offices around demands for the 8-hour day and abolition of MPF (Mandatory Provident Fund) "offsetting scheme" which is used by employers to cheat workers by deducting money earmarked for workers' retirement savings when they pay redundancy compensation. The demonstration also highlighted serious safety problems in the construction industry. Recently two workers were killed at sea working on the Hong Kong section of the bridge to Zhuhai in mainland China. The contractor was found to have violated safety rules. It brings to ten the number of workers killed on the bridge.
At another location the pro-government Federation of Trade Unions (FTU) mobilised around 2,000 for their demonstration. They featured a demand for more holidays for blue-collar workers, an increased of five per year. Underlining the double-dealing role of the FTU leaders, their lawmakers did not vote for this proposal in the Legco, when it was tabled by opposition representatives. But of course this 'detail' was not mentioned at their May Day demo. For the FTU, which pledges fealty to the Chinese dictatorship, May Day is a once a year affair where they pay lip service to the problems of workers, only to spend the rest of the year supporting the government's billionaire agenda.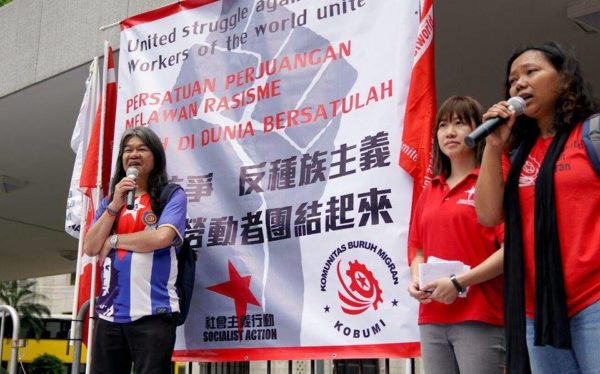 TVB Pearl News report of Socialist Action/Kobumi/RU May Day demo: