Only mass organised struggle can stop a dark era of repression! As a first step – one-day strike against tyranny!
Leaflet issued by Socialist Action (CWI) and Youth Against Repression for Sunday's demonstration in support of the jailed youth activists (Demonstration from Southorn Playground, 3.00 pm, Sunday August 20th)
Hong Kong in 2017 has shocked the whole world by becoming the world's latest dictatorship! Chief Executive Carrie Lam's political repression is even worse than CY Leung's – her "great reconciliation" is just an act to deceive the public. The government's attacks are planned and coordinated: The right of protest is threatened. The Legco (Legislative Council) and the law courts are being mainlandized. Future Legco elections and by-elections will be screened with radical democracy fighters banned from running by imprisonment. Radical pro-democracy parties are being suppressed by financial bankruptcy and jailings.
An urgent fight back is needed. Today's demo is a start, but only a start. More is needed. There is deep frustration among many people and youth – why is there so little fight back? In order to rebuild the revolt of the masses it is necessary to offer a clear plan of escalating mass civil disobedience.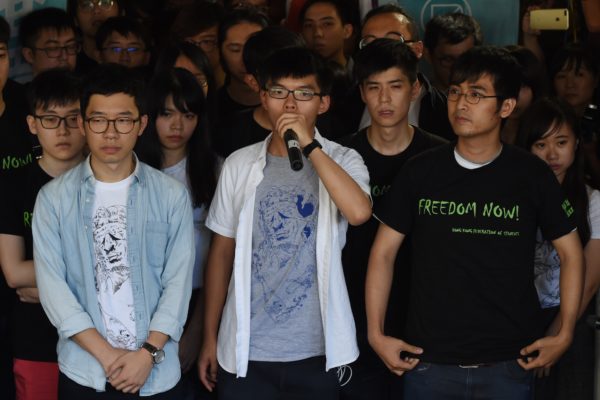 Name the date: For a one-day strike against tyranny!
In the face of government tyranny, marching is not enough. The action must be upgraded or the future will be a successive crackdown and more people will be jailed. We advocate a one-day strike in Hong Kong and call on all democratic political groups, students' unions, union members and others to openly agitate for a walkout and strike.
The youth can be the pioneers of this movement with a one-day citywide student and school student strike in solidarity with the jailed former student leaders and other political prisoners. This would be a warning to the government to back down or face even bigger mass protests.
The third anniversary of the Umbrella Movement, '928' (September 28), is the perfect timing for such an initiative. This could be turned into a mass day of struggle in Hong Kong demanding freedom for the 16 political prisoners and against the Legco purge ("DQ"), the high-speed train co-location facility and school brainwashing ('national education'). This allows one month to prepare by going into the community, the schools and the workplaces, to set up action committees to organise and mobilise for the day of struggle. It is essential this be controlled democratically at the grassroots level.
A mass day of struggle should feature a central big demonstration, street meetings in the districts, at workplaces and schools, mass leafleting at subway stations. A citywide strike, even of students and youth, would raise the bar on democracy protests as a warning to the government that our movement can develop new ways of resisting the tyranny. This would give new confidence to the struggle and win thousands of new activists.
Immediate release of the 16 and all political prisoners! Drop all the charges!
Stop political repression!
Reinstate the six Legco members!
Boycott the high-speed railway and withdraw the co-location plan! China's state security get out of Hong Kong!
If you agree with this leaflet, join our campaign: Join Socialist Action and if you are a student / school student join Youth Against Repression.