Petition demanding release of political prisoners in Hong Kong approved at CSP-Conlutas national congress
chinaworker.info reporters
Brazilian trade unionists voted on Friday 13 October to support an international protest campaign against the Hong Kong government's persecution of democracy activists.
At its national congress being held in Sumaré, São Paulo state, and attended by around 2,000 delegates, the independent left wing union confederation CSP-Conlutas voted to sign the protest petition of the Stop Repression in Hong Kong campaign.
The petition calls for the release of political prisoners in Hong Kong and the reinstatement of disqualified legislators. It also notes that, "The increasing use of Hong Kong's law courts as a tool of political repression makes a mockery of the government's claim to uphold 'rule of law'."
The motion to support the petition was moved by Joeferson Faccin, a congress delegate from the teachers' union and a member of the Committee for a Workers' International (CWI). The motion was carried by a show of hands of the assembled delegates to loud applause.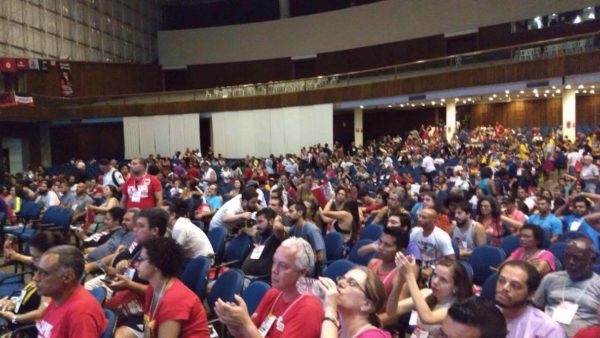 Three million members
CSP-Conlutas gathers 250 organisations representing around three million workers in Brazil. Its member unions are in industrial sectors such as the auto, metal and mining industries as well construction, transport, schools, hospitals and banks. Its affiliates also include mass organisations of landless rural workers and the homeless.
"We are very pleased to get the support of this important mass workers' organisation in the largest country of the Latin American continent," said Sally Tang Mei-ching of Socialist Action (CWI in Hong Kong). Sally is a coordinator of the international Stop Repression in Hong Kong campaign.
"This is a very significant vote of solidarity at a democratic congress and it comes just a day after our successful campaign launch with protests in 20 countries around the world against the Hong Kong and Chinese governments' increasing repression.
"It just underlines that while pro-capitalist governments shamefully refuse to openly criticise the sharp deterioration in democratic rights in Hong Kong and of course in China, we are finding natural allies for the democracy struggle in the working class organisations internationally," she said.