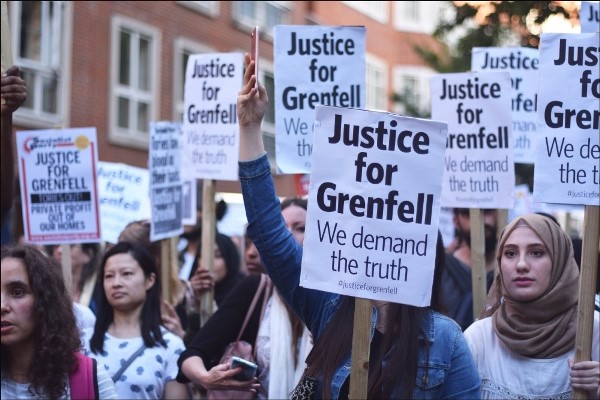 A socialist housing plan would include nationalising the banks, land and building companies under democratic working class control.
The Grenfell fire disaster in Kensington, London, on 14 June killed 71 people. It instantly became a major political scandal as well as a human tragedy. Grenfell exposed the capitalist politicians at national and local level and their contempt for ordinary working class people. Safety was sacrificed for profit. Budget cuts have crippled crucial services such as the fire brigade. Mass privatisation of public housing over two decades has created brutal inequality. Members of the Socialist Party, our sister organisation in the UK, have intervened through unions and local community groups to support the struggle of local residents for justice. The following is a report by CWI member and local government worker Paul Kershaw, chairman of the Unite union branch, of a protest six months after the tragedy, and the leaflet issued by the Socialist Party which is a good example of the demands and proposals needed to advance this struggle.
Dozens of families that survived the fire at Grenfell Tower face Christmas in hotels and only a small number have been permanently rehoused. A hundred protesters gathered outside Kensington Town Hall to demand action from the council on 6 December.
Speakers exposed the failure of the council and brought solidarity, including a heartfelt speech from Kate Osamore, Corbyninsta Labour MP for Edmonton.
Suzanne Muna brought solidarity from the Unite the Union executive council and echoed many speakers in expressing concern at the narrow focus and lack of community involvement in the conduct of the official inquiry. She assured the crowd that Unite would stand by the community if it became necessary to run a parallel "people's inquiry" to expose the truth.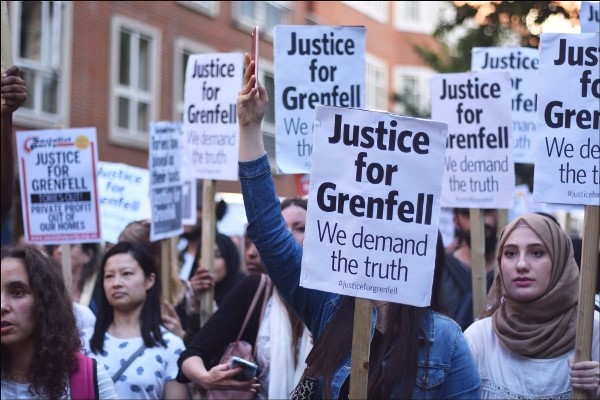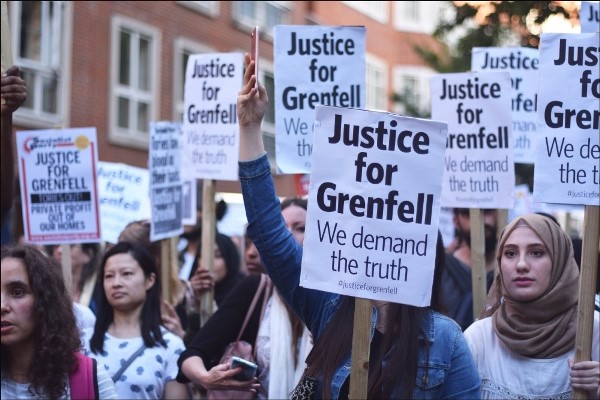 The Socialist Party's latest Grenfell leaflet
Six months on from the Grenfell fire, it is beyond scandalous that there is still no justice for the survivors and local residents. The text below is based on a leaflet being distributed by Socialist Party members in the area.
If you were to rely on the mainstream media, you would believe that everything is getting resolved now for the survivors of Grenfell – people are being rehomed, getting money, and the inquiry will get to the bottom of what went wrong. But nothing could be further from the truth.
Rehouse survivors locally – take over empty property
Still only a very small number of households have been housed in acceptable temporary accommodation. Survivors are being offered homes that are too far away, in squalid conditions, and too small.
It is reported that there are over 1,800 properties standing empty in Kensington and Chelsea. However, this is not about granny's flat that hasn't been sold yet. This is land 'assets' mainly belonging to investment companies, hedge funds and oligarchs, traded on international markets to make millions for their owners.
Jeremy Corbyn initially said these houses should be requisitioned, and it's time to put that into action. Jeremy should hammer this point again and again. Residents and the local labour movement have the right to demand such properties are used as homes for those in need.
In the 1940s, the community occupied luxury houses. It is to those traditions local people will need to return to build an effective fight against the super-wealthy elite which caused this disaster, and which will cause others if its rule is left unchallenged.
Community control over financial appeals
While the rich only think about themselves, ordinary working class people have been extremely generous, with over £20 million being raised through the Red Cross, the Evening Standard and others. But scandalously, after three months only 15% of the money raised had reached residents. Families were trying to survive on £25 a day. Now it would seem that some money is finally getting through.
Why should survivors and local residents accept that money donated in good faith to support them is left in the hands of unaccountable organisations?Why should trade unions hand their members' money over to charities and lose all control over what happens to it? Just as a trade union sets up a solidarity hardship fund when they go on strike, so could residents and the trade union movement locally set up and democratically administer their own appeal for financial support. With full democratic control and accountability, that is the only way to ensure that all money donated goes to where it is needed most.
Spend the £300 million council stash!
Meanwhile there is the continuing scandal of the £300 million languishing in the council's reserves while homeless survivors are stranded. The main purpose of Kensington and Chelsea's housing income surplus was not ensuring safe, well-maintained council homes, but providing the richest private residents with huge council tax rebates.
The council now intends to spend some of this hoard on acquiring social housing, but we demand that the £300 million is immediately used!
And we have to demand not just that council leaders resign, but that we don't want Tory appointed technocrats to run the council either. We want elections. Local residents and workers need councillors who fight for them. Councillors not willing to do so should stand aside for candidates who are.
For a genuinely independent workers' inquiry
When the government announced that judge Sir Martin Moore-Bick was to take charge of the inquiry, it was immediately apparent that the ruling class was choosing a safe pair of hands for itself.
Rightly the community has no confidence in him. The class responsible for this crime cannot be trusted to investigate it. The Hillsborough stadium disaster campaigners' 28-year struggle for justice has led to widespread understanding that the establishment's overriding concern is to cover its own back.
In this situation, only the trade unions, working in liaison with local tenants' and residents' groups, have the authority to establish a meaningful investigation. For example, general union Unite which organises housing and construction workers, and the Fire Brigades Union.
The unions should use their resources to initiate a genuinely independent workers' inquiry, with far-reaching terms of reference set by survivors and those immediately affected. Jeremy Corbyn could also step in and use his huge authority to start this process.
Cladding off and sprinklers in – NOW!
Towers around the country have failed combustibility tests. But the cladding is still there. Only 2% of blocks have sprinklers and progress on this is also extremely slow.
Clearly the government should pay. But instead of endless wrangling about that, councils must act now to make working class homes safe. They should spend reserves to fund emergency maintenance work and 24-hour fire watches for all tower blocks, and send the bill to central government.
No safety – no rent!
Where safety checks are happening, they reveal broken and missing fire doors, gas problems, and inadequate fire alarm systems and escape routes – aside from the fact that only 1% of blocks have sprinklers. Jeremy Corbyn is absolutely right to demand that the Tories allocate £1 billion to fit sprinklers. As he says, it is obscene the government will not commit retrofitting funds while failing to tackle tax avoidance.
How do we know if an estate is safe? Tenant organisation is vital – trade unions should help build joint action. Demand immediate fire safety checks and for all information regarding materials and checks to be made public.
If this is not forthcoming, we need to fight – including being prepared to withhold the rent.
Demolition, regeneration and social cleansing
Some people, understandably including some directly affected by the Grenfell disaster, want tower blocks demolished. But we have to be wary of those calls being backed by property speculators who see an opportunity. The experience of 'regeneration' is usually social cleansing. Land is handed over to the private sector, existing tenants and leaseholders are shunted out with little right of return, and working class areas become gentrified. Grenfell-area residents have rightly demanded that the land remains in public hands.
In the 1980s, the socialist city council of Liverpool led by supporters of Militant (now the Socialist Party), in defying Tory cuts, democratically asked residents what they wanted. As an absolute minimum there should be a moratorium on all regeneration until safety is assured and open to public scrutiny, and until residents have the right to vote.
North Kensington: a history of struggle for housing
In the 1960s, tenants and labour organisations fought against local slum landlord Peter Rachman, a campaign involving many socialists. Even before that, in the 1940s, Communists in North Kensington lead a campaign of occupation of luxury houses. These early examples of squatting attracted huge support and interest from working people across London.
It is to those traditions local people will need to return to build an effective fight against the super-wealthy elite which caused this disaster, and which will cause others if its rule is left unchallenged.
Capitalism kills
This terrible tale of profit before working class lives is an indictment of all the policies of privatisation, cuts and deregulation pursued by Tory and New Labour administrations at national and local level.
All those right-wing Blairites who gleefully pursued the policies of their Tory masters – of sell-offs of housing, privatisation of public land, demolition and regeneration leading to social cleansing, replacement of council control with 'arm's-length management organisations' – should hang their heads in shame.
We demand a million new council homes, under democratic control.
No demolition or regeneration that leads to privatisation or social cleansing – we demand a residents' vote.
We demand rent controls that cap the level of rents. We demand the end of the bedroom tax, benefit cap and 'universal credit'. Scrap the Housing and Planning Act.
A socialist housing plan would include nationalising the banks, land and building companies under democratic working class control.