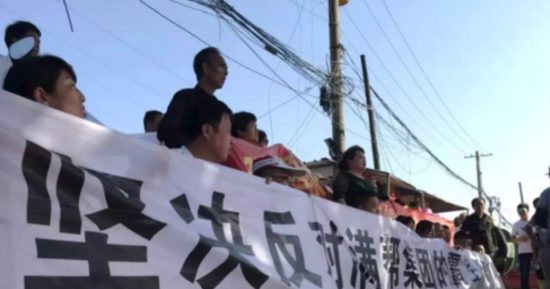 Strikes by truck drivers in more than 12 regions confirms growing trend of 'multi-province' industrial action
chinaworker.info reporters
Truck drivers across China have taken part in strikes and protests over increased fuel costs and road tolls and against a new online app that forces them to undercut each other in bidding for work.
The unprecedented strikes began in Jiangxi province and Chongqing on 8 and 9 June respectively, then spreading to other regions. An anonymous online appeal called on "30 million truck drivers across China" to join the strike. The protests have taken various forms with drivers blocking roads in some areas. Videos on social media show truck convoys driving slowly some covered in banners, with drivers honking horns and chanting slogans.
While not directly inspired by international events, the strikes in China coincide with nationwide strikes by truck drivers in Iran and Brazil in recent weeks. These protests have arisen for similar reasons, with higher fuel prices a major trigger.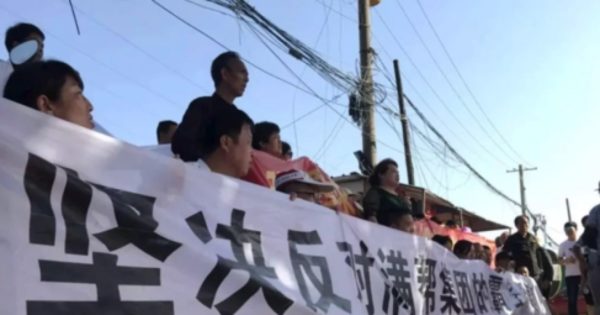 "Struggling just to survive"
More than 80 percent of China's goods are moved by trucks and the June strikes could therefore represent the first stirrings of a giant. Several commentators warn the strikes could break out again especially if fuel prices continue to increase.
"We are struggling just to survive," one Shandong-based driver told the South China Morning Post, indicating that new protest could be organised later this year. In addition to fuel costs, the strikers are angry over high tolls, harassment by police, who have made a profitable business of fining overloaded trucks, and also mafia gangs who demand payments to leave truckers alone.
"You have to pay fees and tolls everywhere you go, such as toll fees to use the motorway or national highways. Even small places are charging money now," a driver called Shen told Radio Free Asia.
A Wall Street Journal headline described the strikes as "spotty" – but this is hardly surprising in the ultra-repressive police state conditions of China. With protests by truck drivers reported in more than a dozen regions and cities, from Chongqing in the west to Shanghai in the east (equivalent to the distance between London and Warsaw), the scale of the protests was extremely impressive. Of course, with a total media clampdown inside China by the regime's censors it is not possible to get a clearer picture of the numbers involved.
For this reason alone the strike is politically very significant even if the drivers themselves, like most other workers involved in struggle, steered clear of directly political demands. Despite this, the government will have been shaken by the latest instalment in a wave of cross-regional strikes that have swept China in 2018.
This follows strikes by crane operators and food delivery drivers also erupting simultaneously in dozens of cities. While these strikes have been sudden and short-lived – inevitably – they clearly point to a new trend of workers' struggle. This reflects important changes in workers' consciousness and sophistication in organising protests across different regions under the watchful eyes of a police state. The following censorship order issued on 11 June, and leaked to overseas website China Digital Times, underlines the government's alarm in the face of this latest 'multi-province' strike:
"All websites in all regions, immediately delete upon discovery all news on multi-province freight truck drivers, leave no stone unturned. Increase oversight, and strictly guard against related overseas media reports and provocative commentary."
Reports in some overseas media stated incorrectly that some striking drivers captured on video film had called for the overthrow of the 'Communist' Party dictatorship (打到共产党). On closer examination, the drivers are heard to be chanting "down with Huochebang" (打到货车帮). This is the name of an Uber-like online app used to connect drivers with freight customers.
"Gig economy"
The app is owned by Manbang group, a recently merged company with a virtual monopoly hold over the trucking branch. Truck drivers, 90 percent of whom are individual owner-drivers, complain the new version of the app forces them to bid against each other in a race-to-the-bottom. Freight payments are being squeezed while costs are rising.
This is another example of what in Western economies is called the "gig economy" taking root in China. The "gig economy" refers to temporary and precarious jobs with companies preferring to hire so-called independent contractors instead of full-time employees.
The same factors explain similar eruptions of protest by workers such as taxi drivers and food delivery workers. This also shows how new technology in a capitalist profit-driven economy is enormously increasing the exploitation and pressure upon the working population rather than lightening the burdens.
While most of China's truck drivers are nominally 'self-employed' contractors, they are wage slaves by another name. A survey published in April by the Social Services Academic Press revealed that in 2016 China's truck drivers worked over 12 hours a day for an average monthly income of around 8,000 yuan. The report found that drivers "were constantly on the road, slept in their trucks and could not see their families for months at a time," according to the South China Morning Post.
This excessive workload is forced upon drivers by the need to pay off the debts that many have incurred to buy their trucks.