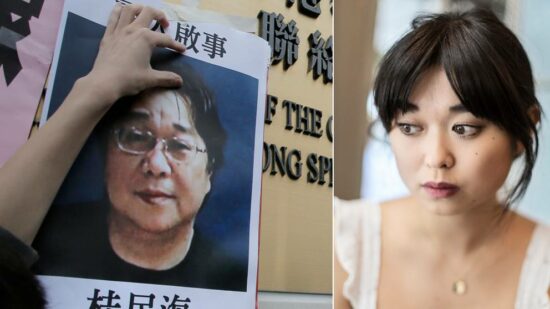 Attempt to silence Gui Minhai's daughter exposes collusion between Swedish and Chinese authorities
Dikang, chinaworker.info
Sweden's ambassador to China, Anna Lindstedt, has been recalled in a political scandal involving Chinese dissident Gui Minhai. Gui is still languishing in Chinese custody more than three years after being kidnapped by Chinese state security personnel in Thailand in 2015.
In January, Gui's daughter Angela was lured to Stockholm by ambassador Lindstedt ostensibly to discuss "a new approach" to her father's incarceration. Gui Minhai is the central figure in the case of five Hong Kong-based booksellers who all went missing at around the same time only to mysteriously reappear in China as police captives.
There was no official record of Gui exiting Thailand and all the evidence points to an illegal rendition carried out by Beijing's security agents. He and his daughter are Swedish citizens and the Swedish government has been severely criticised for its timid response.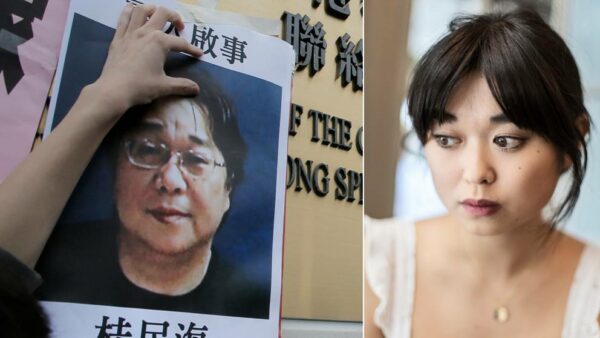 The latest actions by Sweden's ambassador, Lindstedt, have lifted such criticisms to the next level. A detailed account on Angela Gui's blog says Lindstedt introduced her to two businessmen claiming to have links with the Chinese regime. The businessmen grilled Angela Gui over what she knew about her father's case. China alleges he tried to pass on "state secrets", but this claim only emerged last year after international interest in the case increased.
The businessmen, with the Swedish ambassador's approval, tried to pressure Gui to "keep quiet" and stop campaigning on her father's behalf in return for their efforts to lobby for his release. During the two-day visit to Stockholm, Gui says she was kept in a 'members only' section of a five-star hotel and even escorted when she went to use the toilet.
After making excuses and leaving, Angela Gui contacted the Foreign Ministry in Stockholm where an official declared they had no knowledge of the meetings or even that ambassador Lindstedt was in Sweden. The ambassador has since been replaced and an internal investigation launched. Meanwhile the Chinese Embassy in Sweden issued a statement denying any involvement.
"A running dog"
The leader of Sweden's Left Party, formerly the Communist Party, described the incident as the country's biggest foreign policy scandal in decades. He said Lindstedt had acted as "a running dog for a dictatorship" by trying to silence the daughter of a kidnapped Swedish citizen.
China: One year since Gui Minhai's abduction
The government of social democratic prime minister Stefan Lofven has a track record of appeasing wealthy dictatorships, not only in China but also in Saudi Arabia and elsewhere. Famously, on the eve of a visit to China in 2015, where a number of business deals were to be signed, Lofven refused to say the Chinese regime was a "dictatorship". Pressed repeatedly by a reporter, Lofven eventually offered an alternative characterisation: "It is a one-party state that has no general elections".
Bei Ling, a former chair of the Chinese dissident writers' group Independent Chinese PEN, slammed Sweden's "behind-closed-doors, secretive, and back-channel approach" to handling Gui's case.
When Swedish citizen and human rights activist Peter Dahlin was arrested in China in 2016 and coerced into making a filmed 'confession' he received very little support from Sweden's diplomatic corps in Beijing. These events are detailed in a book about both cases, Dahlin and Gui, by journalist Jojje Olsson (De kidnappade Kinasvenskarna), which reveals a pattern of inactivity and submissiveness by Sweden towards the Chinese regime.
China's arrest of Peter Dahlin marks ominous new stage in crackdown
When Dahlin was being held in a Beijing arrest cell on outrageously false charges he received a customary visit from a Swedish embassy official. The latter agreed to a number of 'conditions' from the Chinese side that violate the laws concerning consular access. This included a guard being present during the whole interview and that the two Swedes speak English, not Swedish, so the guard could monitor their conversation. No discussion of Dahlin's case was permitted. By agreeing these terms the Swedish representative was reduced to asking the prisoner if he was getting enough fruit!
Whistle blower
In the case of Angela Gui, events could have taken a more sinister turn. Among the issues raised by the two shadowy businessmen was the offer of a visa to visit her father in China. Had she accepted this offer, even with "guarantees" from a Swedish ambassador acting with authorisation, which was not the case here, there is a danger that she too would be arrested in China as a means to silence her campaign for her father's release. We applaud her decision to reject this "offer" and blow the whistle on this entire rotten affair.
The labour movement and socialists should demand the sacking of Anna Lindstedt and the recall of Sweden's entire diplomatic staff in Beijing, pending a full public investigation into this affair. This should include the history of the case since Gui Minhai's abduction in 2015 and all government-to-government contacts since then.
We don't put any trust in capitalist politicians or diplomats, who are driven by business interests, to defend basic democratic rights. Gui Minhai's case is about freedom of speech and press freedom as well as flagrant violations of international law. Rather than pandering to dictators as the establishment politicians do, the workers' movement and socialists must step up our solidarity with mass struggles in China, especially the rising tide of workers' struggles. We support the call for independent trade unions and immediate, full democratic rights in China.