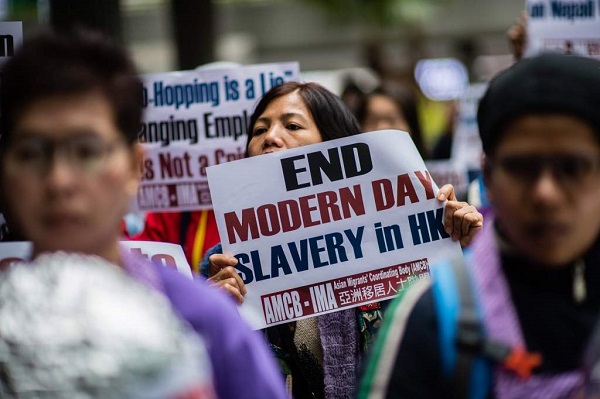 Migrant and local women workers need to unite and fight the unjust system
Adam N Lee Socialist Action
Hong Kong's 380,000 migrant domestic workers live a hard life of long working hours and drudgery, sending money home to the Philippines or Indonesia to support families and pay for their children's education. Migrant women have also come together to protest and fight for improved conditions in a succession of demonstrations and rallies, winning some support, but not nearly enough, from local trade unions and political organisations.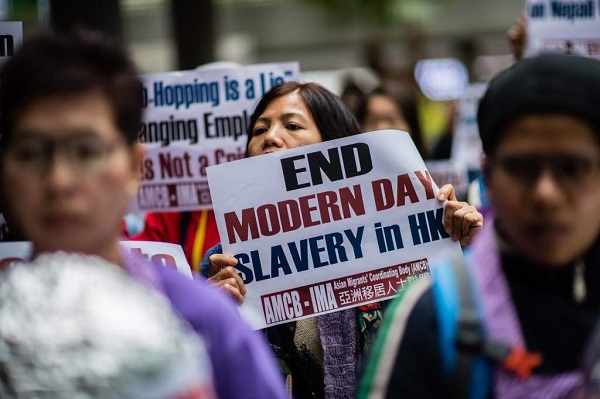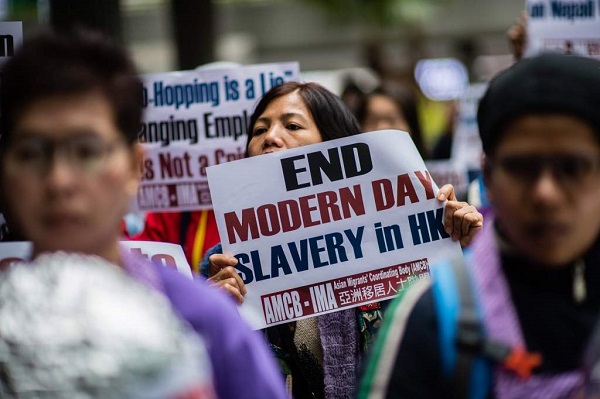 CUHK survey
A new survey from Chinese University reveals how much still needs to be changed in 2019. Over seventy percent of migrant domestic workers work more than 13 hours a day, according to the survey which interviewed 2,000 women. Almost 9 percent said they worked more than 16 hours a day and 5.9 percent said they did not get their statutory day off once a week. 
The live-in rule, which forces migrant domestic workers to be billeted in the homes of their employers, is the major cause of this overwork and denial of adequate rest time. Hours can't be regulated when a worker is also living in the home and can be asked to do chores, clean, or take care of children, at any time of the night or day. Only 43 percent of the domestic workers in the survey had a room of their own. The rest are forced to sleep in hallways, bathrooms, storerooms or even to share a bed with children. This is the reality in a city with notoriously small apartments for all except the rich. Over 120 migrantworkers died in Hong Kong in 2016, mostly from stress-related illnesses such as hypertension. 
Migrant organisations have for years campaigned for the abolition of the live-in rule, which was first introduced in 2003 as a mechanism of social control, to prevent migrants establishing a stronger position in the local economy and in this way limits their bargaining power as workers. Breaking the rule can lead to various penalties ranging from cancellation of a work permit to criminal prosecution and 14 years' imprisonment.
Shockingly low wage
Perhaps the most shocking finding in the CUHK survey concerns average pay levels, which in 2017 were HK$4,277 per month – below the minimum wage for migrants, which was HK$4,310 at that time (since raised by HK$100). 
This raw exploitation of migrant domestic workers is the other side of the coin of the government's refusal to invest in public services like elderly and childcare, starving these sectors of finance while showering money on the property tycoons and other capitalists. There are dozens of reasons why migrant and local women workers need to unite and fight this unjust system, being sure to use International Women's Day as the next rallying point for this struggle.