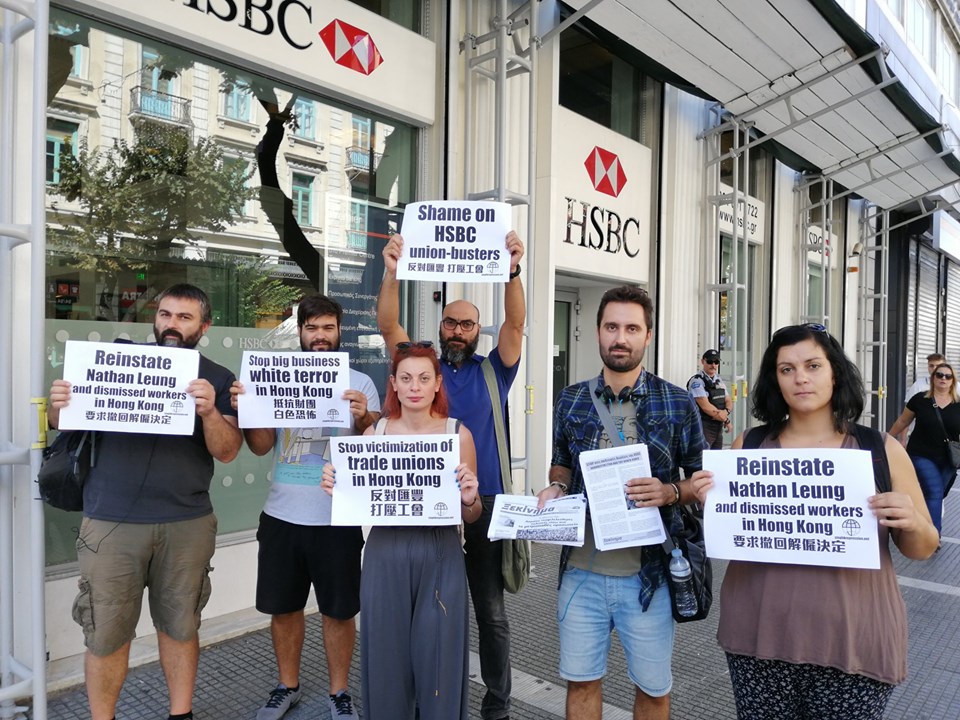 On Wednesday, 2 October, protest actions took place across the world to demand the reinstatement of CWI member Nathan Leung
Nathan Leung are sacked by the banking giant HSBC in Hong Kong for his support for the pro-democracy movement and his call for bank workers to organise in a new, genuine trade union. These protests also exposed the repression carried out by the Hong Kong government and the Chinese regime, with which big business companies operating in Hong Kong are colluding in order to attack, intimidate and dismiss militant workers like Nathan.
Pickets in front of HSBC offices and bank units took place in a total of 16 countries on all continents on that day. Many more solidarity pictures have been taken and messages of support sent from various countries, and more are expected in the coming days. The highlights of this international coordinated day of action, spearheaded by the CWI and by the campaign 'Stop Repression in Hong Kong', included a video from representatives of the Harland and Wolff workforce, who just won their struggle to defend their jobs on the Belfast shipyard (see video here), and trade unionists in Sana'a, Yemen, expressing solidarity with victimised workers in Hong Kong despite facing themselves extremely difficult conditions in a country torn apart by war, famine and poverty.
Irish member of parliament (TD) Mick Barry, also recorded this solidarity video (click here)
A short selection of photos from some of the pickets and solidarity gatherings around the world can be seen below.
The CWI will continue to stand side by side with all workers being victimized by union-busting corporations and state repression, in Hong Kong and internationally, and to report on the historic political developments in Hong Kong in the coming weeks.
Photo gallery (from top to bottom): Thessaloniki, Greece; Dublin, Ireland; New York, USA; Cape Town, South Africa; Limerick, Ireland; Sana'a, Yemen; Montreal, Quebec; Moscow, Russia; London, UK; Leicester, UK; Ghent, Belgium; Krakow, Poland.