CCP leader Xi Jinping three times wealthier than the whole British cabinet
Vincent Kolo
On March 5, the world's wealthiest-by-far political assemblies will open for business in Beijing. The annual sessions of the NPC and it's sister body CPPCC are met with a big yawn by most Chinese. News media report that almost 800,000 Chinese voted in an online poll over what topics the (unelected) delegates should address. This is hardly a sign of popular interest – at just 0.0006 percent of the population, and less than one percent of the Communist Party's (CCP) 83 million members!
The annual meetings are however a firm favourite with bloggers who post popular pictures of the designer outfits and other luxury adornments that give some clues as to the fabulous wealth of the assembled delegates.
"China's legislature, called the National People's Congress, may boast more very rich members than any other such body on earth," declared a recent survey by the Wall Street Journal (Defying Mao, Rich Chinese Crash the Communist Party, December 29, 2012).
Among the NPC's 3,000 delegates there are 75 billionaires with an average net worth of more than US$1 billion. Their combined wealth exceeds US$90 billion.
"By comparison, the collective wealth of all 535 members of the US Congress was between $1.8 billion and $6.5 billion in 2010," the Journal's report continued.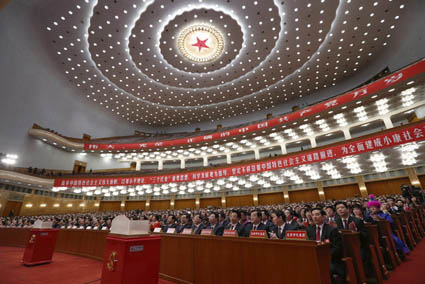 The staggering wealth of China's political and business elite has become a major focus for the world's media. The Financial Times anointed 2012 as "the year of the princeling". This newspaper and other business journals have carried extensive reports on China's princelings – the children and grandchildren of Mao-era leaders.
For the first time in its history, following its 18th congress in November, the top leadership of the CCP is dominated by princelings. Within the standing committee of the politburo – the fulcrum of power within the Chinese dictatorship – four of seven members are now princelings. They are headed by the new party secretary Xi Jinping, whose father Xi Zhongxun served Mao as vice premier before being purged and imprisoned during the Cultural Revolution.
This apparent consolidation of control by prominent princelings is one outcome of a sharp top-level power struggle, which is far from concluded. While Xi seems to have wrested more control within the ruling organs than his predecessor Hu Jintao, his regime is not yet consolidated and faces internal as well as external challenges. Although himself a princeling, Xi is attempting to balance between rival CCP factions. He has increasingly distanced himself from the main princeling faction led by former president Jiang Zemin, leaning for support on its main rival, the Youth League faction (tuanpai).
The princelings are not a cohesive political faction, but rather a specific social group within China's billionaire elite, the 'new capitalist nobility' as Bloomberg describes them. Elite family connections have enabled this group to reap spectacular gains from China's growing financial power as the world's second-largest economy, second-largest creditor nation and now largest trading nation.
Wealth gap
The rise of the princelings is an expression of the social shake-up and transformation in China after more than 30 years of pro-capitalist 'reform and opening'. The wealth gap in China has reached – and breached – crisis levels. After a 12-year silence, the Chinese regime this year published figures for the Gini coefficient – a widely used indicator of inequality. Its claim that the coefficient has fallen from 0.491 in 2008, to 0.474 last year, has aroused widespread scepticism. Even this suspiciously low reading would indicate China is far more unequal than the US (0.378).
But a separate study published recently by state agencies including the central bank produced a coefficient of 0.61 for 2010, which places China among the ten most unequal societies in the world.  Sensing volcanic social tremors, the new CCP leaders have pledged measures to close the wealth gap. But so did their predecessors, president Hu and his premier, Wen Jiabao. Ten years ago they also pledged a change of political direction and gave it an appealing name: "Putting people first". In reality, this should have read, "Putting some people first!"
When Hu and Wen assumed office there was not a single dollar billionaire in China. Today there are 251, more than any country apart from the US. There are a further 2.7 million millionaires (measured in US dollars) among whom, according to the Shanghai-based Hurun report 85 percent said they send their children overseas to study. So, while defending an authoritarian system at home in order to maintain 'stability' and generate profits, the super-rich in China are strikingly cosmopolitan in their personal tastes, availing themselves of the benefits of 'democratic' systems abroad.
"To avoid the rise of Russian-style oligarchs, China opted for a party-led oligarchy," explains author James McGregor, a former chairman of the American Chamber of Commerce in China. Rather than the party 'leading' the princelings, however, as the outcome of the 18th congress demonstrates, it is increasingly the princelings that rule the party.
World's wealthiest 'parliament'
As we have seen, the rise of a super-rich elite is reflected in the composition of the institutions of the Chinese dictatorship, including the CCP. "Members of China's National People's Congress have become so wealthy that their meetings may best take place in a bank vault," says McGregor.
Of China's wealthiest 1,024 people, the Wall Street Journal reported 160 were either delegates to the CCP's 18th Congress, the NPC, or the CPPCC.
"The CPPCC is becoming more like a Chinese version the UK's House of Lords – weaker than the British version but richer," it noted. Among its 2,200 members, the CPPCC boasts 74 billionaires with an average net worth of US$1.45 billion each.
In Britain, media reports last year that 18 of 29 members of the government (or Cabinet) are millionaires caused a sensation and heightened anger against that government's savage austerity programme. As the Daily Mirror (29 May 2012) noted, the "combined wealth of the Cabinet is more than £70million [US$108 million]." Yet compared with their Chinese counterparts such sums are chicken feed. Xi Jinping's family alone, according to Bloomberg's analysis, is worth US$376 million – three times more than the entire British government!
The Wall Street Journal's survey comments that, "As political [i.e. CCP-connected] families move into business, private tycoons are entering the political sphere – although precisely what is driving that isn't clear."
Then answering its own question, this article continues:
"But the Journal's analysis showed that people appearing on Hurun's rich list who also served in the legislature increased their wealth more quickly than the average member of the list. Seventy-five people who appeared on the rich list from 2007 to 2012 served in China's legislature during that period. Their fortunes grew by 81%, on average, during that period, according to Hurun. The 324 list members with no national political positions over that period saw their wealth grow by 47%, on average…"
This graphically illustrates how the capitalists exploit their connections with the state – as CCP members or 'non-party' advisers – to benefit their companies, grab state contracts and cheap resources, and interface with the 'right people' in other sectors of the national economy. Textile billionaire Zhang Haijing, who features in the WSJ report, boasts no less than ten government positions! Zhang's US$1.3 billion business was coincidentally (!) the first private company to get approval for a banking arm, and also received government support for its sweatshop expansion into Cambodia. Today there are even consultancy firms marketing 'five year plans' to help businessmen obtain promotion to government bodies such as the NPC and CPPCC.

'Eight Immortals'
Reports in the foreign press, in some cases relying on leaked information from CCP factional insiders, have given further insights into the world of China's 'red aristocracy'.
"The longer you stay in China the more you realise that everything is controlled by a couple of hundred powerful families," one veteran foreign diplomat told the Financial Times.
Bloomberg News, in an extensive report from December (Heirs of Mao's Comrades Rise as New Capitalist Nobility) charts the fortunes of 103 children and grandchildren of the so-called 'Eight Immortals'. This refers to Deng Xiaoping and seven other top leaders (Yang Shangkun, Li Yiannian, Peng Zhen, Chen Yun, Bo Yibo, Wang Zhen and Song Renqiong) who backed Deng's pro-capitalist policies from the 1980s onwards, and subsequently also his counter-revolutionary crackdown of June 4, 1989. These eight princeling clans are among the dominant political and financial families in the new China.
From their ranks, 26 offspring were found to be running state-owned companies, while 43 operated their own businesses or became executives in private companies. Three were found to control state-owned companies with combined assets worth around US$1.6 trillion in 2011, or about a fifth of China's national output.
"At least 18 of the Immortals' descendants own or run entities linked to companies registered offshore, including the British Virgin Islands and the Cayman Islands, as well as Liberia and other jurisdictions that offer secrecy," noted the Bloomberg report.
Almost half the 103 descendants tracked by Bloomberg, "lived, studied or worked abroad". This included 23 who studied in the US, including three at Harvard and four at Stanford. The report mentions Citigroup and Morgan Stanley among the Wall Street banks that have hired Chinese princelings.  "At least six [of the 103] worked for private equity and venture capital firms, which sometimes recruit princelings with the intention of using their connections for winning business."
The case of Bo Xilai
The fall of Bo Xilai, a flamboyant princeling who sat on the 25-member politburo, exploded as a major international news event in 2012. Bo's case, and the choreographed murder trial of his wife and fellow princeling Gu Kailai threw a spotlight on the power and wealth of the princelings. Bo, whose trial could be imminent, now stands accused of corrupt practises spanning two decades, from Liaoning in the Northeast to Chongqing in the West.
Bo's downfall triggered intense scrutiny abroad of his family's wealth, estimated to be at least $136 million. Again, the New York Times, Bloomberg and others have 'followed the money' – uncovering a maze of share holdings, real estate investments and company directorships inside and outside China, that involve Bo's brothers, Gu's sisters, and even his son by a previous marriage who landed a job with Citigroup in the US. But substantial as this is, the Bo clan's reported fortune is dwarfed by that of Xi's family and other prominent leaders. This includes premier Wen Jiabao, whose relatives have built a staggering US$2.7 billion financial empire according to research by the New York Times.
Wen is a prominent representative of the non-princeling wing of the CCP, and has always laid great stress on his humble origins in order to cultivate a man-of-the-people image. His family's law firm threatened legal action against the New York Times over these highly damaging revelations, but this is almost certainly a bluff, given the even greater scrutiny that court proceedings would involve. Many believe Wen's factional opponents leaked this information as part of the internal CCP power struggle.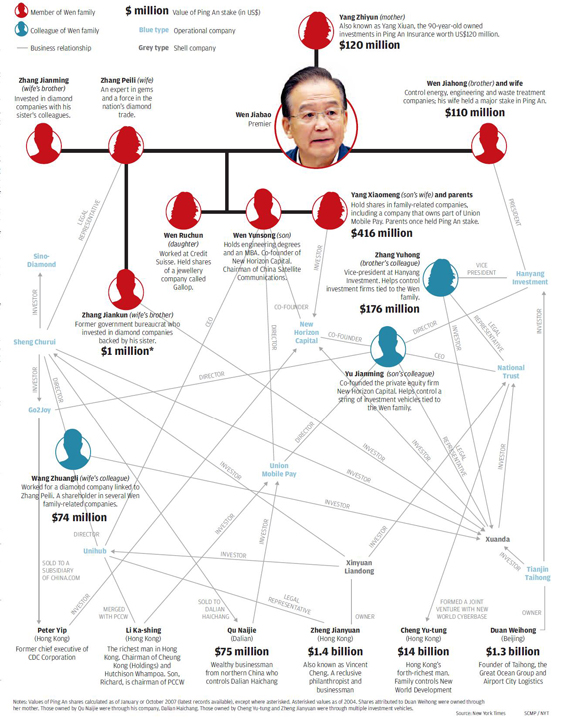 Rather than corruption – a given among princelings and non-princeling CCP officials alike – Bo was brought down as a perceived 'loose cannon' who was ambitious, disdainful of the central leadership, and sought to promote his own brand of authoritarian populism, laced with Mao-era nostalgia. Despite the lack of substance in his 'leftist' phraseology, others in the CCP leadership saw this as a threat and moved to eliminate it. This was just one front in the wider CCP power struggle, which is rooted in China's explosive social contradictions after decades of pro-capitalist policies. These contradictions are bursting open the façade of 'unity' at the top.
Splits at the top can in turn trigger mass movements of China's oppressed masses, its legions of sweatshop workers and army of rural poor. The leadership handover to be rubber-stamped at the NPC/CPPCC sessions means that Xi Jinping and the new autocratic team inherit a political time bomb from their predecessors.