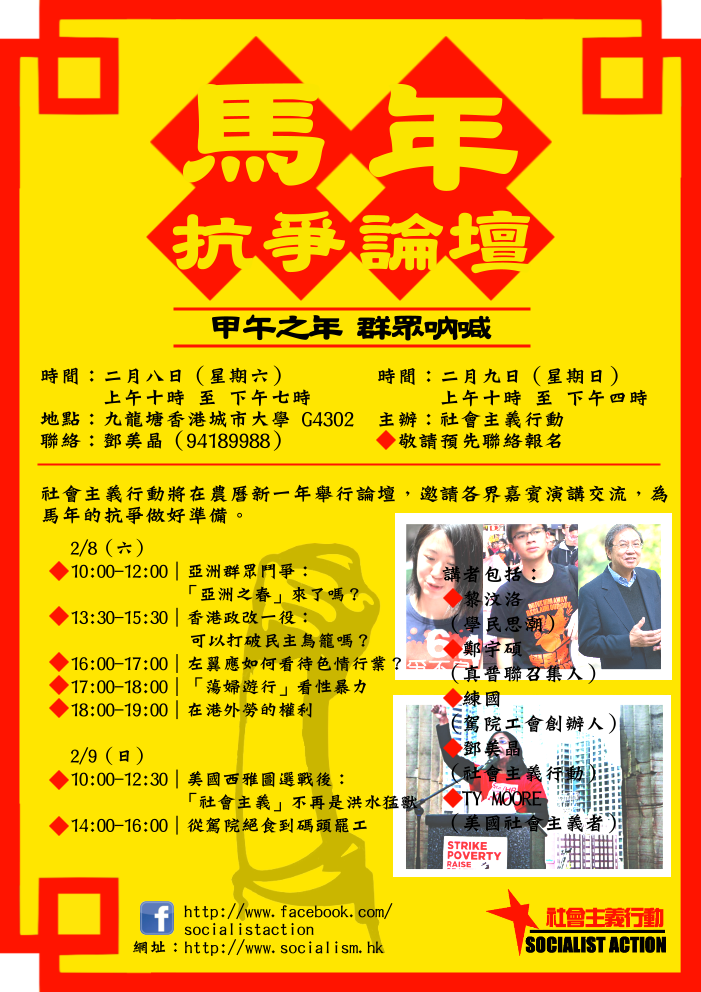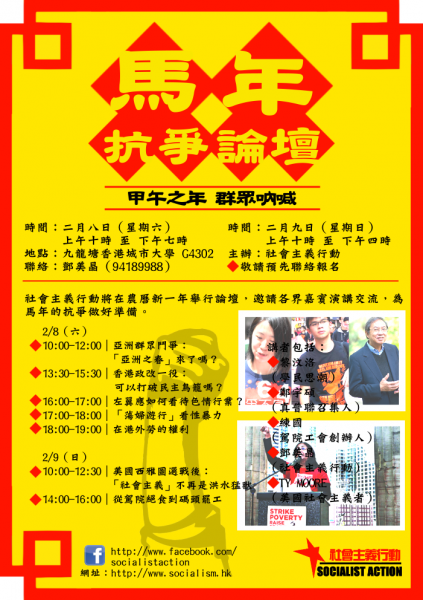 <Forum of Struggle 2014>
Mass revolt in the year of Horse
Forum of Struggle 2014 is an important event for all those fighting for a different world. We are living in a time of mass anti-government struggle and millions on the streets from Cambodia to Turkey. Early in the Year of the Horse, a weekend of left-wing debate and discussion is being hosted by Socialist Action in Hong Kong with invited speakers from a range of organisations. This forum will discuss the way forward for women's struggle, for workers after last year's 44-day Hong Kong dockworkers' strike, and for the crucial upcoming months of the democracy struggle in HK. International speakers from Ireland, USA and England will also take part in person and via live skype link-up, discussing the building of a socialist movement to fight capitalism.
Date: 8-9 Feb 2014
Time: 10am – 7pm
Venue: City University of Hong Kong (Room no. G4302)
contact: 9418 9988 (Sally)
Language: Cantonese, English, mandarin translation provided
>>8 Feb (Sat)
1. Mass struggle across Asia: Is an 'Asian Spring' beginning?
– Vincent Kolo (Chinaworker.info)
2. Democracy struggle – can the CCP be beaten?
– Oscar Lai (Scholarism)
– Sally Tang (Socialist Action)
– Joseph Cheng (Alliance for True Democracy)
3. Women's struggle:
a) Sex industry and prostitution – a left persepctive
– Laura Fitzgerald (Socialist Party in Ireland)
b) Slut Walk and sexual violence against women
– Sally Tang (Socialist Action & SlutWalk HK)
c) Migrant Worker right in Hong Kong
– More speakers inviting
>>9 Feb (Sun)
4. After Seattle: Socialism no longer a dirty word in USA
– Ty Moore (member of Socialist Alternative, candidate of 2013 Minneapolis city council election)
5. From HKSM hunger strike to docker strike: workers struggle in HK
– Lin Kwok (HKSM union founder)
– Dock striker representatives
– Jaco Lam (Socialist Action)
Register form:
https://docs.google.com/forms/d/1zaCmrtzZFQM7-09vKSW387pdTF3bK-Jy4R-S2e0-EV0/