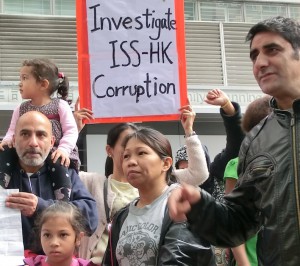 The Refugee Union in Hong Kong stages new protest in swift response to eviction after 7-day occupation
Socialist Action reporters
"Shame on ISS! Shame on ISS!" echoed across the packed streets of Hong Kong's Wan Chai district today as 40 members of the Refugee Union and their supporters staged a protest outside the head office of International Social Services (ISS-HK). Legislator 'Longhair' Leung Kwok-hung of the League of Social Democrats (LSD) was there to show support and lead the chanting.
"We will not give up this struggle until the government and Department of Social Welfare takes back control of refugee welfare services from ISS-HK," said Refugee Union spokesperson Raymond.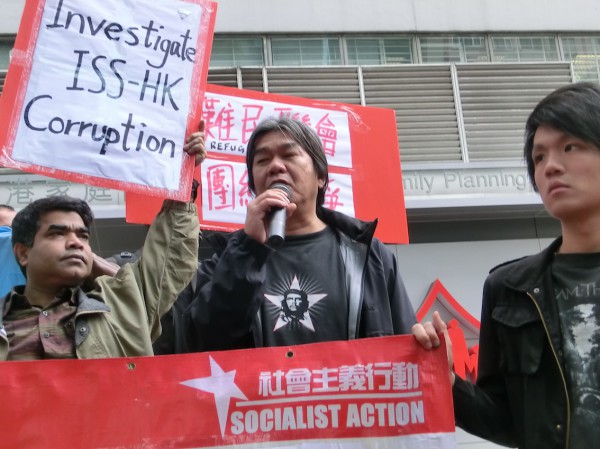 After making itself heard in the street outside, the demonstration moved up to the sixth floor where the ISS-HK offices are located.
The protesters were angry that the High Court yesterday served an injunction in favour of ISS-HK to ban protesters from occupying its offices in Mong Kok and Tsuen Wan. An occupation by members of the Refugee Union began on Tuesday 11 February and lasted for one week, generating a lot of media attention for this struggle and the union's demands for an investigation into corrupt practices by ISS-HK.
"ISS thinks they have evicted the protesters, but this campaign will clearly continue until ISS itself is evicted by losing its lucrative government contract," said Vincent Kolo of Socialist Action, which co-hosted the Wan Chai demonstration.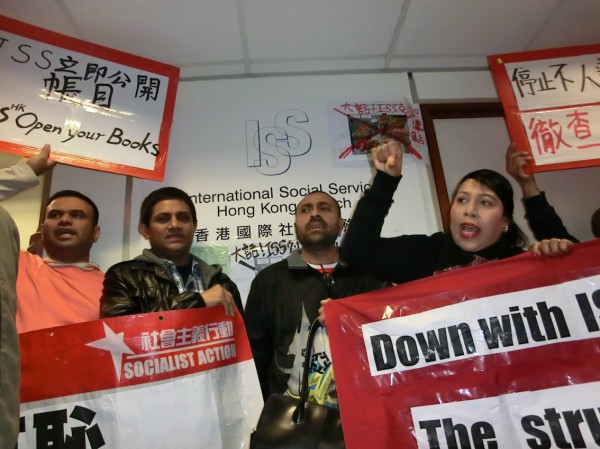 Refugee protesters including seven protest leaders who are named in the court ruling are now banned from entering ISS-HK welfare offices without written permission. In addition to its court action against the protesters, ISS-HK mounted a propaganda counter-offensive through its website, rejecting claims that its food supplies are manipulated to undercut the legally prescribed sum of HK$1,200 per month per person. The company's claims were swiftly dismissed as "more lies" by the Refugee Union.
The message from the Wan Chai protest is that the struggle against ISS-HK continues after the occupation, with new tactics to be thrashed out in coming days. The occupation achieved a great deal in putting this struggle on the map. This has strengthened the determination of the Refugee Union, more than 100-strong, to continue its fight for justice.