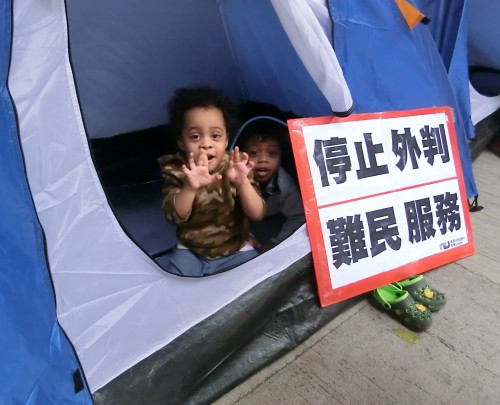 'Occupy SWD' accuses government of covering up abuses by its private refugee welfare contractor ISS-HK
Around 50 refugees with their families set up a protest camp outside the offices of the Social Welfare Department (SWD) in Hong Kong's Wan Chai district on February 27. They are demanding the department stop defending rogue contractor ISS-HK. This latest escalation of the refugees' struggle – organised through the newly formed Refugee Union (RU) – follows a peaceful and disciplined one-week occupation of three ISS offices in mid-February. At the time of that occupation the union also filed a complaint with anti-graft body ICAC to investigate ISS-HK for corruption.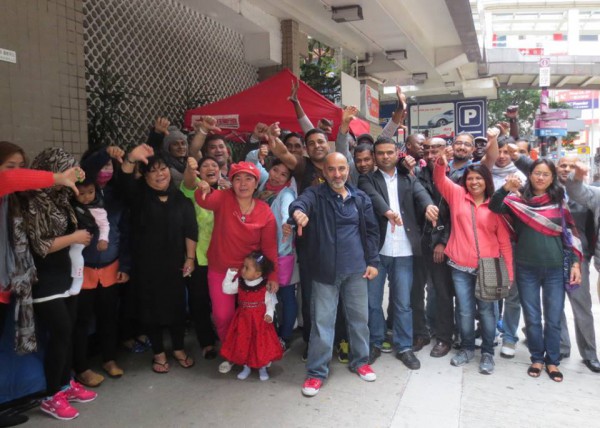 "We will stay here as long as it takes," one of the refugee mothers involved in the occupation told the website of campaign group Vision First. "Everyday more people will come and support us and soon all Hong Kong will know that ISS are criminals and SWD are unwilling to terminate their contract. We will never give up this fight for our rights!"
The launch of the protest camp – called 'Occupy SWD' – follows unsuccessful negotiations between the union and the Social Welfare Department on February 26. A statement from the union said the department "is either in denial, or more likely hiding secrets from the general public."
Fake NGO, fat budget
Refugees in Hong Kong are treated abysmally. Banned from working by harsh government rules, they are forced to survive on handouts from charitable organisations and the very low welfare disbursements from ISS-HK. This 'NGO' is in fact a limited company under contract to the Hong Kong government with a fat HK$280 million annual budget to run welfare services for 5,600 refugees.
Refugees complain that food packages, supposedly worth HK$1,200 per month are routinely 'downsized' to contain less than this amount. The South China Morning Post recently conducted its own survey and found the goods in a monthly ISS food bundle to be worth between 13-30 percent less than the legal guidelines. This means ISS is short-changing refugees by HK$300-HK$400 worth of food per person per month. The Refugee Union suspects collusion between ISS and the food suppliers to charge inflated prices and supply inferior and even expired food.
Despite repeated requests the SWD has refused to publish its contract with ISS-HK. This is one of the key demands of the refugee protest.
"The corruption doesn't come from ISS-HK. It comes from the Hong Kong government," said Mohammadi Rahman Raymond of the Refugee Union. "The government doesn't want refugees to be comfortable as they wrongly claim that will attract more asylum seekers. So ISS-HK is like a henchman only following his boss's orders. The SWD-ISS contract is kept secret because it contains instructions that would bring shame to the government."
The government wants to portray refugees as a 'burden' on Hong Kong's welfare, while at the same time cruelly banning refugees from getting jobs to contribute to the local economy. But the current model of outsourcing welfare services to rogue companies like ISS-HK cheats both refugees and the people of Hong Kong.
Attacks on the poor
Socialist Action (CWI) is active in support of the refugees' struggle and calls on all workers and youth to show their support for the ongoing occupation. The protest camp in Wan Chai was set up one day after finance minister John Tsang Chun-wah unveiled his stingiest budget to date. While he plans to dole out a record HK$78 billion in the form of new infrastructure projects to fill the bank accounts of Hong Kong's property tycoons, economic support measures for the poor (such as electricity subsidies and 2-month housing rent waiver) are to be slashed by 40 percent compared to last year. This shows that the refugees' struggle for stronger welfare protection and democratic accountability is part of a wider struggle against an unjust and undemocratic government, whose policies are designed to make the super-rich even richer at the expense of the majority.
Show your support for the Refugee Union and 'Occupy SWD' – more information on the union's facebook page