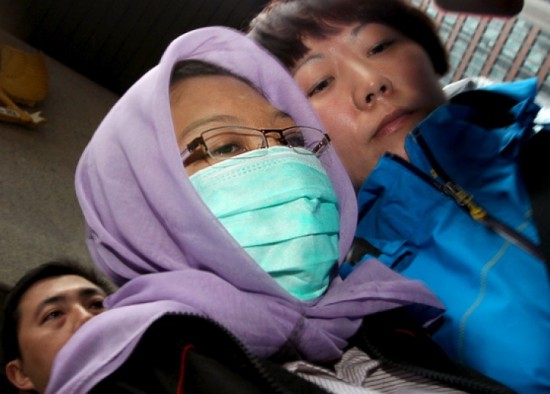 Hong Kong and Indonesian governments should also stand trial over migrant workers' rights
Socialist Action reporters in Hong Kong
The return of Erwiana Sulistyaningsih to Hong Kong is a major event for the city's 330,000 migrant domestic workers. Erwiana arrived from Indonesia along with family members and supporters on 7 April in readiness for the trial of former employer Law Wan Tung which resumes on 29 April. Law faces a catalogue of charges including causing grievous bodily harm arising from her mistreatment of Erwiana and two other former employees. These women also gained the courage to come forward after Erwiana's case shot to international prominence.
This is the first time back in Hong Kong for Erwiana, who was left at the airport by her employer on January 10, badly injured, with a ticket back to Indonesia. This followed an 8-month ordeal of torture, beatings and malnourishment. Doctors in Indonesia treated her for severe swelling of the brain and other injuries. Quizzed about why they did not react upon seeing Erwiana's condition at the airport, Hong Kong immigration officials said they could not tell she was covered in bruises because she is "dark skinned."
'Kidnapped' by officials
As if these earlier injustices were not enough, a new ordeal began for Erwiana upon her arrival back in Hong Kong. Indonesian officials supported by Hong Kong police surrounded her group and forced her against her will to follow them to the Indonesian consulate. A group of Hong Kong supporters and migrant rights activists were physically obstructed from meeting her. "The circumstances of Erwiana's return to Hong Kong are nothing less than shocking," said barrister Robert Tibbo, who is a legal advisor to the city's migrant groups. Hong Kong police reportedly threatened Erwiana with deportation if she did not follow the consular officials.
This led to a demonstration the following day with around 50 migrant workers and supporters gathering outside the Indonesian consulate demanding "Release Erwiana!" Under this pressure, Erwiana was allowed to leave the consulate after a 24-hour incarceration. "She felt like she was living in a jail. The consulate pushed her to stay against her will. If she did not stay, they would not follow the case," explained Eni Lestari of the Justice for Erwiana and All Migrant Domestic Workers Committee.
This outrageous sequence of events shows the fear of both the Hong Kong and Indonesian authorities over the political effects of Erwiana's case and the potential threat it poses to the lucrative trafficking of domestic workers which both governments profit from. These governments want to control the narrative surrounding the trial to discourage migrant workers from fighting for their rights and winning more sympathy from the Hong Kong populace.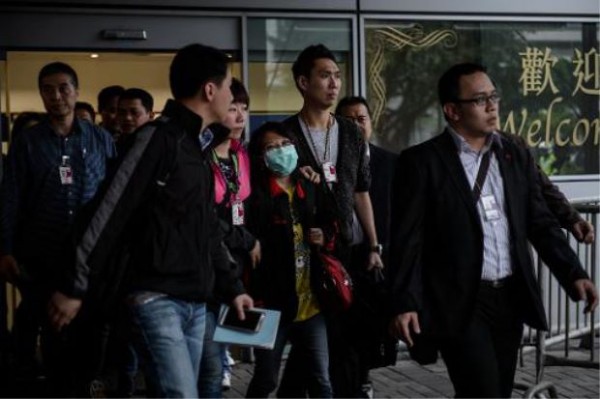 Modern-day slavery
The Erwiana scandal marks a turning point in the struggle against the raw exploitation of migrant workers in Hong Kong. In a widely reported survey from last year, Amnesty International branded Hong Kong's treatment of migrants as modern-day slavery.
"Employers in Hong Kong frequently subject migrant domestic workers to serious human rights violations in Hong Kong, including physical or verbal abuse; restricting their freedom of movement; prohibiting them from practising their faith; not paying them the minimum wage; not giving them adequate rest periods; and arbitrarily terminating their contracts, often in collusion with placement agencies," the report says.
Erwiana's case triggered a massive protest movement among Hong Kong's migrant women workers with a series of big demonstrations to demand changes in the current harsh employment laws that trap them in a an unregulated and unprotected grey zone of the labour market.
Migrant advocacy groups and fledgling trade unions are demanding three changes in particular:
The end of the 'two week rule' that forces domestic workers to exit Hong Kong within 14 days if their job contract is terminated.
Flexibility concerning the 'live in rule' which currently forbids domestic workers from living outside their employer's residence.
Action against the hiring agencies which massively overcharge for processing contracts. This is a form of debt-slavery which also forces domestic workers to stay in jobs even when they encounter abuse or violations of their rights.
Trial of Law Wan Tung
"At the upcoming trial it will not only be Erwiana's ex-employer in the dock, but also the governments of Hong Kong and Indonesia," said Jaco Lam of Socialist Action, which has been actively campaigning against racism and for migrant workers' rights. "It is the policies of these governments that have made such abuse possible and widespread," he said.
Hong Kong's Secretary for Labour and Welfare Matthew Cheung Kin-chung revealed on 11 April that in addition to the criminal assault charges, Law will also now face charges under the Employment Ordinance relating to wages paid and holidays granted to her three ex-employees. The law says domestic workers are entitled to one day off every week and 12 days of statutory holiday. Incredibly, the government has waited until now, with Erwiana back in the city and the media duly engaged, to bring these charges against Law. As Eni Lestari of the Justice campaign committee commented, "It is a relief that the department has finally done what it should have done long ago."
In Erwiana's case she was denied days off and forced to work 21 hours a day. It was especially after she tried to complain about these abuses that she was subjected to repeated beatings. But while the violence in her case was extreme, denial of legally stipulated rest days, minimum wage rates, and statutory holidays are not unusual in Hong Kong. Amnesty's survey found that Indonesian domestic workers in Hong Kong worked an average of 17 hours a day. Without the right to live out, domestic workers are on call around the clock with no regulated working hours. Under the burden of agency debt, and in fear of the 'two week rule,' they are extremely reluctant to pursue complaints that could lead to termination of their contract.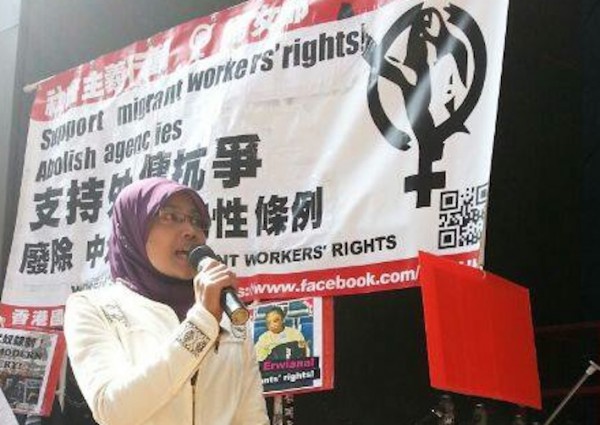 Hard on migrants, soft on agencies
While Cheung and the government have been shaken by the Erwiana scandal and the blow it deals to Hong Kong's international standing, they have rejected demands for reform of employment laws. A government paper from February this year, responding to the Erwiana case, decreed that, "The main purpose of the two-week rule is to allow foreign domestic workers sufficient time to prepare for their departure and not to facilitate them to find new employers."
Under the pressure generated by this case the Hong Kong government has paid lip service to tighter controls over the 'vampire' agencies. But its words are not matched by deeds. It is common knowledge that the agencies overcharge domestic workers, often taking over HK$20,000 in fees – the equivalent of seven months' salary – while the legal limit is just ten percent of the first month's salary i.e. HK$401. A survey by the Indonesian Migrant Workers' Union (IMWU) found nearly one in six Indonesian migrants had their contracts terminated before they had paid off the agency fee. Despite Secretary Cheung saying the government will get tough with the "bad apples," only six employment agencies out of more than 1,200 were convicted of violations during 2013, according to figures from his own department.
Indonesia's role
As the attempted 'abduction' of Erwiana at Hong Kong airport shows, the Indonesian government prioritises its business relationship with the Hong Kong government over the defence and legal rights of its workers. Both governments base themselves on the capitalist profit system, which squeezes wages and working conditions in a global 'race to the bottom' to deliver higher profits for the big companies and super-rich.
Jakarta and Hong Kong have concluded a pact whereby Hong Kong's government gains a cheap and tightly controlled labour force to fill the hole left by its Scrooge-like underfunding of vital social services such as elderly care and child care, but also to cushion the effects on family life of Hong Kong's excessive working hours. The average working week in Hong Kong is 48.7 hours – 22 percent above the 40-hour week recommended by the International Labour Organisation.
The Indonesian government willingly exports cheap labour for these tasks and is looking to upgrade its relationship by sending semi-skilled labour to Hong Kong in the coming years. This is an admission of the failure of Indonesian capitalism, which despite that country's abundance of natural resources excludes millions of people from earning a basic living wage. Remittances sent back to Indonesia from its six million migrant workers in countries from Singapore to Saudi Arabia, amounted to 88.6 trillion rupiah (HK$60 billion) in 2013. This is a vast sum, equivalent to 7 percent of total central government spending. These financial sums explain why the Indonesian authorities have worked closely with the Hong Kong government in an effort to downplay the Erwiana scandal.
Workers and migrants cannot expect any justice from capitalist governments. The only message they understand is mass struggle and the self-organisation of the oppressed in order to fight for real change. This means stepping up protests on behalf of migrant domestic workers, for their immediate and extremely modest demands, and linking this to the wider struggle of the working class in Hong Kong, Indonesia, and elsewhere in the region. This struggle starts with building fighting and democratic unions to stand up to the employers and defend workers' rights, but it also embraces the need for a mass political alternative to capitalist oppression – international socialism!