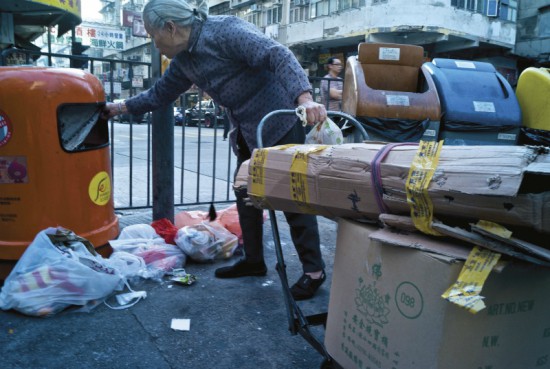 17 years since the handover the city's wealth gap wider than ever
Dave Hundorf
Teng is 78 years old and collects waste paper, which she has being doing for the past 14 years. For her hard labour, amid choking fumes in one of Mong Kok's busiest streets, she gets paid 70 cents per kilogram. I ask her why she does it. "I have no choice," is her instant reply. Like many elderly she gets no old age pension from the government, apart from 'fruit money' of HK$1,180 per month. Tens of thousands of elderly people in Hong Kong collect junk in order to survive. "The number is on the rise as the poverty gap widens," noted state-run China Daily in 2012.
This is the shocking reality as Hong Kong marks 17 years under Chinese rule. Despite the neo-liberal economic counter-revolution that originated in Britain under the right-wing anti-working class government of Mrs Thatcher in the 1980s, Hong Kong has actually become much more unequal since the handover (as has China itself under neo-liberal CCP policies).
One in three elderly people in Hong Kong live below the poverty line – one of the highest elderly poverty rates in the developed world. Other groups also live in extreme economic hardship. A quarter of all Hong Kong's children do not get three meals a day.
At the same time, the ranks of the city's millionaires rose 22 percent in 2013. Li Ka-shing, the world's 8th richest man, recently upbraided some global wealth studies that had underreported his wealth by around 40 percent for the past decade. These magazines had missed out oil and gas interests that Li owns in Canada. Li is said to be worth HK$248 billion.
Government figures misleading
CY Leung has made a lot of noise about tackling poverty and announced '160 measures' against poverty in his policy address earlier this year. But like his Commission on Poverty – criticized as a 'talk shop' – these measures are nowhere near enough to deal with the scale of the problem. Still, sections of the tycoon establishment distrustful of CY have continuously attacked his measures as 'unaffordable' and a threat to Hong Kong's 'competiveness'.
The international NGO Oxfam recently produced a report that undermines much of the government's claims on fighting poverty. Officially, 1.3 million people are living below the poverty line – a bad enough statistic in a city of 7.2 million.
Oxfam's study, published in June, finds that one-person households are much worse off than the government's poverty line recognises. The basic cost of living for a single adult is HK$7,344 per month, according to Oxfam, and HK$4,613 for elderly one-person households. But the poverty line set by CY's Commission on Poverty is HK$3,800 for single people – barely half the level set by Oxfam. This huge gap is because of different methodology whereby the government approach is 'relative poverty' defined as 50 percent of the median income, whereas Oxfam based its study on 'absolute poverty' – how much is needed to survive.
The Oxfam report will fuel the stormy debate over the CY's ineffective anti-poverty policies. Hong Kong's wealth gap is the biggest in Asia and continues to widen. These are levels of social polarisation that even China Daily warns, "pose a risk of social disruption" – a euphemism for revolution.
When such poverty exists side by side with such aggressive displays of luxury and wealth for a small minority, it shows there is something rotten at the core of society. The democracy struggle to resist Beijing's latest undemocratic manoeuvres (the nomination committee) is not just about the right to choose our own candidates and government. It is about the need to get organised in order to change not just the CE, but the whole system.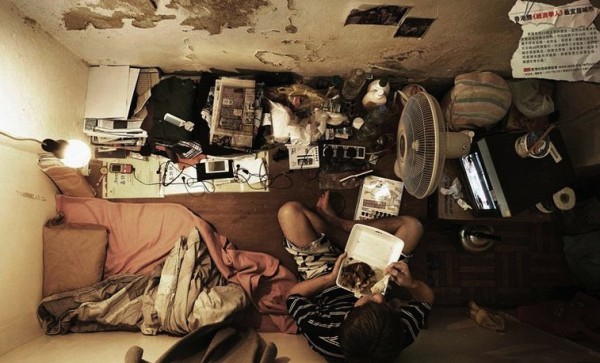 For a universal pension system
Socialists link the fight for democracy to the need to fight poverty, the housing crisis, and to spend more on public services. We want to scrap the Mandatory Provident Fund, which excludes so many, and mainly aims to make profits for the banks and stock market speculators. It should be replaced with a universal pension system with the base level set at the same level as the minimum wage. We also call for a dramatic rise in the minimum wage to at least HK$45 per hour, to reflect the sharp increase in the cost of living – housing costs, fare rises and food inflation.
These things can only be fought for through mass struggle. But mass struggle in turn needs to be organised and needs a programme that shows how society and government policies can be changed. That's why we stand for the creation of a new workers' party built on socialist ideas. The aim must be to fight for social reforms and democracy, linked to breaking the power of the tycoons and the dictatorship that protects their interests. An elected government representing grassroots workers, pensioners and the poor, must take the banks and big corporations into democratic public ownership and control, to plan the economy for the needs of the majority not to make the billionaires even richer.