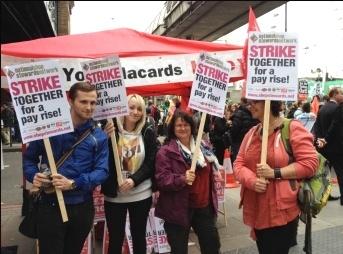 Calls for local government strike action to be reinstated
Socialist Party Reporters, London
Trade union contingents from all the major unions – and smaller ones – lined up along the Embankment, in central London, to march as part of the TUC's 100,000-strong 'Britain needs a pay rise' demonstration on Saturday 18 October.
The demo was to condemn the on-going erosion of wages; on average £50 a week down in real terms since 2007.
It followed a four-hour national NHS strike the previous Monday and a national PCS strike of civil servants last Wednesday.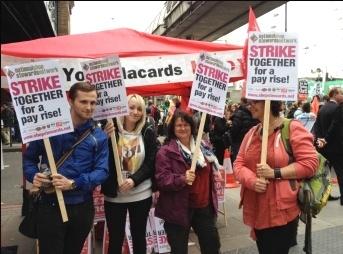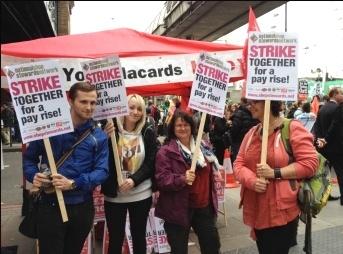 Speakers at the Hyde Park rally included Len McCluskey, leader of Unite union, who stressed that it's necessary to do more than march and that we need more than anger – needed is to 'mobilise and organise'.
He also said that Britain needs more than a pay rise; it needs a government that fights for working people just as the Tories fight for the rich: "We know there's an alternative to Tory misery – it's about building homes, bringing banks under real public control, freezing energy prices, renationalisation of rail, a boost to the minimum wage – £8 an hour now".
As Len McCluskey – unlike the Socialist Party – still believes that the Labour Party could change direction away from imposing austerity, he called for a Labour Party that offers a clear socialist alternative at the next election: "I say this to Labour, stop being scared of your own shadow, time for timid is passed, be brave, be inspired by today and believe that the working class can change our country for the better".
Mark Serwotka, general secretary of the PCS union, called for national trade union coordinated action and expressed disappointment that the local authority strikes planned for Tuesday had been called off. He praised the Fast Food Rights protest that took place outside McDonalds during the course of the day.
NSSN stage
The National Shop Stewards Network provided a platform at Hyde Park's Speakers' Corner for discussion on the way forward for coordinating and escalating action to end the pay freeze.
Speakers from local authority unions were angry that the 750,000 union members in local government who were supposed to be on strike on Tuesday had their strike called off just days before it was to take place.
There was no major new pay offer that justified this retreat from action. Calls were made for the employer's 'offer' to be rejected, and for strike action to be reinstated.
Demonstrations also took place in Glasgow and Belfast.