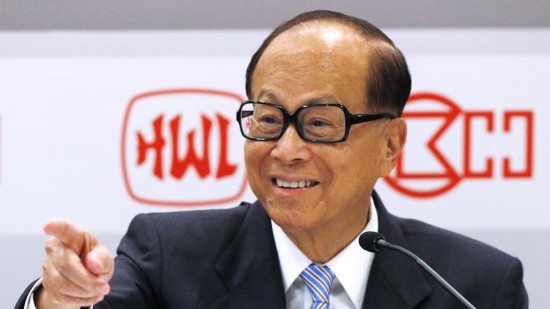 Mainland media have launched an unprecedented attack on Asia's second richest billionaire Li Ka-shing
chinaworker.info
Hong Kong tycoon Li Ka-shing, worth US$32 billion according to the Bloomberg Billionaires Index,  has come under fire for divesting from China. His property company Cheung Kong Holdings has sold multiple properties in Guangzhou, Nanjing, Shanghai and Beijing since 2013. But there has also been a shift out of Hong Kong with Li's business empire increasingly focussing on expanding investments in Europe and other developed markets. It seems Li's decision in June to sell a shopping mall and twin office towers in Shanghai, was the final trigger for the media attack which must have been sanctioned by the government.
Liaowang Institution, a think tank linked to Xinhua news agency, accused Li of ingratitude given the Chinese dictatorship's "huge support" to his business over many years. This is a tacit admission of the crony capitalist relationship that Li and other tycoons have enjoyed in China and Hong Kong courtesy of CCP (so-called Chinese Communist Party) policies. The article said Li's decisions to sell at a time of "economic crisis" were tantamount to spreading "pessimism". The CCP's main mouthpiece, People's Daily, also joined the attack saying Li was "abandoning" his country. Some media warned Li would "regret" his actions once the Chinese economy recovers. Li hit back at what he called "Cultural Revolution-type" attacks.
Economic crisis
The sharp downturn in China's economy is behind this conflict. It is also connected to a sharpening power struggle within Hong Kong's billionaire elite – with Beijing promoting its own companies in the territory, encroaching on the former privileged position of the local tycoons. It is a well known fact that Li did not support CY Leung to become Chief Executive of Hong Kong – Leung is close to mainland corporate groups.
Because of Li's high international profile, Beijing fears his decision to scale back will be interpreted as a vote of no confidence in China's economy. This episode underlines the extreme sensitivity of the government, belying its official denials of any crisis and insistence that its economic policies are working.
China is experiencing record levels of capital flight, as wealthy Chinese and foreign corporations shift into more lucrative dollar assets or investments where production costs are cheaper. An unprecedented US$787 billion has left China since the second quarter of 2014. Hiding behind 'patriotic' rhetoric to denounce Li, the CCP nevertheless faces a dilemma. In a Sina.com poll, significantly, 41 percent said the government should stop Li from moving his capital out of China. But while Beijing has tightened its capital controls in recent months it has no intention of adopting 'socialist' measures. By the logic of its own brand of capitalism it cannot afford to send any signals of a retreat from Xi Jinping's market reforms or risk an even bigger financial exodus.