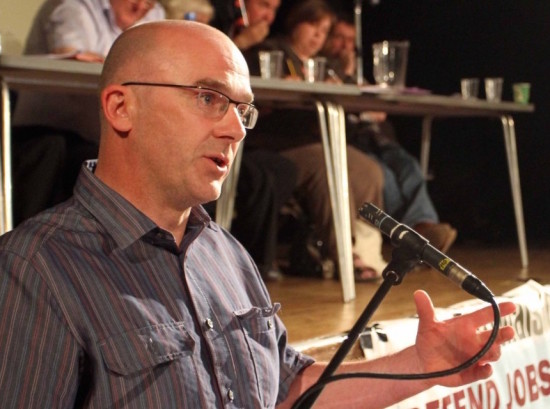 The biggest union in Northern Ireland, NIPSA (Northern Ireland Public Service Alliance), will elect a new General Secretary in November

Socialist Party reporters
Patrick Mulholland, a well know socialist, is standing with nominations from 40 local branches (the requirement is 10 branches).
Patrick is a CWI member (the international socialist movement which Socialist Action is allied with). NIPSA represents over 45,000 members from across the civil and public services and the voluntary sector.
NIPSA members are facing threats to jobs, pay cuts and increased workloads due to government austerity policies. Northern Ireland is ruled by Britain, i.e. David Cameron's right-wing conservative government.
Patrick Mulholland has pledged to fight austerity and is also against cooperation with the nationalist and religious sectarian parties that form the ruling coalition in the local government in Belfast. "I am in favour of a debate in the wider trade union movement on the need for a new anti-sectarian working class party," he says.
"Real wages have fallen as pay rises have failed to match the inflation rate and our pensions have been under relentless assault in recent years. We should remember that it was the main parties in [the Northern Ireland government] that introduced new laws that make us pay more into our pension, but get less in return when we retire."
He also calls for determined struggle against the Cameron government's new anti-union laws. "One of the most sinister measures involves forcing pickets to give their personal details to the police, which can lead to arrest and criminal charges.
At least 40 percent of all union members will have to vote for strike action for it to be legal. This is complete hypocrisy from a government [i.e. Cameron] elected by only 24 percent of the voters. Patrick has pledged to stay on a worker's wage if elected. "For too long, some union leaders have been divorced from conditions of their members. I will keep only my current salary and donate the rest to workers' causes both here and internationally."