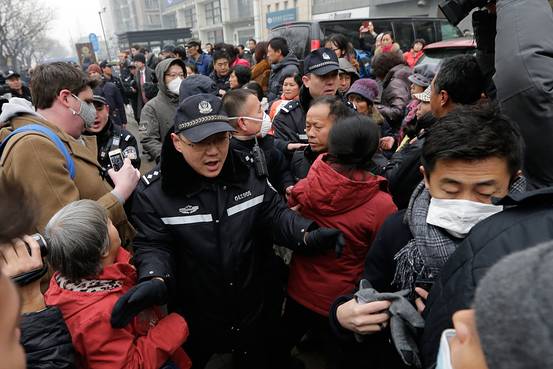 Chinese regime is intensifying censorship and repression
Dahu, chinaworker.info
A crowd outside the Beijing court shouted "freedom of speech, freedom of speech". Security guards wearing smiley masks manhandled protesters, foreign reporters and even some of the 11 foreign diplomatic officials gathered a few hundred meters from where the trial of Pu Zhiqiang was taking place.
The tumultuous scenes on 14 December have been widely reported on overseas media. Pu, who is one of the best-known representatives of China's 'weiquan' or rights defence lawyers, faces up to eight years in prison for posting seven tweets on Weibo that have upset China's so-called Communist dictatorship. Pu has 138,000 followers on Twitter and a similarly large following on social networks in China, despite repeatedly being closed down by the censors.
He has already spent almost 19 months in detention, which has clearly taken a physical toll on the 50-year-old. The trial lasted just three hours – normal in such cases in China – and the chances of Pu avoiding a prison sentence must be counted as very low.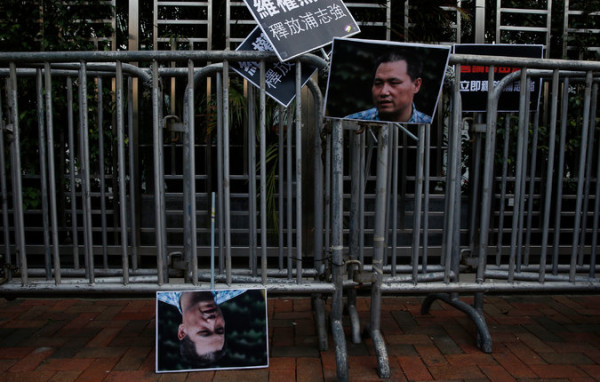 "Inciting ethnic hatred"
The charges of "picking quarrels and provoking trouble" and "inciting ethnic hatred" are laughable. Many commentators have speculated that the authorities, during the long months of Pu's detention, have been trying to dig up something more substantial – financial or even sexual misdemeanours – to give their persecution of the man greater credibility. In the end they have emerged with the thinnest of cases. Seven Weibo posts made between 2011 and 2014, whittled down from 27 a few months ago, is all the prosecutors have to go on.
The charge of "inciting ethnic hatred" relates to a post about the 2014 Kunming massacre perpetrated by Uighur terrorists. Pu had the temerity to post, "This is a result, not just a cause" – referring to the vicious cycle of state repression in the Muslim-majority Xinjiang region, which has spawned a gruesome and misguided terrorist response from a section of the Uighur Muslim youth.
Other posts that form the basis of Pu's "illegal" statements are one that mocked Mao Zedong's grandson, the princeling general Mao Xinyu, who despite the best efforts of the regime is a figure of fun on Chinese social media, and another criticising a government official over the fatal 2011 high-speed rail crash in Wenzhou.
Pu was a student activist during the 1989 Democracy Movement, which shook the Chinese dictatorship to its core. He later became a lawyer and handled a number of high profile cases that will have rattled the authorities. In 2011, he represented the artist Ai Weiwei in a case over tax evasion, widely seen as political persecution. In 2004, Pu represented the authors of the underground bestseller An Investigative Report of Chinese Farmers at their libel trial in Anhui province.
It was shortly after a private meeting last year to remember the June 4 massacre in Beijing, that Pu was arrested. In an earlier essay on the Tiananmen Square events, Pu made an important distinction that many commentators and even former participants fail to recognise, that the so-called 'riff raff' (according to CCP terminology) of ordinary workers and youth made up the majority of victims of the 1989 massacre – not the 'students' who monopolise most historical accounts.
Political trial
There is no doubt that this was a political trial. Nor can there be any doubt that its effects go far beyond the fate of Pu Zhiqiang. The decision to go after him on the thinnest of 'evidence' is part of a wider and escalating crackdown by Xi Jinping's regime. It regards the rights lawyers' movement as a thorn in its side and – regardless of this movement's intentions – a possible focal point for mass opposition to gather around in the future. For this reason the regime has set out to crush this movement, on similar lines to its persecution of bloggers, anti-corruption activists and others. This represents a 'scorched earth' strategy against any possible oppositional currents, no matter how mild their criticisms of the dictatorship.
Pu's trial has been described as a "canary in the coalmine" by Human Rights Watch. Not only does it follow mass arrests of almost 300 rights lawyers and activists earlier this year, of which at least 40 are still in detention, Pu's case marks a new stage in the regime's efforts to criminalise criticism on the internet. "If Pu receives a long prison term, the chilling effect on China's internet will be terrible," said American scholar Perry Link who is also a friend of the lawyer.
The Beijing trial also coincides with a deepening crackdown on labour activists in Guangdong province, as the regime tries to nip protests in the bud fearing that an industrial storm is brewing as factories close and workers are left with nothing. But history shows that repression cannot succeed indefinitely and that instead the regime's increasingly brutal methods are increasing the likelihood of a massive social explosion.