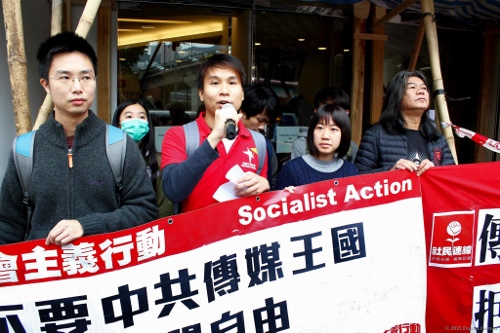 Defend freedom of press!
Socialist Action Reporters
On Saturday 19 December, a protest was held in Hong Kong outside South China Morning Post offices against the takeover of the territories major English language newspaper by Alibaba, the Chinese internet giant. The protest was organised by Socialist Action and supported by the League of Social Democrats. Demonstrators chanted "Defend press freedom," "No to CCP media empire", "Against media monopoly" and other slogans.
The Chinese multi-billion corporation Alibaba has just announced its plans to acquire the South China Morning Post for HKD 2.6 billion. This will inevitably lead to a further decline of the editorial independence of SCMP, and a greater threat to the freedom of press in Hong Kong.
Alibaba's CEO, Jack Ma, is closely linked with the top leadership of the CCP, and the latter has always tried to increase its control over the media and information through acquiring media corporations. In an interview with the SCMP, Jack Ma stated that Deng Xiaoping's decision to initiate the June 4 Tiananmen Square crackdown in 1989 "was the most correct decision".  Alibaba's executive vice president, Cai Congxin, also expressed hopes that the SCMP will adopt "another perspective", "be more objective" when reporting China. With a new pro-CCP boss in charge of the SCMP, news reports will very likely be subjected to limitation or censorship.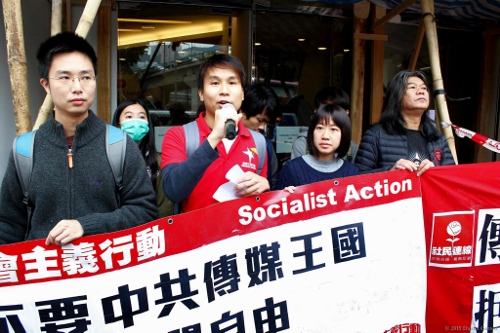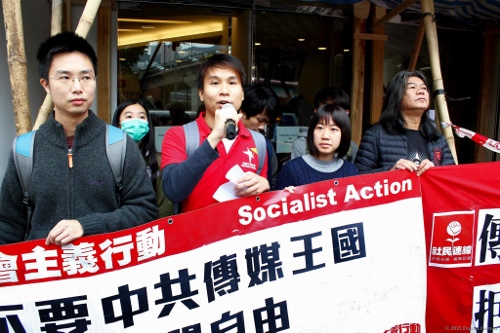 The top leadership of the SCMP has become closer to the CCP regime over the last few years. The most recent editor-in-chief, Tammy Tam, is being seen as a staunch pro-CY Leung figure. Her predecessor, Wang Xiangwei, was a former committee member of the Jilin province CPPCC. During the 2012 "suicide" incident of the worker activist Li Wangyang, Wang personally deleted the initial news article and replaced it with an extremely short report, and threatened the employees who objected to his actions. This has shown that the editorial independence of the SCMP has been under constant attacks.
Moreover, China has banned the website of the SCMP for nearly one year, since the Umbrella Movement broke out last year, and has only recently unbanned it. Being a Chinese company itself, Alibaba will inevitably force the SCMP to engage in self-censorship in order to stay online in mainland China. The SCMP is often a source for reports by other international media in their coverage of China and the CCP regime's policies. There is clearly a wider strategic element in this change of ownership – to influence the international media's views of the Chinese government.
Socialist Action defends the editorial independence of mass media and the freedom of press. We oppose the actions of the CCP in oppressing such freedom, and are also against the private corporate control over the media. We want a genuinely free media based on democratic public ownership and management of the mass media.