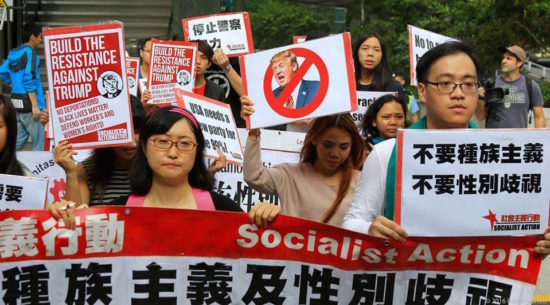 Political motives suspected
Socialist Action reporters
Socialist Action, and the CWI's organisation in China, chinaworker.info, suffered a break-in at their office in Mong Kok, Hong Kong, on Tuesday 6 December.
Computers and money were stolen, to a value of over HK$50,000 (6,000 euro). The thieves broke in by smashing a door, a crime that is extremely rare in the neighbourhood where mostly very poor families live in small subdivided units. The crime took place in daytime when – unusually – the office, which is also used as living accommodation, was empty. The thieves overturned boxes and piles of documents and then flooded the office with water.
"We suspect this was not just a criminal robbery, but perhaps something more sinister," says Sally Tang Mei-ching, chair of Socialist Action in Hong Kong. "We can't rule out that it was a political attack – clandestine activity by the Chinese security forces has increased in Hong Kong this year. We have lost some important records and files, including some political archives of our articles and publications. These were damaged when the burglars turned on all the taps to deliberately cause flooding before they left."
"It seems very possible this was a politically motivated attack, possibly by mainland security forces or on their orders. Why did the thieves take all the computers, which together are quite heavy to carry and not worth much if they are sold? One computer was really rubbish, but it was stolen. It could only have value if they wanted to check the information stored on it. And the act of flooding is very suspicious – it does not seem to be the act of ordinary criminals who only want to make some money. It feels like the attackers want to cause us as much damage as possible," says Sally Tang Mei-ching.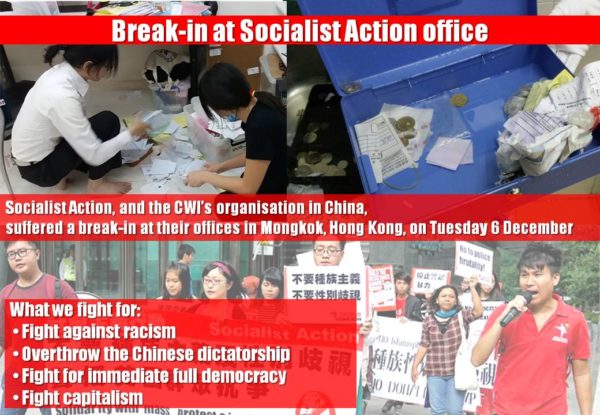 The office is used by Socialist Action comrades, but also on occasion by mainland China dissidents. It is also used as a meeting room and resource centre by refugee activists. The CWI is a legal organisation in Hong Kong (Socialist Action) but is banned in mainland China because it calls for the overthrow of the dictatorship. Consequently, its members suffer persecution and arrest and the repression has increased markedly in 2016.
Mong Kok is a working class district of Hong Kong and the building is very old. Neighbours say there have been no burglaries in the house for twenty years.
"We have been refused insurance by the insurance companies because the building is so old, so the stolen property and money were not insured," says Sally Tang Mei-ching. "Some computers belonged to the volunteers who help to produce our magazine and website."
A financial appeal has been launched through crowd-funding, entitled 'Defend Hong Kong and China Socialists'. It needs to raise at least US$6,500 to recoup the losses from the break-in. Replacing the computers and electronic equipment alone will come to at least US$3,900. Further security measures are needed to install stronger doors and locks and upgrade the security cameras. Damage caused by the flooding will also run into several thousands.
"We are mostly concerned to get our office fully functioning again, and as quickly as possible," says Sally. "This is very important for struggle against the undemocratic Hong Kong government, which has entered a crucial phase with the widening purge to disqualify elected lawmakers including left-winger 'Long Hair' Leung Kwok-hung. We also need to reply to new repressive measures from the Chinese regime – we don't want to lose time but unfortunately we cannot even pay our rent as things stand right now."
We are appealing for donations from socialists, democracy campaigners and well-wishers in Hong Kong, China and internationally. Please send a donation through our page 'Defend Hong Kong and China Socialists'.
Defend Hong Kong and China Socialists - YouCaring
Socialist Action
Socialist Action was founded in Hong Kong in 2010 and fights for immediate and full democracy in Hong Kong and China and for a socialist alternative to the undemocratic rule of the capitalist tycoons. Socialist Action is an active force in the fight against racism and sexism, for the rights of workers and the elderly, and against the Hong Kong government's inhumane treatment of refugees.
Check our website in English and Chinese: socialism.hk