Heavy smog hits 460 million people • Thousands of "air refugees" flee major cities
David Hundorf, chinaworker.info
Vast areas of China have been hit by the most severe air pollution of the year. The onset of winter, with a sharp rise in coal usage, poses a major health hazard to Chinese people especially in the northern half of the country. Over 60 cities, home to 460 million people, have been enveloped in dense smog in the past week. This has been dubbed 'airpocalypse' by Western media.
Beijing and 23 other Chinese cities have declared 'red alerts' in the past week, the highest state of alert on a 4-level warning system first introduced in 2014. Under a 'red alert', city authorities close schools, traffic, and factories, and order the public to avoid going outdoors as much as possible. The smog levels in these areas are up to 20 times higher than the World Health Organisation's (WHO) safety guidelines.
In the past week, readings of PM2.5 – dangerous small dust particles – exceeded 500 micrograms per cubic metre in some parts of Beijing. The WHO says the levels should be kept below 25 micrograms per cubic metre for public safety.
The social and economic effects of such extreme pollution are huge. Hospitals have been inundated with patients suffering breathing problems, highways have been closed, and hundreds of flights have been cancelled. At Beijing airport, one in three flights have been cancelled due to the smog. There are reports of tens of thousands of "air refugees" fleeing the polluted cities for cleaner air in southern provinces like Hainan and Yunnan. Sales of facemasks, air purification filters and other anti-smog gadgets have boomed in the past week – with supplies having sold out in some cities.
The massive smog cloud coincides with renewed health warnings from scientists. Air pollution may be the cause of one in three deaths in China, according to researchers at Nanjing University. This makes "everyday life about as deadly as smoking cigarettes in some parts of the country" says Time magazine (23 December, 2016). The study conducted in 74 Chinese cities found that 31.8 percent of deaths in 2013 could be linked to smog.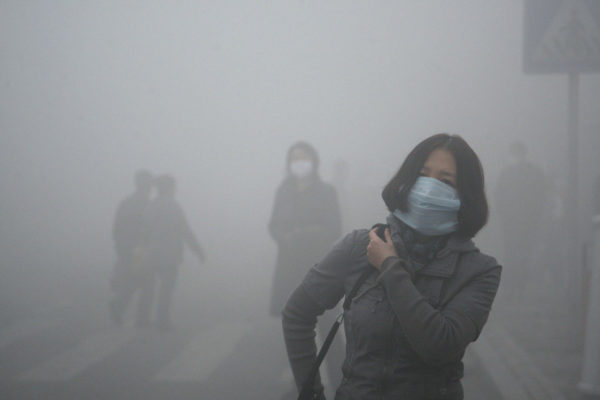 "War on pollution"
For the Chinese dictatorship the smog crisis is a potential political crisis. When tens of millions of people and especially children, in a country where most families have only one child, are subjected to toxic air, which is the equivalent to smoking cigarettes, there is widespread scepticism towards the authorities and their ability to solve the problem. Many were outraged by the recent decision of the Beijing municipal government, as reported on its website, to classify the city's smog problem as a "natural disaster". This was seen as yet another official attempt to escape responsibility for the calamity.
In 2014, the central government announced a "war on pollution" to little visible effect. New pollution records have been set since then, as is the case this week with more cities than ever declaring 'red alerts'. The latest government 'solution' is to deploy water mist cannons in smog hit cities, but these have had only a very limited effect. At the same time media controls and repression have been stepped up against those who post critical comments online or jokes about the government's handling of the smog crisis.
In 2014, former Beijing mayor Wang Anshun said he would "chop his head off" if the capital's air pollution crisis wasn't solved by 2017. Wang has since been demoted. Millions of Chinese are dismissive of official pronouncements which attempt to reassure the public while the situation only gets worse.
Self-defeating
China spends more on renewable energy than any other country – with 2.5 trillion yuan (US$360 billion) earmarked to be spent under the five year plan to 2020, an increase of 39 percent on the 2011-15 period. The target is for 27 percent of electricity generation to come from renewables in 2020.
But the lack of any coordination and democratic control over these investments – resources and investment decisions are hijacked by regional bureaucracies in league with capitalist business interests – means that China's green investment is often self-defeating. Dense smog during winter knocks out production at many of China's vast solar farms. Scientists warn that gigantic wind farms built in some northern regions are also exacerbating the smog disaster by reducing air circulation that disperses the smog.
Recent research has also shown that the government's temporary measures to clean up air pollution in advance of prestigious events such as the 2008 Beijing Olympics or this year's G20 summit in Hangzhou, attended by foreign dignitaries and media, actually cause greater long-term damage to air quality. This is due to several factors, including a sharp rebound in production by polluting factories that are temporarily closed during major political events.
"Our findings suggest that while 'political blue sky' is easy to achieve with short-term fixes, it comes with a heavy price of worsening pollution, and cannot truly solve the smog problem," the main author of the report, Guo Feng from Peking University, told the South China Morning Post (9 December, 2016).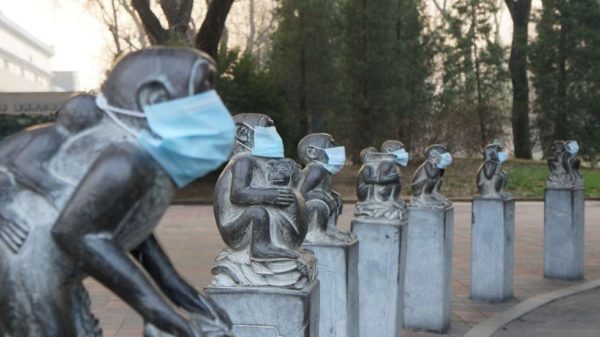 Back to coal
The biggest factor behind the latest smog outbreak seems to be the dramatic increase in coal usage this year: at power stations, heavy industry and during the winter as a major source of household heating. This is a result of government stimulus measures and a market pick-up following on the heels of the frenzied housing bubble in big cities.
"Unfortunately, over the past nine months, government economic policies shifted toward stimulating some of the heavy industry sectors that are responsible for the heavy pollution in Beijing," said Greenpeace's senior global coal campaigner, Lauri Myllyvirta.
In the first ten months of the year, coal production fell 10.7 percent from the 2015 level, but this has driven up coal prices by 80 percent, says a report by Goldman Sachs. The rebound in coal prices prompted the government to lift its production curbs, which in turn has led to a 9 percent increase in coal output in November over October.
Anti-pollution protests
Rather than fight pollution, the dictatorship is often more concerned about crushing protests against pollution. This was the case in Chengdu on 8 December, where authorities mounted a large-scale pre-emptive crackdown against planned protests by young people as the city was shrouded in choking smog. Local people blame higher levels of pollution on a chemical factory in the district of Pangzhou, producing paraxylene or "PX", which was the target of mass protests in 2013. Those protests failed to stop the development of the Pangzhou plant.
Eight artists were arrested in Chengdu for staging a very brief street performance against the pollution. Other activists placed facemasks on statues in the city centre. Chengdu's main square was cordoned off by police for three days following social media calls for a demonstration. "Chengdu's air pollution is really severe, I've been feeling unwell. I cough all the time… we want to take some action, we should stand up," one of the arrested artists told the BBC (13 December, 2016).
Similar protests erupted at the same time in the city of Xian. This marked an "unusual coincidence of small-scale protests" noted the BBC's reporter. Much larger protests – numbering tens of thousands in some cases – have broken out in cities across China against plans to construct high-polluting chemical plants. This was the case in Qianjiang city, in Hubei province, against a Russian-built pesticide factory in June. Photos of these protests posted on social media showed massive crowds, significantly carrying umbrellas – the symbol of Hong Kong's democracy struggle. According to some official surveys, up to one-third of China's "mass incidents" are linked to pollution concerns.
In recent weeks an online meme has become very popular which changes the ruling dictatorship's motto "serving the people" (為人民服務) to "serving smog to the people" (喂人民服雾)! Irony and political humour are signs of growing discontent against a regime under which even "the right to breathe" is violated.
What socialists stand for
Socialists stress the link between anti-pollution struggles and the fight to build an independent workers' movement in China. Both represent a challenge to dictatorial rule and to the capitalists' power to decide economic developments based on short-term profit rather than the needs of society. The pollution crisis can only be ended through a genuinely democratic political system, which is not the case in the corporate-dictated 'democracies' of the older capitalist states. The crisis is global, and can only be solved by global solidarity and action which capitalism is not capable of.
chinaworker.info fights for the freedom to organise and full democratic rights, but also for democratic control and public ownership of the big companies and financial institutions and a socialist plan to save the planet.