Beijing facing tough decisions over CY Leung's replacement

Adam N. Lee, chinaworker.info
Hong Kong's hardline and deeply unpopular Chief Executive Leung Chun-ying announced on Friday 9 December that he would not stand for office again, for 'family reasons'. In reality, 'CY' was sacked by his bosses in the Chinese Communist Party (CCP) dictatorship. The Chinese regime feared CY was a political liability having aroused massive protests throughout his term since 2012.
To pursue its agenda for tighter control over Hong Kong, which Beijing fears has become a source of instability and a base for "colour revolution" in China, as recently claimed by the Ministry of Public Security, the central government feels they need a change of face in Hong Kong.
An elite election committee of 1,200 mostly Beijing loyalist luminaries and big business representatives, will appoint CY's replacement on 26 March.
The main contenders are John Tsang Chun-wah, the neo-liberal former finance minister, and Carrie Lam Cheng Yuet-ngor, the former Chief Secretary. Both have slavishly served the Chinese dictatorship for many years, but Lam is seen as more firmly under Beijing's control. The CCP has not yet indicated which candidate (there are an additional two outsiders) it wants, which the elite election committee is then expected to follow.
However, it appears Beijing is lining up to support Lam as it has not yet 'accepted' Tsang's resignation from the finance post, after an unusual delay of three weeks, without which he cannot stand. This is because the CCP regime is afraid that a contest between Tsang and Lam could result in the winner receiving such a low vote, possibly forcing a re-run of the entire 'election', that it causes the voting system to be further discredited and the new government to be undermined from the outset.
This also shows that while the Chinese regime may have scrapped CY Leung, it is not moving to scrap CY Leungism – the hardline approach to ruling Hong Kong. While John Tsang offers a more popular and 'local' face and is more capable of buying a honeymoon period for the new government, the CCP may fear he is too close to the indigenous Hong Kong capitalists while it wants to bring in more Chinese 'red capital' to dominate Hong Kong.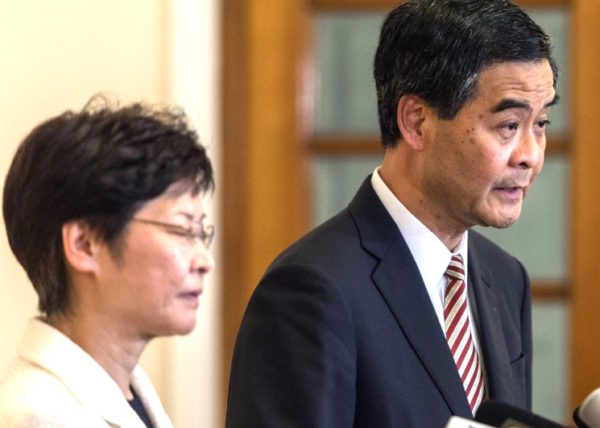 'Lesser evil'?
The situation is complicated by a major power struggle inside the Chinese regime in the run-up to this autumn's leadership changes, and a sharp split in the Hong Kong capitalist elite with traditional Hong Kong capitalist interests facing fierce competition from mainland China corporate groups.
There have been signs the leaders of the pan-democratic opposition parties are shifting to a 'lesser evil' position, concentrating their attacks on Lam and testing the water to give their votes – the pan democrats wield one quarter of the votes in the election committee – to Tsang if he is allowed to stand. If this happens, it would represent a new level of political backsliding on the part of the bourgeois democratic leaders, whose timid approach has acted as a major brake on the Hong Kong democracy struggle throughout its history.
All the establishment's candidates represent continued austerity and – under Beijing's pressure – continued attacks on democratic rights. The political differences are largely cosmetic or over approach rather than content. Only implacable opposition to the undemocratic political system and mass struggle, with the building of a working class and socialist alternative, can bring about real democratic change in Hong Kong and in China.
'Long Hair' Leung Kwok-hung of the League of Social Democrats (LSD), a veteran left-wing campaigner whose legislative seat is under threat in the law courts, is considering standing in the Chief Executive elections, despite its undemocratic basis, to use this as a platform to mobilise and collect 'public nominations' outside the official election system. This is a tactic that could potentially transform the political situation by offering a clear anti-establishment alternative, to expose and issue a warning of mass resistance against whoever is eventually picked in the establishment-only vote.
Further reading on Hong Kong's political crisis: