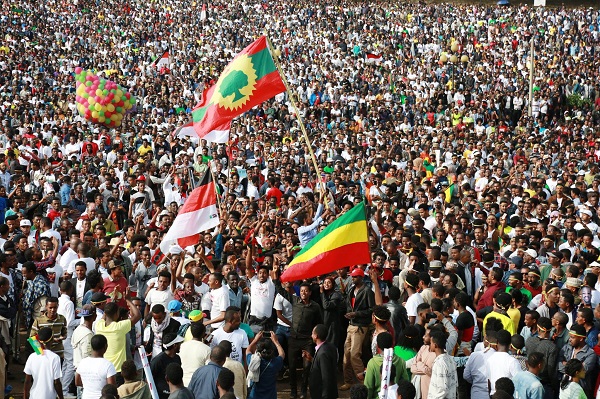 The changes forced by mass protests have given a certain opening
Temesgen Bekele Aga (Rättvisepartiet Socialisterna, CWI Sweden)
Over the last three years Ethiopia has been experiencing great social and political unrest, with people protesting almost all over the country. They have grown tired of injustice, abuse, killings and arrests. People have been demanding changes in political and economic policies because of widespread hardship.
Due to the strength and extent of protests in and outside Ethiopia, Prime Minister Hailemariam Desalegn was forced to announce his resignation on February 15. Following this, the ruling EPRDF declared the second state of emergency in two years. The EPDRF is formally a four party coalition that has ruled the country for the past 27 years. In reality, it has been totally under the dictatorial control of one of the parties, the TPLF (Tigrayan People's Liberation Front).
The executive committee of EPRDF held a long and secret meeting. After one month they elected the 41 year-old Abiy Ahmed as the new chairman of the party and prime minister of Ethiopia.
Ahmed is from the Oromia region and the largest ethnic group in Ethiopia (32 million out of 105 million in the country). As a youth he was a member of the Ethiopian army and later become a lieutenant colonel. He also served in different governmental positions, including Minister for Science and Technology and Chairman and Vice-chairman of Oromia regional state.
Oromia has been the epicentre of mass protests since August 2016. They started against land grabbing by the government as part of a plan to expand the capital, Addis Ababa. Hundreds were killed by state security forces when the population, often led by young people, revolted. Protests spread all over Oromia and also to the second biggest region, Amhara, and to the capital.
Demands were raised not only about land grabbing, but also against the regime itself. After a decade with the highest growth in Africa, and maybe globally, of 10 percent a year, most people have not seen any change in their lives. A majority of the population live from small-scale, self-sufficient agriculture. For young people who have been able to study at university, unemployment is still high.
The regime has for a long time used brutal repression against all opposition. In the election in 2005, the opposition clearly won, but was banned and oppressed. Hundreds were killed. Today, the EPRDF holds all seats in the "parliament". Any opposition has been stamped as "terrorists" and imprisoned. The international supporters of the regime – the US, the EU and above all China – have all accepted the dictatorial methods.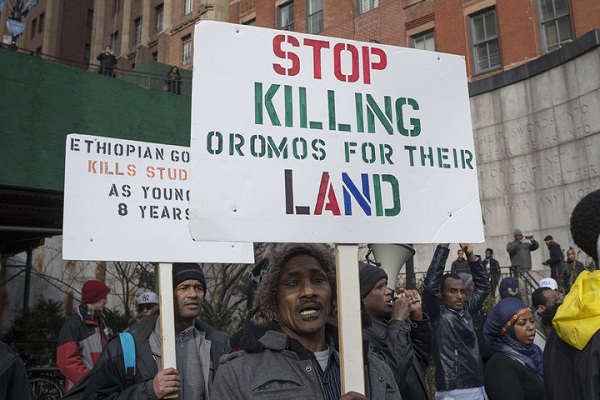 Abiy's "peace journey"
After being elected, he travelled to different parts of the country from north to south and east to west with the idea of a 'peace journey' in order to stabilise the areas where there was social and political unrest. During his journey he was widely accepted by the people because of his idea of Ethiopian nationalism ("Ethiopianism") which is very different from previous leaders and the EPRDF party that has based itself mainly on ethnic divisions for the past 27 years.
Since Abiy's April 2018 appointment, a plethora of the previous administration's seemingly untouchable, formerly powerful political leaders, military and intelligence chiefs have been demoted or dismissed from their posts.
He has also travelled to Sudan, Kenya, Egypt, Somalia and Saudi Arabia. In addition to renewing diplomatic and political relations, he secured the release of thousands of Ethiopians imprisoned in these countries. The people of Ethiopia saw this action as reviving Ethiopian nationalism and protecting the country's citizens wherever they are.
However, Prime Minister Abiy was not free from criticism when he worked to release those who were imprisoned in other countries while his government still held thousands in prison. Many of them were journalists, opposition political party leaders and their supporters, religious leaders and many more. After so many campaigns in the social media and after many demonstrations, his regime released thousands, including political party leaders and journalists like Dr. Merara Gudina, Bekele Gerba, Andargache Tsige, Fikru Maru, Eskinder Nega, Temesgen Desalegn. His government also dismissed charges against diaspora-based political party leaders lika Birhanu Nega and Jawar Ahmed and diaspora-based media outlets like Esat and OMN (Oromia Media Network).
He invited opposition political party leaders and journalists to his palace (including the ones who had been released from prison) and asked them to work with him for the sake of the unity of the Ethiopian people and to widen the democratic system in Ethiopia. Abiy also invited all Ethiopian political parties abroad to come and operate peacefully in Ethiopia. After his invitation some political parties like the Oromo Democratic Front (ODF) lead by the experienced politician, Lencho Leta, accepted his invitation and went back to the country.
All these actions increased the new government's widespread acceptance and trust amongst the Ethiopian people. Abiy continued along the same lines and on June 2 the Ethiopian cabinet approved a draft law that would lift the nationwide state of emergency two months ahead of schedule. The government said that the country's peace and security condition was much improved. This controversial and meaningless state of emergency had been declared immediately after the resignation of former Prime Minister, Hailemariam Desalegn.
Peace with Eritrea?
Abiy says he wants to resolve the conflict with Eritrea. He calls for peace and shows an interest in accepting the Algiers peace proposal that followed the war in 1998-2000. The deal demanded that the contested city of Badime is left with Eritrea. The Eritrean government has responded positively to the Ethiopian peace and reconciliation programme. President Isayas of Eritrea announced his plan to send a delegation to Addis Ababa in order to discuss about the issue and the Algiers peace agreement.
But the decision of giving Badime to Eritrea is not accepted by many Ethiopians. People in Badime were the first to oppose and demonstrate against this decision. They said, "We are Ethiopians – yesterday, today and tomorrow!''. The demonstrations spread all over the Tigray region.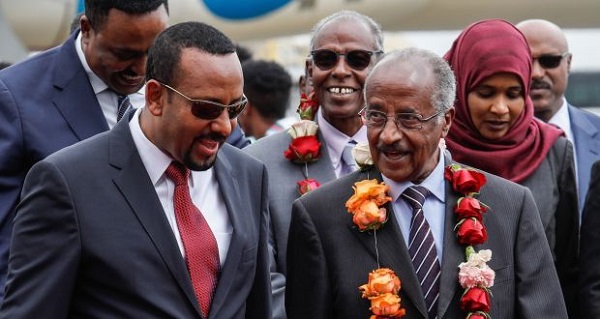 Privatisation plan
Another major announcement of the Abiy government was a plan to privatise state enterprises. Shares in Ethio-Telecome, Ethiopian Airline, Ethiopian power and Maritime transport and Logistics Corporation will be sold to both domestic and foreign capitalists while majority stakes will be held by the state.
Up to now, the EPRDF has attempted to follow the Chinese model, with state (army and party) control of the economy alongside invitations to multinational companies, offering well educated workers on low wages and no trade unions. They have also improved infrastructure, most often with Chinese loans and companies. At the same time, Ethiopia has been a strong military ally of the US.
The new pro-market plan is a warning to workers, youth and poor in Ethiopia. Further steps to capitalist globalisation will only increase poverty and exploitation. Despite the rapid growth in the 2000s, Ethiopia still has among the lowest GDP per capita in the world. Starvation and famine exist alongside high-tech factories and railways.
All the changes and reforms have been made in just three months since he has come to power. Still very popular, Abiy is not free from criticism. There is still killing and eviction of people going on based on their ethnic group. For example ethnic Amhara people were targets of brutal killing and eviction from the Oromia and Benshangul Gumuz region, ethnic Oromos from the Somalia region etc. And still there is also deadly ethnic conflict between Wolayta and Sidama, Gurage and Kebena.
Some groups state that the appointment of prime minister Abiy is another survival strategy of EPRDF/TPLF. Because to this day the most important goal of the EPRDF is its own power and survival. Other groups, including opposition political party leaders in Ethiopia as well as in exile, state that the people of Ethiopia have to support him because he has a good programme on democratising Ethiopia, unifying and stabilising the Ethiopian people and the Horn of Africa.
Divided regime
It is also believed that EPRDF is divided in to pro-Abiy and anti-Abiy groupings. The TPLF accepted the appointment of Dr. Abiy as a means to calm the mass protests. However, they want someone like the previous prime minister, Hailemariam Desalegne, a fully-fledged puppeteer who will cajole every time they need it and applaud when they need that too. The TPLF is not supposed to be questioned. Everyone else in the EPRDF "alliance" is there because of them. They were created and promoted because of the TPLF.
Abiy Ahmed, however, has moved faster and further than the TPLF leaders wanted. They have openly criticised him for not consulting them before announcing major changes.
The tensions were shown when political and human rights activists organised a rally to show their support and thank the new prime minister on June 23. On this day hundreds of thousands of people gathered from different parts of the country at Meskel Square in Addis Ababa to take part in a peaceful solidarity rally in support of his reform agenda. The supporters wore clothes with Abiy images and carried different slogans like 'One love, one Ethiopia', 'Unity' etc.
Abiy showed up at the march wearing a t-shirt with a map of Africa and Mandela's famous power salute. Then he made a speech that heart-warmed the crowd. But right after his speech there was a bomb explosion close to the prime minister. At least two people died and hundreds were injured. Abiy, on national television described the incident as "an unsuccessful attempt by forces who do not want to see Ethiopia united." He said it was as "well-orchestrated attack," but one that failed.
The next day, Zeinu Jemal, head of the Federal Police Commission, told the state-owned Ethiopian Broadcasting Corporation: "The number of suspects in custody for involvement in the attack in Meskel Square has now reached 30." Nine officers, including the deputy head of the police commission in Addis Ababa, were arrested for security lapses, according to official sources.
Perspectives for Ethiopia hold many different alternatives. Abiy Ahmed will have a honeymoon period, when also those who are sceptical will wait and see. So far, Abiy Ahmed has not changed the notorious anti-terrorist laws or charged any of the previous leaders or officers for the massacres and mass arrests carried out by them. The TPLF leaders are untouched and still control the security apparatus. There is no date for new elections or changes in the election law.
Struggles and revolts in other countries, like the "Arab Spring", have shown that regime change at the top is not enough. With the economy and the state apparatus kept under the control of capitalists and generals, the expectations of the masses can never be fulfilled.
When protests re-appear in Ethiopia, the regime, with or without Abiy, can at a certain stage again attempt to reignite ethnic splits and conflicts. No steps have been taken to stop killings on the border between Oromia and the Somali region of Ethiopia.
The changes forced by mass protests have given a certain opening. This has to be used to organise from below an independent movement of working people, including democratic trade unions and a political force that challenges the regime and its capitalist system. Ethiopia needs a revolutionary, democratic socialist political party.