Migrant women workers protest against modern day slavery
Socialist Action reporters (CWI in Hong Kong)
"My first time as a domestic worker in Hong Kong was really bad, I got no days off and the employer even confiscated my mobile phone," says Mica, a 27-year-old migrant domestic worker from Indonesia. The battle Mica had to fight in order to extricate herself from a nightmare employment contract and avoid being thrown out of Hong Kong led her to get organised.
She joined the Indonesian migrant activist group KOBUMI, which cooperates closely with Socialist Action (CWI in Hong Kong) in various campaigns, and together with us will organise a protest on International Women's Day, taking up demands on behalf of migrants but also in solidarity with global feminist struggles.
Our Hong Kong protest will be on Sunday, 10 March, the only day off for migrant domestic workers. Some don't even get that. Around six percent are denied a day off – illegally – according to a new study.
"The employer refused to give me days off, I worked for three months without a day off," says Mica.
"The work was very hard and the employer wrote lists of my chores and the number of minutes I could take to do them. I was allowed 15 minutes to take the child to school and then to be back in the house. Going to the school and the supermarket were the only times I was allowed out. The employers took my phone and placed it under the CCTV camera so they could see if I had used the phone during the day while they were out. They checked the CCTV when they came home to see what I had been doing."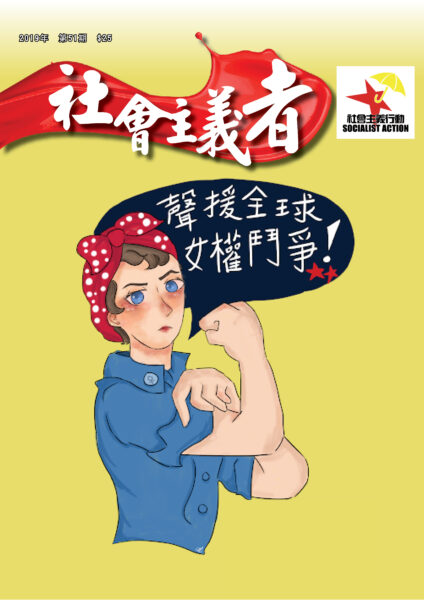 Terminated
Bad as it sounds, there are even worse stories than Mica's. 380,000 migrant domestic workers make up 10 percent of Hong Kong's labour force. Most come from Indonesia and the Philippines and work here for years, even decades, seeing their own children and families once a year in order to take care of other people's children or elderly relatives. Amnesty calls it "a type of modern day slavery". Conditions for women migrants are often a lot worse in Saudi Arabia and the Gulf states – Hong Kong is generally seen as a "paradise" in comparison.
Many domestic workers have terrible experiences, not just long hours and low pay, but violations like confiscation of passports, bankcards and phones. Physical and sexual abuse are serious problems that often go unreported for fear of being sacked and having to leave Hong Kong.
In February, Filipina domestic worker Baby Jane Allas was diagnosed with cervical cancer. Her government doctor in Hong Kong prescribed sick leave, but shortly afterwards her employers terminated her contract, forcing her to leave Hong Kong within two weeks, which is the law. This would deprive her of free medical care in Hong Kong. Allas is a single mother supporting five children in the Philippines. Supporters and friends are now helping her to fight the case in the local courts and apply for a visa extension.
Migrant women are a cheap way for the Hong Kong government to fill the gap created by its refusal to invest in public services such as childcare and elderly care, starving these sectors of finance while showering money on the capitalist property tycoons.
This is one of the few economies in which budget deficits and "socialism" are actually outlawed under the terms of Hong Kong's mini constitution, the Basic Law. The government spends only around half the OECD average on healthcare and social welfare as a share of GDP (OECD: the world's 36 richest countries). Care homes for the elderly are in short supply due to underfunding. Over 30,000 are on the waiting list for a place in a care home and every year around 4,000 of them die waiting.
White elephants
While it is one of the world's richest governments, with fiscal reserves of over HK$1 trillion (US$127 billion), the unelected Hong Kong government, which is appointed by the Chinese dictatorship, ploughs gigantic sums into white elephant infrastructure deals (Hong Kong already has world class infrastructure) as a way to transfer public resources to the billionaire property and construction tycoons who dominate the economy.
Domestic workers are exported to Hong Kong by capitalist governments in Southeast Asia, which pursue similar pro-rich polices and view this trade in human beings as a way to earn hard currency (remittances from overseas workers account for a significant share of GDP in Indonesia and the Philippines) and to relieve pressure on the domestic labour market. This business is managed by unscrupulous, crooked and parasitic "recruitment agencies" which charge illegal fees and force migrant women into a form of debt slavery.
A 2017 study by University of Hong Kong students found that more than 70 percent of recruitment agencies charge excessive fees. The legal limit is HK$431 but charges of HK$15,000 to HK$20,000 – equivalent to almost five months' salary – are not uncommon. This pushes the women into debt and they are forced to tolerate all kinds of treatment – ranging from the unreasonable to the abusive – in order to work off these debts.
A 2019 survey from Chinese University reveals that over 70 percent of migrant domestic workers work more than 13 hours a day, while almost nine percent said they worked more than 16 hours a day and 5.9 percent said they did not get their statutory day off once a week.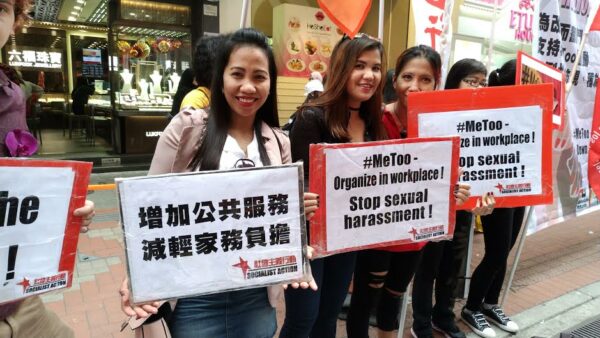 No privacy
The live-in rule, which forces migrant domestic workers to be billeted in the homes of their employers, is the major cause of this overwork and denial of adequate rest time. Hours can't be regulated when a worker is also living in the home and can be asked to do chores, clean, or take care of children, at any time of the night or day. Only 43 percent of the domestic workers in the survey had a room of their own. The rest are forced to sleep in hallways, bathrooms, storerooms or even to share a bed with children.
This is the reality in a city with notoriously small apartments for all except the rich. Over 120 migrant workers died in Hong Kong in 2016, mostly from stress-related illnesses such as hypertension.
Migrant organisations have for years campaigned for the abolition of the live-in rule, which was first introduced in 2003 as a mechanism of social control, to prevent migrants establishing a stronger foothold in the local economy and to limit their bargaining power. Breaking the rule can lead to various penalties ranging from cancellation of a work permit to criminal prosecution and 14 years' imprisonment.
Perhaps the most shocking finding in this survey concerns average pay levels, which in 2017 were HK$4,277 (US$545) per month – below the minimum wage for migrants, which was HK$4,310 at that time (since raised by HK$100 per month).
Widening pay gap
There are dozens of reasons why migrant and local women workers need to unite and fight this unjust system, being sure to use International Women's Day as the next rallying point for this struggle. Hong Kong's pay gap has widened with women on average earning 22 percent less than men, compared to a 19 percent gap ten years ago. By the age of 60 the gender pay gap is even worse: women workers only get half the salary of their male counterparts on average. The local trade unions, which have historically weak in Hong Kong, have not done enough to fight for women's rights or to assist the organisation of migrants, preferring to keep migrant issues at arms length. On IWD we will demand this be changed.
Our demonstration will include dancing and songs by Indonesia migrant women and speeches by Socialist Action, KOBUMI and other migrant activist groups, meaning the event will be very international. Socialist Action has IWD leaflets in three languages (English, Chinese and Indonesian). We will also march to the Indonesian Consulate, and veteran democracy activists and disqualified legislator, 'Long Hair' Leung Kwok-hung, will be one of the speakers.
We fight for:
Take #MeToo to the streets and workplaces – fight against sexual abuse and violence – for the right to 'live out' for migrant domestic workers!
Fight racism and sexism! Equal work, equal pay!
Replace the '2 week rule' with 1 month to find new contract – equal rights for migrant domestic workers to change employment contract!
8-hour workday for all!
Abolish the blood-sucking agencies – full right to direct hiring for migrant domestic workers!
Release imprisoned feminists and worker activists in China!
For a universal pension system in Hong Kong – Tax the rich and scrap the white elephant projects!
Massive investment in public services – for free healthcare, schools, elderly care and childcare to relieve the burden on working class women!
Fight for socialism and a new workers' party – break the undemocratic grip of the billionaire tycoons!