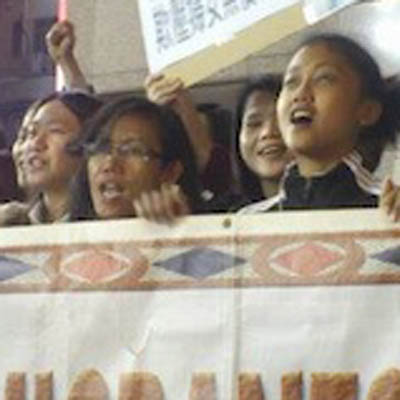 International Women's Day celebrated in Hong Kong
Sally Tang, Socialist Action in Hong Kong
On IWD 8 March this year for the third year running Socialist Action (CWI in Hong Kong) held a joint international manifestation bringing together women's groups from different ethnic backgrounds, to stress the importance of International Women's Day as a day of struggle of women and women workers against oppression and sexism.
More than ten groups supported this joint event held in Times Square, a busy shopping district of Hong Kong Island. These include the League of Social Democrats (LSD), Slutwalk Hong Kong, migrant workers' groups AMCB (Asian Migrants' Coordinating Body) and UNIFIL, LGBT organization Women Coalition HK, who are campaigning for legislation against sexual orientation discrimination, plus individual artists who support the campaign against sexual violence. While this event was still modest in size, around 50 participants this year, it is so far the only initiative that aspires to draw together Hong Kong's Chinese and overseas women's organisations to celebrate IWD together – in the spirit of internationalism.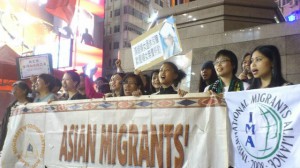 Protest in Times Square, Hong Kong, organised by Socialist Action and other groups
This year the theme of the event was against sexual violence, and for united struggle against patriarchy.
"It is not only in India that women's rights are being oppressed, but also in Hong Kong," said Sally Tang Mei-ching of Socialist Action. "Recent surveys show 50 percent of students have been sexually harassed in schools, and 25 percent of women have faced domestic violence. But more than 90 percent of women will not seek help when they faced sexual harassment, because of embarrassment, and fear that they will be blamed," she said.
This issue has raised a lot of interest among young women in Hong Kong. In our campaign, Socialist Action stressed that a new fighting movement is needed to defend women's rights, and link it to the struggle against the exploitative capitalist system.
Women in Hong Kong are discriminated under a government that only serves the tycoons and carries out neo-liberal policies. The gap between men's and women's salaries has not closed despite politicians' talk of more equality. Average wages for women are 30 percent lower than men's. In his speech, legislative councilor Leung Kwok-hung ('Longhair') pointed out the Hong Kong government refuses to provide a basic pension system, even though it holds more than $700 billion HKD in its accumulated budget surplus. Housewives are not protected under the current pay-as-you-earn pension system.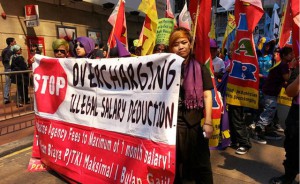 Indonesian migrant workers on the march against overcharging agencies
Migrant workers' demonstrations
Hong Kong has more than 300,000 migrant women workers who face many problems of low pay, discrimination and poor legal protection. On 8 March representatives of Filipino and Indonesian migrant workers joined our event and spoke about how migrant workers are often treated badly by their employers, but due to discriminatory laws they are not able to fight against it, including incidents of sexual harassment. Rendy, an Indonesian migrant worker and representative of AMCB, called for unity and an end to racism. She and her friends performed an Indonesian song about the struggle for democracy.
Most migrant workers cannot get any time off on weekdays, therefore they usually demonstrate on Sundays, which is their day off. On March 10, there were joint demonstrations organized by Indonesian and Filipino migrant workers' groups, from Causeway Bay to the Indonesian Consulate and then to the government office. More than 300 migrant workers took part with songs and drums. One of the key issues was the role of agencies that exploit migrant workers by charging illegally high fees for placing them with employers in Hong Kong.
Our petitions and leaflets got a great response from the migrant workers. Socialist Action also had a speaker at the demonstration, calling for elimination of the agencies. These agencies use illegal methods such as confiscating migrants' passports and other documents to force collection of fees. We say the Hong Kong government should take the agencies into public ownership to be run democratically as a non-profit service. We also support the right to standard working hours of 8 hours per day, and a minimum wage of $40 per hour for all – both local workers and migrant workers, no discrimination!
As the crisis of capitalism becomes more serious and begins to have a big impact in Asia, racism and nationalism are also becoming a bigger threat to the unity of the working class. International Women's Day, and its message of women standing up for their rights, is a weapon for us to oppose racism and sexism and to build united struggle against all oppression.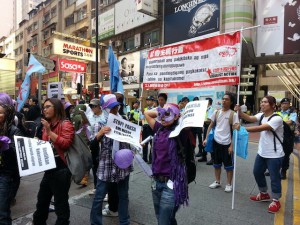 Socialist Action banner in Indonesia migrant demonstration on Sunday 10 March