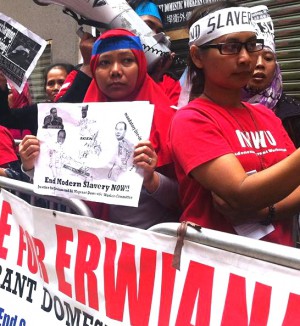 Over 4,000 march on Sunday 26 January • Erwiana case has opened the floodgates of protest from territory's army of domestic workers
Socialist Action reporters
Migrant workers in Hong Kong are angry. On Sunday 26 January over 4,000 migrant workers and their supporters took to the streets in another massive, noisy and colourful protest.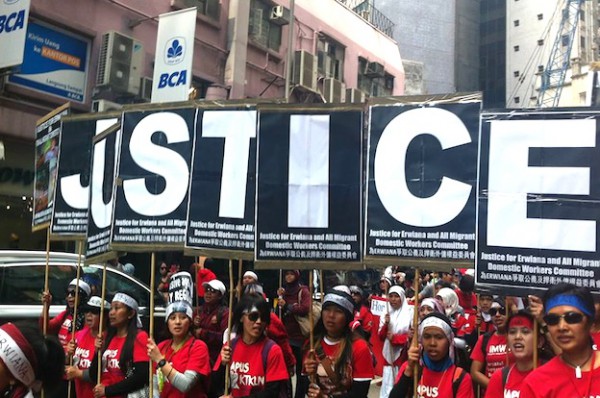 The Erwiana case (see our earlier article) has triggered not just big demonstrations in the city centre but a new fighting mood among migrant women. They are speaking up against the injustices they suffer under today's unfair employment system. This protest movement has shaken the racist 'wall' erected by the Hong Kong government to segregate and exclude migrants in order to maintain their super-exploitation. While previous protests have largely met with indifference from native Hong Kongers, more are now listening.
The demonstrations are organised by the Justice for Erwiana and All Migrant Domestic Workers Committee, a coalition of migrant organisations, trade unions and support groups. Both this and the previous (January 19) demonstration attracted huge media coverage.
"This is the beginnings of a movement, not just a one-off protest," said Sally Tang of Socialist Action (CWI in Hong Kong). "Indonesian women workers, domestic workers, can sense that people are beginning to listen now and they can get more and more support for their cause, which is for basic rights and legal protection."
There are 310,000 migrant domestic workers in Hong Kong, almost half of whom come from Indonesia. They work long hours and are forced to live with their employer, often with no room of their own (Hong Kong apartments are small). Standardised working hours, free evenings, privacy, these things are a distant dream to many domestic workers. The brutal treatment suffered by Erwiana has shocked Hong Kong and led more migrant workers to speak up about abuse by their employer.
"We have no choice, to earn money to send to our families, we must come here," says Lia who joined the march to the Indonesian Consulate. "Hong Kong is a good place to work compared to many other countries. In Indonesia, I would earn less than HK$1,000 (100 euro) a month, but as a domestic worker here the salary is nearly four times higher."
But even at this level domestic workers' salaries are still very low. The minimum wage for Hong Kong's migrant domestic workers is HK$4,010, around 377 euro monthly, compared to the Hong Kong statutory minimum wage of HK$30 per hour, or HK$6,240 a month (587 euro) based on a typical 48-hour week. Many domestic workers work 60-70 hours per week or more.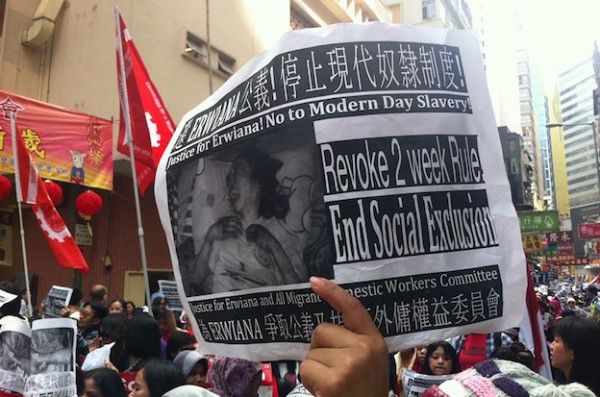 Movement develops
Noticeably, the migrants' protest movement has developed and gained confidence in the past two weeks with more specific demands being made upon the Hong Kong and Indonesian governments. While calling for justice for Erwiana (whose employer faces charges of being a serial abuser but was released from detention on January 22), Sunday's demo also demanded legal changes in three important areas. These are the so-called 'two-week rule', which forces a migrant domestic worker who terminates her contract to leave Hong Kong after just 14 days, unless she has a new job. Migrants are punished in other words if they choose to break with a violent or abusive employer.
Also, migrant organisations are calling for a 'live-out option' to allow domestic workers to find their own accommodation if they choose.
"Why is the government taking a hardline against the obviously reasonable demand to allow a 'live-out option'? It is not about economics but about social control – to keep migrants in an extreme underdog position," said Sally Tang.
The current protests are also targeting the notorious agencies, over 1200 of them, which charge outrageous and often illegal fees to place Indonesian migrants with Hong Kong employers. Among Indonesian migrants on the January 26 demonstration it is clear this is the number one problem. When the topic of the agencies comes up the anger level rises visibly. The recruitment agencies are poorly regulated and commonly engage in shady practises: overcharging, false accounting, ignoring complaints, and withholding of documents including passports.
As with the 'two-week rule', the high agency fees deter migrant workers from leaving a bad employer, because then costs are doubled! By law, these companies are allowed to charge up to 10 percent of a migrants' monthly pay. But as the South China Morning Post reported, "The going rate in Hong Kong is HK$28,000 (US$3,600), roughly seven times the worker's monthly salary and 70 times over the legal limit."
Protest leader Sringatin of the Indonesian Migrant Workers' Union (IMWU) told The Standard, "The Indonesian government forces us to take loans and look for jobs through agencies. Our passports are confiscated. Complaints are discouraged and we are not allowed to change employers until the payment is completed."
Increase the pressure
Socialist action fully supports the migrant workers' protests and their very reasonable demands (see our solidarity leaflet). Sally Tang addressed the protest rally at the Indonesian Consulate, backing the three main demands and calling for united workers' struggle to defeat the government. Leung Kwok-hung of the LSD also gave a speech in their support, the only one of Hong Kong's elected legislators to do so. There were also speakers from the IMWU, Asian Migrants Coordinating Body (AMCB), and Hong Kong Confederation of Trade Unions, the latter appealing to migrant workers to join a union.
It's clear the pressure is piling up on the Labour Department and the unelected Hong Kong government over its draconian migrant policies and discriminatory laws. The Erwiana scandal has led to a changing view among Hong Kong's native population. Migrant workers sense they have greater support and sympathy from the wider community and that now is the time to step up the pressure. The next few weeks will be crucial in escalating this protest movement and winning more support from ordinary Hong Kong people – combined pressure that can force the government into retreat mode.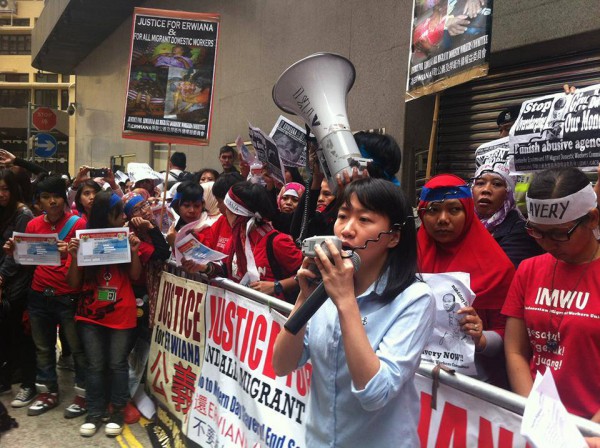 Background: Scandal that triggered a protest storm
"The truth is I was tortured by my employer. She beat me up and didn't give enough food to eat. I got very weak so she sent me home," these were the words from 23-year old Erwiana Sulistyaningsih to a compatriot who helped her to board a plane out of Hong Kong and back to Indonesia. There, Erwiana is still hospitalised.
Her case highlights one of the biggest social problems in the world's "freest economy". Working alone inside the home domestic workers are at particular risk of violence and even sexual harassment.
Erwiana's former employer, who was arrested trying to leave Hong Kong two weeks ago, faces several charges of grievous bodily harm and assault. The prosecutor described horrific injuries, such as broken teeth and upper jaw, nose fractures and brain swelling. This abuse included hitting Erwiana with a mop, a vacuum cleaner and a hanger, and even allowing the children to hit her.
As her result of her brain injuries she is unable to walk properly and has blurred vision. A scan revealed her entire brain was swollen. "Erwiana was beaten on the head for a period of at least six months. She couldn't have received her injuries any other way," Dr Iman Fadhli told the South China Morning Post. The female employer is accused of similar abuse against two other former employees.