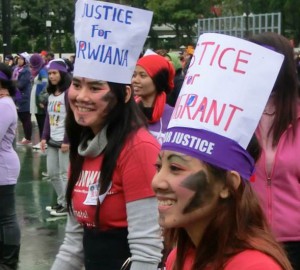 Up to 1,000 migrant domestic workers in synchronised dancing and manifestation demanding end to discriminatory laws and violence
Socialist Action reporters
It rained in Hong Kong on Sunday 9 February, at times heavily. But this did not dampen the enthusiasm of the massed ranks of Filipino, Indonesian, Thai and Nepalese domestic workers who had gathered in Victoria Park as part of the global 'One Billion Rising' manifestation against violence against women. With purple as the dress code and wearing headbands inscribed with the words "rise for justice", the women danced in unison along with a pumping bass line to songs in English, Indonesian and Filipino.
The 'One Billion Rising' is a worldwide movement organising dance events in over 200 countries on Valentine's Day to raise awareness on the issue of rape and violence against women. The movement was initiated by US feminist playwright Eve Ensler. The "one billion" refers to the fact that one in three women will be raped or beaten in their lifetime, according to the UN.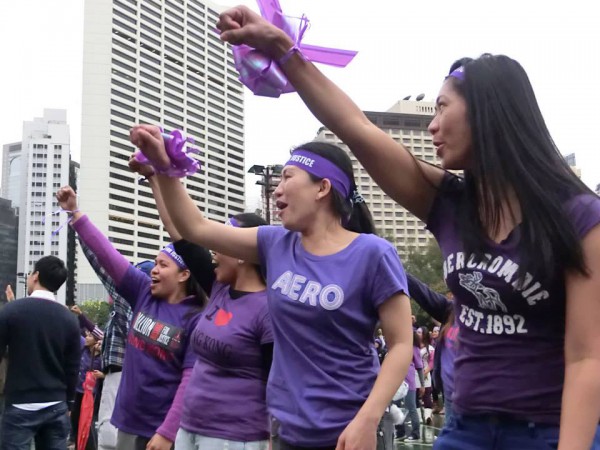 In Hong Kong, the event was organised by the newly formed Justice for Erwiana and the All Migrant Domestic Workers Committee. It was brought forward to Sunday because this is the only day-off for the city's army of over 300,000 migrant domestic workers. Their struggle against a raft of discriminatory employment rules is the most important women's struggle and workers' struggle in Hong Kong right now. The current rules heighten the risk of violent abuse by putting migrants in a vulnerable position. In the aftermath of the Erwiana affair, a 23-year-old Indonesian domestic worker who was brutally beaten, bullied and starved by her Hong Kong employer, migrant women have staged a series of high-profile demonstrations to demand stronger legal protection. They are focusing their demands on permitting the right to live apart from their employers' and on cracking down on the law-breaking and profiteering recruitment agencies that traffic migrant workers.
Their demands were again voiced at the 'One Billion Rising' event in Victoria Park, with colourful dance routines punctuated by speeches and chants of "We want justice!" The Indonesian government was criticised by Eni Lestari of the Asian Migrants' Coordinating Body for treating migrant workers as commodities. Other speakers attacked the Hong Kong government for fostering modern-day slavery in 'Asia's world city.' Sally Tang of Socialist Action declared full support for migrant workers' demands to overhaul existing laws and said both governments serve the interests of the rich and big business, who make enormous profits by exploiting the trade in migrant labour.