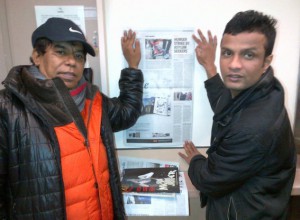 Newly formed refugee union stages sit-in protests against aid group ISS-HK over unfair treatment
Vincent Kolo, chinaworker.info
Sit-in protests by up to 100 asylum seekers in Hong Kong entered their third day on Thursday 13 February. Chinaworker.info met the members of the newly formed Refugee Union at the Prince Edward offices of International Social Service Hong Kong (ISS-HK), which they have been occupying since Tuesday 11 February. Two other welfare offices in Mong Kok and Tsuen Wan have also been occupied. ISS-HK receives government funding to administer social welfare payments to cover asylum seekers' rent and emergency food provisions. These allowances are very low – so low, that it is hard to conceive how anyone survives like this! But there is growing anger among many of the 5,000 or so asylum seekers served by ISS-HK that the agency is failing in its legal obligations to administer the payments.
Among the protesters who spoke to chinaworker.info – from Bangladesh, Central African Republic, Pakistan, Palestine and Sri Lanka – confidence in ISS-HK is non-existent. Some of these men have been in Hong Kong for more than ten years waiting for their asylum cases to be processed. As asylum seekers they are prohibited under Hong Kong law from working. The allowances dispensed through social welfare offices are made directly to landlords or food suppliers – no money passes directly through the hands of the refugees. This gives a glimpse of the hell that asylum seekers are forced to endure in the world's "freest economy".
A Sri Lankan Tamil refugee participating in the protest action told me he had recently come out of prison. He spent seven nights sleeping out on the streets of the city, currently experiencing the coldest winter weather for 18 years. He eventually told welfare officers if they wouldn't help him with accommodation he would "do something" in order to go to prison just in order to get to sleep.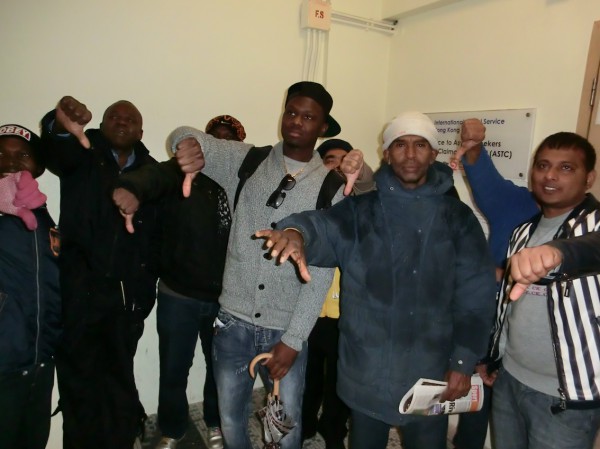 Converted pigeon farm
Anger has flared up before and ISS-HK is no stranger to controversy. The South China Morning Post reported last August on a group of asylum seekers crowded into a converted pigeon farm in Tuen Mun, a facility that lacked drinking water and hot water for showers. This "shanty town" was run by ISS-HK which had told the men to "take it or leave it!" The scandal erupted when one of the inmates was rushed to hospital after drinking contaminated water.
ISS-HK receives a budget from government – worth HK$203 million in 2012 – in order to house and feed the refugees under its supervision. This is yet another example of the outsourcing frenzy that has swept government agencies in Hong Kong and elsewhere in the era of neo-liberal capitalism. The government put such services out to tender to the lowest-bidder in order to "save taxpayers' money" (at a time when government underspending on social services has helped amass record-breaking fiscal reserves of HK$734 billion, equivalent to 36 percent of GDP). Outsourcing provides a 'firewall' behind which the government can shelter from criticism of the deplorable conditions being imposed on Hong Kong's refugees.
ISS-HK is a 'non-profit' aid group headquartered in Switzerland. The Refugee Union says it is exploiting refugees in Hong Kong and, in particular, is manipulating the 10-daily 'emergency food' handouts to reduce their value from the HK$1,200-per-month (recently increased from HK$1,060) stipulated by government, to an actual value of around HK$6-700. The union says it does not exclude that criminal activity is involved and demands the government undertake an investigation. The occupiers want the immediate introduction of an itemised price list for ISS food distribution, something it claims it cannot provide.
Forming a union
All around the world asylum seekers face terrible hardships. Even by comparison with many other countries, the refugee policies of the Hong Kong government are inhuman and in need of urgent reform. Cosmo Beatson from the advocacy group Vision First explains that a series of protest actions by asylum seekers in recent years has forced the government to raise its game and implement small but significant improvements. For years since 2004 almost no asylum cases were completed, but since 2012 around 50 cases have been processed as a result of sustained pressure by his group and the refugees themselves and the media attention this has generated. The union is calling for refugees to have the right to work while their cases are being dealt with, and for supermarket coupons to replace the current unfair and opaque food supply system. The current penalty for an asylum seeker found to be working illegally is 15 months in prison.
The occupation of ISS-HK offices is evidently a well-coordinated and disciplined action, and a good example of how discriminated groups can organise to fight back against injustice and official high-handedness. The supporters of Socialist Action in Hong Kong visited the protesters to show support and to invite them to meetings to speak about their struggle. Socialists support the call for government to reassume direct control of refugee welfare services and an end to outsourcing, also stressing the need for full democratic control.