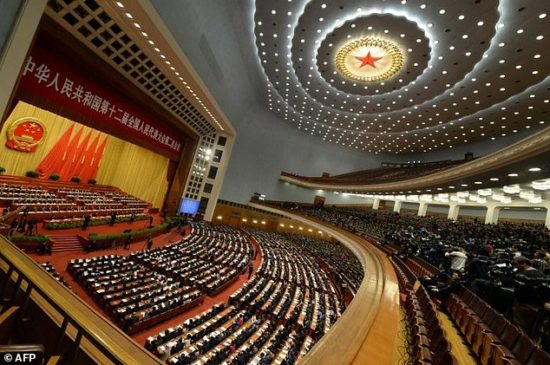 Xi Jinping's policies added four new billionaires every week last year • Wealth of billionaire 'lawmakers' more than doubled since 2013
Adam N. Lee, chinaworker.info
The 13th National People's Congress (China's pseudo parliament, the NPC), opens its plenary session on Monday in Beijing. Thus begins two weeks of furious rubber-stamping (the dictatorship has already decided which policies will be adopted).
Among the 5,130 appointed 'delegates' attending the NPC and its sister body, the Chinese People's Political Consultative Conference, there will be 104 dollar billionaires (45 in the NPC and 59 in the CPPCC). Their total net worth amounts to US$624 billion (4 trillion yuan), which is more than double Ireland's GDP. This is the richest 'parliament' in the world by a very big margin.
Read more: It's official – Xi Jinping aims to be "Dictator for life"
Just like everywhere else in our crisis-ridden capitalist world, the rich are getting richer and doing it faster. The 104 billionaires wielding 'votes' in Beijing's halls of power this week have increased their combined wealth by almost 20 percent in the past year as a result of Xi Jinping's policies. Since Xi took office their wealth has more than doubled (from 1.84 trillion yuan in 2013 to 4 trillion).
This is despite the government's pledges to tackle poverty and close the wealth gap. There are no proposals on the NPC agenda for a wealth tax, for nationalisations, for confiscation of millions of empty houses or other measures to trim the obscene wealth of the billionaires and use the resources for the benefit of ordinary people.
The government's credit policies to support big business have fuelled a housing bubble which inflicts real pain on working class and middle class people. Average residential property prices have risen 23 percent in the past year in the 10 largest cities. This is a faster rate of increase than any single year in the US housing market.
Millions of city people are taking on extreme levels of debt in order to buy a home. At the same time, millions of migrant workers are being evicted from the major cities in a social cleansing campaign against what the CCP calls the "low-end population".
Tens of millions of workers especially in the service sector, where most new jobs are created, are driven into precarious informal work, as 'agency workers' or 'individual contractors', with rates of pay and working conditions worse than in the factory sweatshops, many of which have moved to cheaper countries. The number of workers' strikes each year has risen 7-fold during the first five-year term of Xi Jinping's presidency.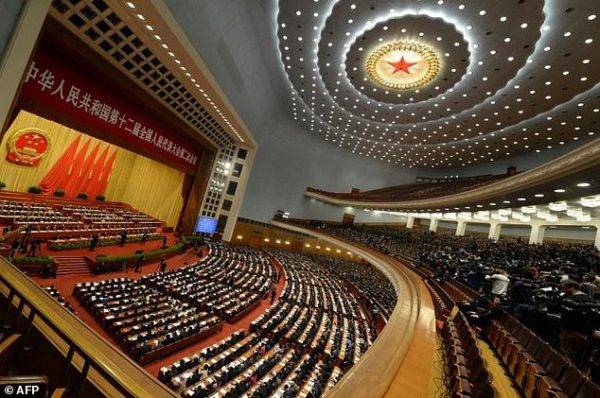 Half the world's new billionaires are Chinese
To coincide with the opening of the 'twin meetings', the Hurun rich list, a research group based in Shanghai, published its latest survey of the super-rich in China and globally. It shows the world's billionaires had another "record breaking year" with an additional 437 people becoming billionaires in 2017 – almost half of them (210) in China.
Totally, the world's 2,694 billionaires increased their wealth by a staggering 31 percent last year, to US$10.5 trillion. This is equivalent to 13 percent of the world's GDP, up from 7 percent in 2011. This is happening as the poorest 50 percent of the world's population saw no increase in their income last year, according to a separate report from Oxfam International.
Read more: Can Xi Jinping defuse China's debt bomb?
China leads the world in dollar billionaires for the third year, with 819, compared to 571 in the United States. And Beijing is the "billionaire capital of the world" according to Hurun, with 131 billionaires compared to New York's 92. The continuing rise of China's super-rich elite is partly explained by the big gains on the Chinese stock market in 2017 and the fall of the US dollar. Most Chinese billionaires are in the property sector.
Among the billionaires elevated to the NPC this year (and for the coming five years) are China's richest man Ma Huateng of internet giant Tencent Holdings, with a personal fortune of US$47 billion. Also attending are Xiaomi's CEO Lei Jun (US$16 billion), and Geely's chairman, Li Shufu (US$17 billion). Li recently became the biggest shareholder in German car manufacturer Daimler. Attending the CPPCC are China's second richest man Xu Jiayin of property developer Evergrande (US$41 billion), and Robin Li of net company Baidu (US$18 billion).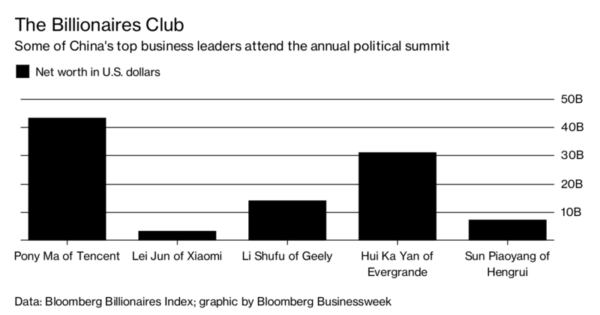 Extending Xi's rule
Issues before the NPC include who will fill top government positions, approving a new state anti-corruption body, and scrapping term limits for the presidency and vice presidency, allowing Xi Jinping to stay in power indefinitely and continue his pro-rich policies.
That proposal, while expected for some time, has generated an enormous backlash on social media inside China, despite unprecedented censorship. Meanwhile, the news has barely drawn any official response from "democratic" capitalist governments who are all anxious to remain in the good books of Xi's regime and see it as the best alternative for capitalism despite growing economic tensions. A spokesperson for US president Donald Trump, who has previously praised Xi as "a very special man", said the issue of extending his rule was "up to China".
The NPC-CPPCC meetings are seen as a talking shop and a ceremony by many Chinese people and in previous years have mainly generated discussion about the incredible wealth of the participants, although this has been toned down in recent years. But as these latest figures show, this is really only about managing public relations and preventing mass anger from spilling over.
China's billionaire elite – crony capitalists with close connections to the CCP regime – have continued to amass an even greater portion of the country's wealth, but they do not flaunt it so openly nowadays.