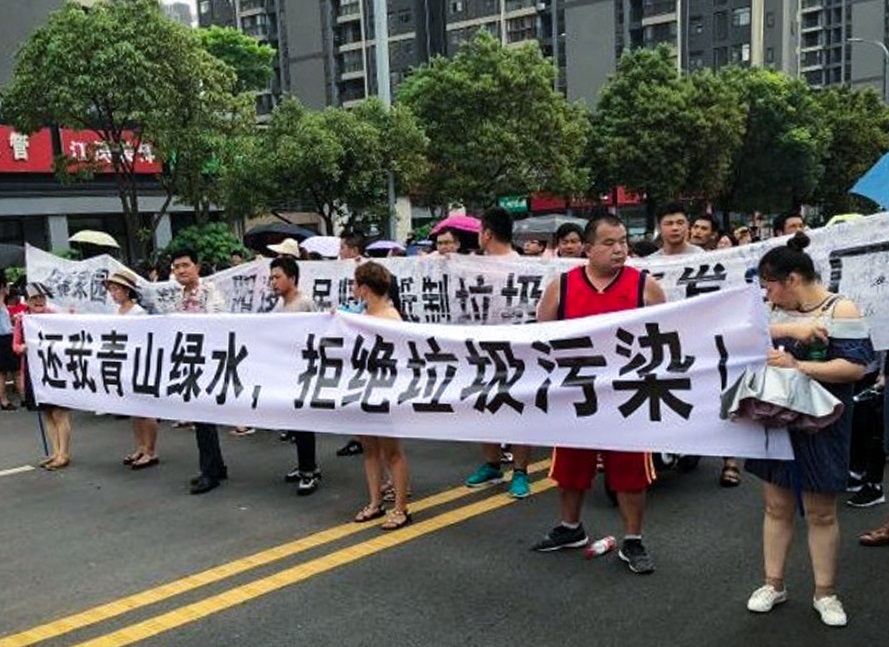 Thousands in central China defy state repression in week-long mass protests
Luo Ding, chinaworker.info
While Hong Kong has been convulsed by the biggest mass protests in its history, large demonstrations against construction of a polluting waste incinerator plant have rocked Wuhan, central China.
A week of large street protests began in Yangluo, an outer sub-district of Wuhan, on June 28, when around 10,000 local residents marched against construction of the Chenjiachong waste-to-energy plant (incinerator) which has sparked widespread safety concerns. Yangluo has a population of over 300,000.
Marchers chanted "give us back the green mountains and clear waters" and "garbage burning plant get lost from Yangluo." Young people played a central role in the protests, with similarities to this year's worldwide climate protests. Photos and videos from the protest show a young boy with a megaphone leading the people's chants.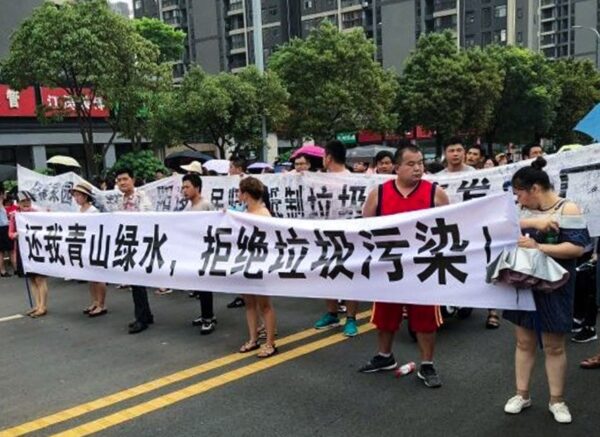 Toxic emissions
The planned waste plant is located in a densely populated area and only 800 metres away from the nearest residential quarters. This is in clear violation of China's safety standards, unfortunately widely ignored, which set the required safe distance for such a project at no less than 1.5 kilometres from residential areas. Within a few kilometres of the plant there are two universities and 300,000 residents. The toxic emissions from such plants can cause lung disease, leukemia and cancers, especially when not operated according to environmental laws which is common in China.
Wuhan already has five similar waste incinerators. A 2015 study in the International Journal of Environmental Research and Public Health found a multitude of problems with past incineration projects including illegal placement too close to residential areas, limited public consultation, and lax enforcement of waste disposal standards by the Wuhan city government. According to this report, none of the plants operating in Wuhan would pass an environmental impact assessment.
What makes residents even more worried is that the company that will operate the Chenjiachong incinerator was created only two days before the project was filed for approval in April. People doubt whether this company is really eligible to run such a plant. Someone claiming to be a police officer posted on social media that the company was owned by a relative of a province-level government official. Such cases are also common in China, with officials in the 'Communist' party-state (CCP) colluding with capitalists or owning companies themselves disguised through family networks.
Internet shutdown and censorship
The June 28 protest was suppressed by more than 1,000 police according to reports, with many demonstrators, including elderly citizens, beaten and arrested. Internet access around the demonstration site was shutdown to prevent demonstrators spreading photos and messages of the police violence.
Social media posts about the demonstrations have been quickly censored – again standard practise in China for suppressing news of "instability". Notwithstanding this censorship, posts related to the Wuhan protests were viewed by 231 million users on Weibo, China's version of Twitter, in only three days.
The demonstrations continued despite the repression. On July 3 and 4, around 10,000 people again went out on the streets and some roads were occupied.
The local government appeared to make a concession, although there is deep distrust because similar 'retreats' have been made in other cities when protests against pollution have broken out. In many cases it has subsequently been shown local governments have lied and furtively pressed ahead with the construction of polluting facilities.
While announcing the project in Yangluo would not start without the agreement of local residents, government officials and police have gone door-to-door to force people sign a statement of consent for the project, threatening to ban family members from access to higher education or employment in government positions if they refuse to sign.
Schools also summoned the parents of students to sign the consent forms. It is said that the demonstration is viewed as a "terrorist activity" by government officials.
During the night of July 4, 10,000 police with at least one armoured car were sent to disperse the continuing demonstrations and the town was placed under curfew. Many demonstrators were arrested, with the exact number unknown so far.
Dangerous period
The events in Yangluo are just the latest outbreak of mass unrest in China, which underline the difficult period ahead for Xi Jinping and the CCP dictatorship both internally and externally. Earlier studies have shown that around one-third of all mass protests in China are linked to environmental pollution, which has reached unprecedented levels for any country, and this is just one of many 'time bombs' that could explode to challenge the dictatorship's hold on power.
The CCP regime undoubtedly fears protests by workers, students, a growing feminist movement, and urban populations which are now very environmentally conscious, can draw courage and inspiration from the mass pro-democracy demonstrations in Hong Kong. Perhaps only one percent of China's 1.4 billion people are aware of the current mass struggle in Hong Kong due to the heavy hand of regime censorship, but a minority of politically aware youth especially are closely following the Hong Kong events using software to skirt the government's cyber firewall. Some of the protesters in Yangluo reportedly expressed support for the protests in Hong Kong – a small sign of things to come.
chinaworker.info says:
Solidarity with protesters in Yangluo – Scrap the polluting incinerator project!
Condemn police repression and release those arrested!
Socialists stress the link between anti-pollution struggles and the fight to build an independent workers' movement in China. Both represent a challenge to the CCP's dictatorial rule and to the capitalists' power to decide economic developments based on short-term profit rather than the needs of society.
The environmental crisis is global, and can only be solved by an international struggle of workers and youth for democratic control and public ownership of the big companies and financial institutions and a socialist plan to save the planet.