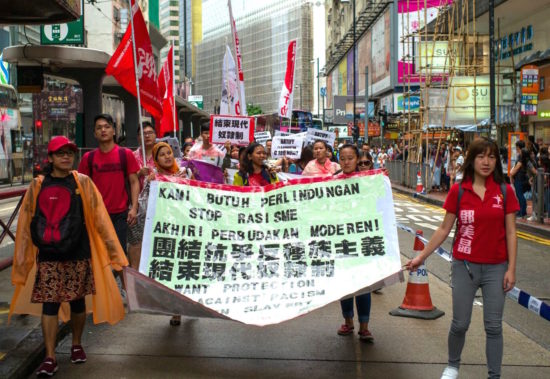 Success in recruiting migrants, women and youth in 2017
Dikang, Socialist Action
Socialist Action is a growing force. While we are not a large organisation – yet – we are having a bigger impact and doing our part in laying the ground for a powerful left force to emerge in Hong Kong. Over the past six months Socialist Action has had our fastest ever rate of membership growth. This is also the case for our comrades in Taiwan and mainland China, whose progress is a great inspiration and spurs us forward.
"Our membership target was to win 20 new members during the first half of 2017. We are almost there, 19 have joined," says Sally Tang Mei-ching who is Socialist Action's chairperson. "In Hong Kong, we've recruited more women than men – around two-thirds – which is a change and a big step forward," she says.
More members, but also a bigger role in several important struggles – this is how 2017 is turning out. Our organisation has organised protests with refugees, migrant workers and also trade unionists fighting for their rights. We are continuing and stepping up our campaigns among women and youth – against sexism, racism, homophobia, and the injustices of capitalism.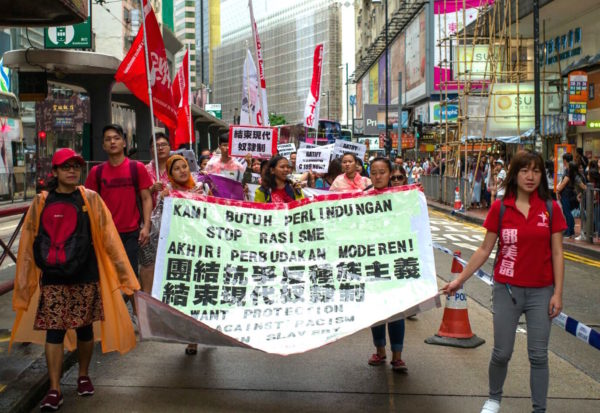 United against racism
With the democracy struggle running into trouble, a concerted crackdown by the Chinese dictatorship especially after the Umbrella Movement, there's been a general downturn in protests – smaller, fewer and not so many young people. But Beijing is living in a dream world if they think they have won – bigger movements are coming and not just in Hong Kong but in China itself!
Ethnically, Socialist Action is also a diverse organisation with new members from Indonesia, the Philippines, America and Myanmar as well as Hong Kong born. This means the organisation's propaganda – magazines, websites – and also the members' meetings have become more multinational.
"We hold some meetings in Indonesian as well as in Cantonese, English and Putonghua and we have started a new socialist blog in Indonesian language," says Sally.
Socialist Action helps to publish four different magazine editions and sales of the English language magazine have increased a lot in 2017 because of so many campaigns with migrant workers, refugees and foreign students.
The shock election of president Trump meant the year began with a bang for Socialist Action. The global 'Trump effect' was not so noticeable among Hong Kong people. Some had illusions that Trump was an ally against the Chinese dictatorship! But Muslims such as Hong Kong's Indonesian community, and young women and refugees, were shaken and angered by Trumps's racist Islamophobic policies and statements.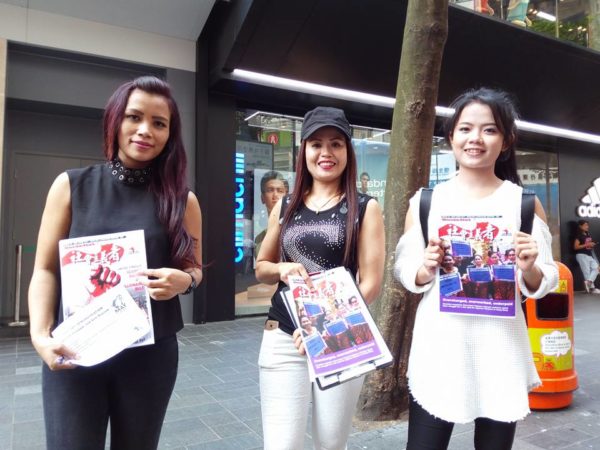 Socialism and feminism
Socialist Action's demonstration on International Women's Day (IWD, 8 March) was part of the global women's protests against the Pussy-grabber-in-Chief. It was a success not just in terms of numbers – our biggest IWD to date – but also because of the different groups who came and spoke up about their struggles, including refugee women, relatives of rape victims, migrants who face daily discrimination and feminist students.
"We are one working class no matter what nationality. United struggle has much greater chance of winning victories."
This laid the ground for Socialist Action's first ever May Day demo, another really important step forward, organised together with the radical migrant group Kobumi. The morning demo and rally gathered over 100 people and later joined the main HKCTU (Confederation of Trade Unions) march. The slogans of Socialist Action's demo were for an 8-hour work day, HK$45 per hour minimum wage and increased protection for migrant workers.
"The difference with our May Day demo was its clear internationalist and anti-racist platform – for united struggle," says Sally. "Unfortunately, most labour unions and activists think 'migrant issues' are separate from the issues facing Hong Kong workers. This is wrong, they need to be linked together; we are one working class no matter what nationality. United struggle has much greater chance of winning victories."
Socialist Action members have supported workers in the catering industry, a stronghold of union-busting companies. The sacking in March of Chef's Union chairman Ng Chi-Fai by multinational company LSG gave a powerful reminder of this. We responded helping the union to run protest actions at university canteens and with a Facebook page. We set up international solidarity against the mother company (Lufthansa) getting protest resolutions from airline workers' unions in Germany, Bulgaria and other places.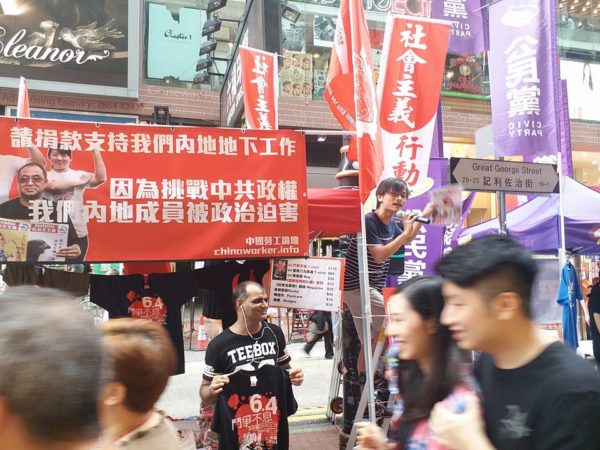 Political purge
Socialist Action also started an international campaign for 'Long Hair' Leung Kwok-hung and other opposition legislators threatened with disqualification by the courts. Socialists and CWI (Committee for a Workers' International) members in a dozen cities from Bangalore to Vienna responded with solidarity actions condemning this blatant political repression. The defence campaign for 'Long Hair' is extremely important as the government is stepping up the purge and the number of political court cases is growing.
The demise of right wing localism in Hong Kong, falsely seen as a radical anti-government alternative, will hopefully open more space for internationalism and awareness that Hong Kong's struggle for democratic rights cannot win in isolation or by hoping for support from foreign capitalist governments. Socialist Action explains the need for a working class political force which is linked with mass struggle in China and globally.
This was the message belted out from our loudspeakers and with our special commemorative video at the June 4 vigil to commemorate the Beijing massacre – attended by over 100,000 people.
"We collected money to help our mainland comrades and show the need for underground political organisation in China," says Sally. "On June 4 we had the most international team, with many different nationalities, which also shows that resisting repression and dictatorship is not a Chinese or Hong Kong thing, but part of a global struggle."
For many who are thinking about joining Socialist Action the first thing they notice is our activity and the bold way we organise. But a strong organisation needs a solid political foundation, which is the clear socialist programme we stand for. The inability of decaying capitalism to solve today's intolerable problems of inequality, corruption, racism and destruction of the planet, means the need for a socialist alternative is getting more urgent. If you agree with this then don't wait any longer – Join the growing ranks of Socialist Action!