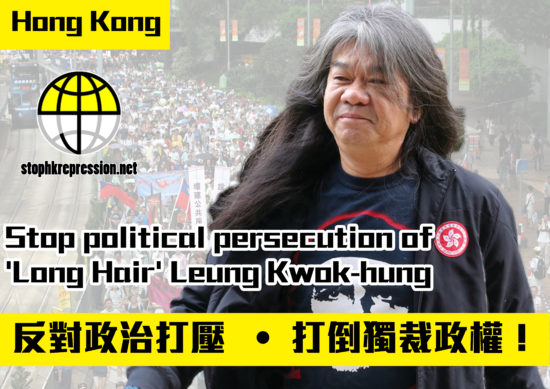 Expelled lawmaker has been a consistent thorn in the side of pro-Beijing camp's authoritarian big business agenda
Vincent Kolo, Socialist Action
'Long Hair' Leung Kwok-hung has long been a thorn in the side of Hong Kong's pro-Beijing establishment. Since the authoritarian offensive began in earnest in 2016, 'Long Hair' and his League of Social Democrats (LSD) have been regarded as "public enemy number one" by the government.
Hong Kong is currently in the grip of an unprecedented crackdown against democratic and political freedoms.  China's 'Emperor' Xi Jinping is tightening control over the semi-autonomous territory and wants to crush its democratic opposition to turn Hong Kong – in political terms – into a new Singapore. Elections to the semi-elected Legislative Council (Legco) are being manipulated, candidates banned, and dozens of court cases are lined up with the aim of criminalising pro-democracy protests. New national security legislation, Article 23, is being prepared – an even harsher version than that which was defeated by mass protests 15 years ago.
'Long Hair' was undemocratically disqualified ('DQ') from the Legco last year along with five others. He has faced four different legal prosecutions, all with the aim of sending him to jail from where he would be prevented from running for election to reclaim his Legco seat. Other leading LSD members have faced prosecutions as part of the same establishment offensive. Raphael Wong Ho-ming, vice chairman of LSD, was jailed for 13 months last August ("unlawful assembly") and got an additional four month sentence in another political trial this year.
Universal pension
In April, police arrested 'Long Hair' for assault in a case dating back to last year. This has all the hallmarks of a political witch-hunt by Carrie Lam's administration. He has been released on bail. In April 2017, 'Long Hair', then a legislator, attended a protest by elderly citizens calling for a universal pension system. No such thing exists in Hong Kong, a city where one in three over-65s live below the poverty line. These peaceful protesters were physically attacked by pro-government 'blue ribbon' thugs.
'Long Hair' condemned the passivity of the Legco security officials: "My safety was not protected, the safety of the group handing me the letter was not protected."
But by defending himself and the elderly protesters, 'Long Hair' now finds himself charged with "assault", which carries a maximum penalty of one year in prison. A three-month jail sentence would result in him being prevented from standing for election for a five-year period.
'Long Hair' is being victimised for his uncompromising stand in the struggle for democracy and for workers' rights. As a legislator he did not take his full salary but donated over half to various struggles and causes. He lives in a council flat, while most legislators – including the pan-democratic opposition – own properties worth millions. He has a record of opposing and exposing privatisations, government anti-welfarism, and supporting migrants and refugee rights.
By-election
A by-election to fill his Legco seat has been put on hold until his appeal to Hong Kong's highest court against his disqualification from Legco. The appeal hearing has now been set for April 2019 and 'Long Hair' is contesting this extremely late scheduling. Such a long delay would mean that, if he loses the appeal, the government may be able to wriggle out of holding a by-election for his seat before the next general Legco election in September 2020.
This is just the latest example of the many juridicial manoeuvres being used against democracy activists. The pro-Beijing establishment currently enjoys a so-called 'super majority' of two-thirds in the Legco by virtue of the disqualifications which reduced the numbers on the opposition benches. The government is especially keen to keep 'Long Hair' out of the Legco and has shown it is prepared to use various dirty tricks to achieve this. For him to reclaim his Legco seat – to which he has been elected four times (2005, 2008, 2012 and 2016) – would be a severe blow, in propaganda terms not least, to the establishment and its attempts to emasculate the democracy struggle in Hong Kong.
Socialist Action (CWI in Hong Kong) is organising solidarity with 'Long Hair' and LSD. This vicious persecution must be defeated.
On May 4 we are actively participating in the Stop Repression in Hong Kong campaign, with protests planned in up to 20 countries against the repression in Hong Kong and China.